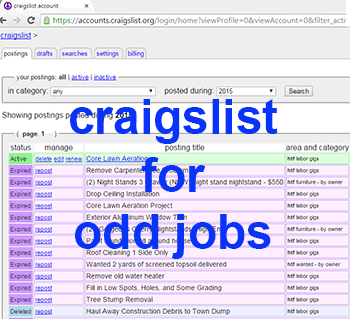 Today I'm going to reveal a few tricks a general contractor would use to hire helpers from Craigslist for odd jobs and maybe even some light construction work. No your eyes are not deceiving you, I did say Craigslist and hiring for construction, curious?
As I write this post, I'm in the middle of remodeling my house and sometimes I run into small projects that I don't want to do myself for whatever reason. That's when I decided to try my luck on Craigslist. As it turns out, you can use Craigslist for something other than a means to get yourself on the Judge Judy show. I've used it several times now successfully for odd jobs around the house and I learned a few important tricks along the way.
Why Use Craigslist?
Craigslist gets eyeballs no matter what, and some of those eyeballs need to find work. Now I'm not going to lie to you and tell you that every single adventure I had through the Classifieds Ad Giant went without a hitch, in fact if it did, I would have no material for this article. But it's the experiences that went wrong that allowed me to adjust my approach and test my hiring theories on the next set of odd jobs.
...
Continue reading