Second Story Additions with Construction Costs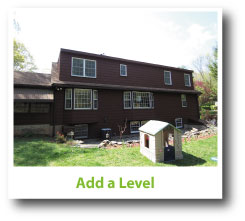 A common renovation for people looking to add major living space onto their home is building a second story addition. These large add a level renovations transform single level ranch and cape homes into spacious two story colonials.
I have designed several 2 story addition plans to help you get a good idea of how much an elaborate home renovation like this can cost you. In general adding pure living spaces, such as bedrooms and family rooms, is cheaper to construct than adding rooms with plumbing, like bathrooms. So if you add a second floor with only bedrooms, it will be much cheaper than doing the same add a level renovation with bedrooms and a single bathroom.
What Do My Second Story Plans Include?
All of my addition designs include a 3D Interior Room Design and Floor plan. I make them to help people visualize what's possible and to help people understand the scope of the project.
'give you a good idea of what can be done within the new spaces.
Need The Names of Good Addition Builders?
Skip to the form at the bottom of the page.

More About Me
I worked as a general contractor for many years focusing my expertise on home addition building. This website is meant to help people by providing them with my general contractor secrets, which can be used to lower the building costs for your projects, as well as give you the tools needed to work your contractors as I would.
It's no secret that a general contractor would save a lot of cash and aggravation when building his own additions, so why not take advantage, thousands of people already have!
Get a List of Good Contractors Right Here
All you have to do is fill out the form below and within a little while, you will receive an email with contractors that I personally would call, if I were building an addition. General Contractors are simply educated homeowners with really good interview questions and the know how to keep contractors in check.
Fill out the form below, then read my articles about contractor hiring. You'll be 10 steps ahead of every homeowner who doesn't. (NO SIGN-UP, NO FEE, NO HASSLE)
---
By the way, you should read my Headache Free Plan to Building Additions to prepare yourself prior to interviewing contractors.