---
Two Story Extension Plans and Estimated Building Costs
---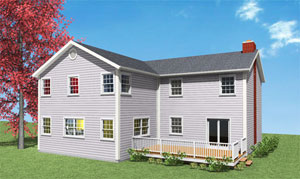 Two Story Extension
In this picture you're looking at a hefty 768 square foot house extension that gave this home an additional family room on the first floor and a master suite on the second floor.
These two story home addition plans are perfect for homes that are already two stories, but need a 2 story extension of the existing house to accommodate additional rooms and amenities.
The most common 2 story addition transforms the existing house into an L or T shape.
Example: Adding a family room to the first floor and adding a bedroom to the second floor.
Clarification Corner:
Sometimes people confuse 2 story addition plans with adding another level to their house. On this site we call this the Add a Level house extension instead. To be safe, you should check out both sets of plans before you leave the site.
According to the 2013 National Remodeling Averages Cost vs. Value Report from Remodeling Magazine the average job cost for a Two-Story Addition is $152,470.




Quick Tip:
You can also build a full basement underneath these 2 story extensions to take advantage of even more additional space.
---