Top 10 Lawn Mowers To Buy This Memorial Day Weekend
(Time Saver Article)

The big box stores like Lowes, Home Depot, Sears and websites like Amazon sell a lot of lawnmowers every year. We tapped into that collective consciousness by reading their entire customer database of lawn mower reviews and the reviews from the well known authority; Consumer Reports, bringing all that amazing information into this thorough but not to long webpage.
This is literarily the only webpage you have to read this month or this year, to start and finish your lawnmower research, before you go out and finally buy the right one for yourself.
You will learn about the basic and unique features that each of these lawn mowers have to offer from model years ranging between 2012 to 2013.
Each of the 10 lawn mowers reviewed below is first described based on the manufacturer description. Afterwards there is a PRO and CON section where we posted direct comments from actual customers. The Pro's and Con's section for each lawn mower is where you will actually learn about the product, since these comments are written by people who own one of these lawn mowers and have used it several times already.
You can investigate each lawn mower on your one by reading all the comments, but that would take you hours and hours of research. Luckily for you we did all the hard work for you. Simply scroll down and start reading what's good or bad about each of these great lawn mowers below.
All the lawn mowers in this 2013 Lawn Mowers Buyer's Guide review had to meet this criteria:
Sold in Home Depot, Lowes, Sears, or Amazon at high volumes

A minimum of 30 positive ratings

Has to be one of the home improvement stores best sellers. The purpose of this is to ensure that we could read comments from at least 30 people who talk about their lawn mowing experiences with any of the 2013 top 10 self propelled lawn mowers in this review
---
Craftsman 190cc* 22'' Front Drive Self-Propelled EZ Lawn Mower 50 States Model# 37044 @ Sears for $332.49 with promotional online discount, regular price was

$349.99

, now it's $341.99 for this Memorial Day Weekend!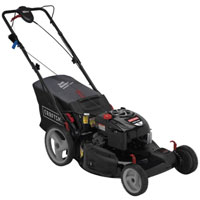 We picked this mower because it is very popular on the Sears website. As of June 2012 this mower has 37 reviews and the average rating is 3.5 stars out of 5.
This mower features a 22 inch cutting deck People love the easy to start Briggs & Stratton Platinum Series 190cc motor. It also offers push button or pull start; obviously, many of us will be opting to use the push button, since it's much easier on the back. It's a front drive model with the larger 12" wheels in the rear , that actually improves maneuverability around lawn features like trees, bushes, and fountains.
One of the biggest complaints is that you have to adjust the height of each wheel manually and the accelerator handle hurts your hand. This mower does bagging, mulching, and discharging. Other cool features include a strong 7.25 foot pounds of torque, EZ Bagging Access; where the flap stays open for easier bag removal, a Dust Blocking Grass Bag, and a two year warranty.
Now let's see what actual customers of this Craftsman lawn mower had to say.
Pros:
Easy to get going, very powerful, electric start and mowing/cutting capability, Makes mowing lawn fast and easy, good ease of use, flap stays open for easier bag removal, good job mulching.
Cons:
Handle bar should be thicker to prevent cramps, each wheel has to be adjusted manually for height, problem with electric start, front wheel drive does not work in yards with inclines, rear drive cost more, but works much better, hand gets tired very quickly from holding the accelerator handle, problem is holding down the accelerator handle, hand for the self propulsion KILLS my hand, heavy, starter failed after 3 or 4 uses

Verdict:
Loyal Craftsman customers do love this lawn mower, its electric start is also a nice upgrade to what you have now. The big wheels in rear make this mower look good, but wouldn't it make more sense if this mower was rear-wheel drive instead of front?
The Bottom Line is that this mower has great features, excellent reliability, and overall people wrote good things about it, but it's not the best Craftsman in this 2013 lawn mower review.
---
Best Pick Craftsman 190cc* 22'' Front Drive Self-Propelled EZ Lawn Mower Model# 37041@ Sears for $265.99 with promotional online discount, regular price was

$359.99

, now it's $275.49 for this Memorial Day Sale!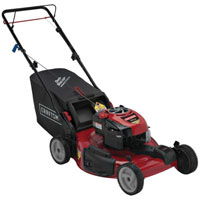 This is a well liked mower on the sears website. It has 112 reviews and average rating of 4.0 out of 5 stars!
Let's dig deeper into why people love this Craftsman 190cc lawn mower. First lets talk about the powerful 675 Gold Series Briggs & Stratton engine. It features the Ready Start system which eliminates priming and choking the engine which makes it 20% easier to start; all you do is pull once and your done.

This mower is said to do all 4 jobs very well so it's perfect for mulching, side discharge, rear discharge, and bagging. it also has the feature of keeping the flap open so that you can easily remove the bag.
This lawn mower has a powerful engine, it's easy to start, and seems to be very well engineered, let's see what owners of this Craftsman lawn mower had to say.
Pros:

Mulches better than any mulching mower I've ever owned, No clumps anywhere, Starts the first pull every time, Starts easy and good on gas- cuts our lawn mowing time in half!, It's easy to maneuver and the blade is so sharp that it cuts the grass to an almost fine powder, quietest lawn mower on the market, great front wheels for grabbing wet grass, It cuts great, bag doesn't let much dust out, light weight and easy to handle, I love this mower, stated first pull, Mows well, clean cut, and I love the bagger, it mulches beautifully and the job was done in record time, This lawn mower (almost) makes me want to go out and mow the lawn.
Cons:
Mowed lawn 4 times and then it wouldn't start, Sometimes it seems it moves too fast leaving a few blades behind during mulching.
Verdict:
Okay folks this is one of those things that is at a good price and it's also very very good. The reviews I read about this mower are outstanding. It's lightweight so that makes it really easy to maneuver around your bushes and lawn features. The bag is easy to remove and your lawn will look great once you use this baby to mow it. The height adjustment is easy to use and people also like the mulching feature saying that it works very well.
So what's not to like, you get a great price, great engine, easy start, and people love it. Are you in?
---

Honda 21 in. Nexite Deck Blade Stop System Cruise Control Gas Mower GCV190 @ Home Depot for $699.99.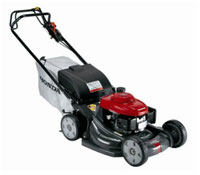 This mower comes with a huge Home Depot fan base, were' talking about 206 reviews at a 4.7 star average out of 5!
Let's get the basics out of the way. The warranty is a whopping 5 years! This mower adjusts to your mowing conditions using a hydrostatic cruise control system. There is also a Blade Stop system which stops the blade (not the engine) when you step away to perhaps empty the bag. This mower is like the Honda Accord of mowers because it packs so much features like: 7 different mowing heights, variable speed for precise speed control, twin blade to produce micro cut grass clippings, it does mulching, bagging, discharge, and leaf shredding. It's also lightweight and easy to maneuver.
So what do people have to say about this pricey but option loaded Honda?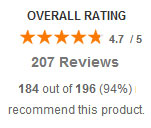 Pros:
Clippings are small and the bag fills all the way up, does a great job and is easy to use, very quiet and smooth, very easy to start, 30% faster than my previous self-propelled mower, Plenty of power, solid construction, fit and finish. Quiet operation, as my Craftsman lawn vacuum when doing some leaves, cuts grass into fine pieces that can't be seen, the Rolls Royce of home lawn mowers, It mulches well, last Honda mower lasted 24 years, the best mulching lawn mower I have ever owned!

Cons:
Surprisingly this was the only lawn mower in the write up where it was really hard to find negative comments. I think the only real negative about this mower is the price!
Verdict:
Well just as expected this pricey Honda mower does it all and it does all of it very well. It's reliability is extremely good, it has also been noted by many people that it is very quiet. The self propelled feature can take you from a very slow walk down to a fast walking pace. This mower can be used professionally because of its solid build quality. It is even outstanding at sucking and shredding leaves; it beats lawn vacuums according to some people.
Overall this Honda Lawn Mower is like the creme de la creme of self propelled lawn mowers. If parting with $700 plus tax for a lawn mower is something you are willing to do for the Rolls Royce of lawn mowers, then this is the model for you!
---
Honda 21 in. Steel Deck Smart Drive Variable Speed Self-Propelled Gas Mower HRR216VKA@ Home Depot for $399.99.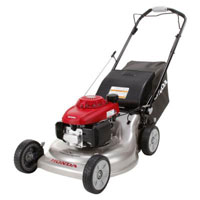 Here we go again, this time with a 21" Honda lawn mower that got 4.4 out of 5 stars based on a whopping 476 reviews!
This mower packs almost as much features as the pricier Honda model above. It features the variable speed self propelled operation, 6 mowing heights, and the Quadra-Cut twin-blade system that produces very fine grass clippings. This mower comes with a 3 year warranty instead of the 5 for the one above. It can do bagging, mulching, and discharging. An optional leaf shredder attachment can be purchased for this model as well. It also features the ZONE-start safety system which stops the blade within 3 seconds of letting go of the handle.
Let's see what all those reviewers have to say about this more affordable mower from Honda.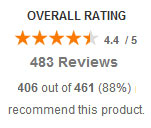 Pros:
Starts on the first pull and mulches great, cut my 1/2 acre in 1/2 the time, Starts in one pull, relatively quiet, easy to maneuver and mulches extremely well, best mower I've ever owned, It mulches the grass in very small clippings, easy to control, grass bag is easy to empty, made of sturdy metal, cuts great , doesn't use a lot of gas, I can actually jog behind this mower once it is in the self-propelled mode, works great and it's easy to use, powerful to handle any grass no matter how high, very happy with this mower and am happy to recommend it to anyone, mower does cut the grass nicely, I love this machine!
Cons:
Great for flat lawns it struggles with hills and uneven terrain, disappointed in the mulching feature of this mower, refused to start after initial start at store, The thumb drive Smart Drive system will make your thumbs cramp up,
Verdict:
Well after reading pages and pages of reviews on this Honda lawnmower I'm convinced that if you want to spend $400, this lawn mower is probably your best option. I like the fact that it's built out of metal and not a lot of plastic. Strangely there were a few people who complained about the mulching function, while others have praised it. It's possible that the person who has the problem was cutting a very tall or perhaps wet grass which could have interfered with a good spreading action. I like how you don't have to constantly restart it every time you walk away from it for a minute or two while you move lawn furniture or hoses out of your cutting path. Lastly I just had to post this comment verbatim "My wife became interested in mowing the lawn due to the ease of use."
This Honda is definitely a great mower at an affordable price! Knowledgeable Home Depot staff will even recommend it to you.
---
Toro 30 in. TimeMaster Wide Area Variable Speed Self-propelled Mower Model # 20199 @ Home Depot for $999.99.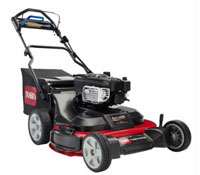 We put this Toro into the mix because of the amount of reviews. This mower got 4.3 stars out of 5 from the average of 78 people on the Home Depot website.
This Toro lawn mower is expensive but it is also much larger than all the other mowers in this top lawn mower review. It's called the TimeMaster for a reason and that reason is that with over 8' additional inches of cutting, you will for sure decrease the amount of time you spend mowing. This mower features a Powerful Briggs & Stratton OHV (Over Head Valve) engine. It offers the Personal Pace self-propel system that adjusts to your walking speed whether fast or slow. The Dual-Force atomic blades sound like they are going to blow your lawn away, instead they will finely mulch your grass into fine clippings to produce a healthy rich lawn. The steel deck is engineered for superior mulching, bagging, and side discharge.
Now, let's see what all those 78 reviewers have to say about this wide Toro TimeMaster lawn mower.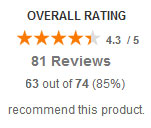 Pros:
Time saver, Starts very easily, very easy to maneuver, plenty of power to go through deep grass, it takes a lot less time to do my lawns, Cuts smooth, cut my mowing time in half, provides a clean and even cut , easy to start and easy to run , very easy to walk behind, Always starts on the 1st or second pull, Excellent cut quality, Good mulching, great for cutting large yards with ease of maneuverability, provides a wonderful cut, nice mulch cut.
Cons:
Cannot power through wet grass and mower stalls, spring came off the carburetor only a few weeks old, transmission problem, this thing is a garbage, First one would not shut off now the second one is leaking gas all over my garage, leaves streaks of uncut grass, Within the first week the governor went bad one week later after repairs it stopped working mid-mow and won't start, I get an uneven cut in the middle where the two blades should over lap, cheap plastic wheels, Motor is very loud, Gas tank is small, -the grass tends to clump a little more than my previous mower.
Verdict:
After doing the research for a great self propelled mower, I did read in a quite a few comments that the Toro brand might be a little troublesome. A lot of people love this mower because it has greatly reduced the time it takes to complete the chore of mowing the lawn. On average you can expect to cut down your mowing time anywhere from 30 to 45%. Some people complained about grass not being cut between both blades, and some complained about reliability problems. Overall though many reviewers love this mower and its ease of use and even its mulching capabilities.
Is this pricey Toro TimeMaster something you want to invest in to cut your mowing time almost in half?

---
Husqvarna 7 Ft.-Lbs. Torque 22" Self-Propelled Gas Push Lawn Mower
Model HU700L@ Lowes for $359.99.
Here's another great lawn mower, this time a Husqvarna 22" self-propelled unit that received 119 reviews on the Lowes website and averaged 4.4 stars our of a possible perfect 5 star rating.
This Husqvarna mower features a Honda engine for easy starting, power, and reliability. The mower does mulching, rear bag, and side discharging. The wheels have double ball bearings so that you have years of easy rolling down your lawn. There are 9 height adjustments, 8 inch wheels, and a optional rear discharge chute is available free of charge through the mail. The engine is 160CC which is also a bit on the low side, although the 7 foot pounds of torque is plenty to get the job done.
Let's see what the 119 reviews had to say about this lawn mower from Husqvarna.
Pros
Easy to use, easy to start, easy to change wheel height, high quality, durable, easy to steer, quality cut, quality construction, low vibration, good value, After cutting I am amazed how fine everything is mulched,
Cons:
Low quality, used old gas ruined carburetor, bagging not so good, doesn't mulch that great, poorly designed, low quality product, wouldn't use for mulching, hard to maneuver, rear wheel assemblies are wearing badly, maintenance, may have to replace sooner than anticipated.
Verdict:
This is a decent mower, many have complemented the ease of use, the great maneuverability, quality construction, and a good cut. On the other hand there were some people who had problems with the bagging function claiming that it was not designed properly, many have also complained about the mulching capability being very poor. And there were also people who had maintenance and reliability problems from the beginning.
Overall this is a good mower but if you are buying a lawn mower primarily for mulching, you might want to look at some of the other lawn mowers on this list instead.
---
Troy-Bilt 7.25 Ft.-Lbs. Torque 21" Self-Propelled Gas Push Lawn Mower Model 12A-A25S011@ Lowes for $279.99.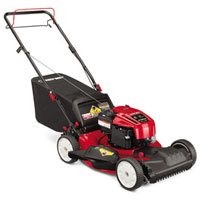 You just can't have a 2013 lawn mower review without listing at least one Troy-Bilt Lawn Mower. This model is the most popular at Lowes at it has 23 reviews with an average of 3.8 star rating out of 5.

This Troy-Bilt lawn mower is front wheel drive model that has 7.25 foot pounds of torque. It features the TriAction cutting system that combines a rake guard, a unique S Blade design with a symmetrical deck which was all engineered to produce the perfect cut.
This Troy-Bilt mower features six cutting heights that is adjusted using dual levers. This mower comes with a mulch kit, so you can drive those nutrients back into your lawn every week. This lawn mower also includes a wash port which makes it easy to clean and clumps of grass stuck to the deck underneath. The deck was also designed to extend past the wheels so that you get maximum coverage and up-close to fences.
Now let's see what actual customers of this Troy-Bilt lawm mower have to say.
Pros:
Briggs engine runs strong, light and easy to maneuver, wash port makes it easy to clean, easy to assemble and start, good at mulching, made in USA, cuts through tall grass, good on hills,
Cons:
DOA, Not good at bagging, bad customer service, There's no speed adjustment, too much plastic and not enough metal, not durable, wheels are cheap and need routine replacement, dead mans lever requires too much effort to hold, plastic transmission tunnel broke after a rock hit it which ended up braking the transmission, jammed pull cord.
Verdict::
This mower has a good strong engine and many people have reported that they like the mulching capability of this Troy-Bilt lawn mower. On the other hand it's not so good for bagging and there were some people who experienced reliability problems already.
Troy-Bilit has a loyal following, are you next in line?
---
Troy-Bilt 6.75 Ft.-Lbs. Torque 21" Self-Propelled Gas Push Lawn Mower Model 12AGA26E011 @ Lowes for $339.00.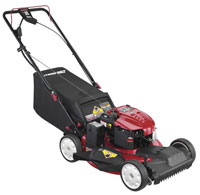 Here's a very popular and affordable Tro-Bilt lawn mower. It received 48 reviews and averaged a 4 stars out of 5, making it a good buy.

This lawn mower from Troy-Bilt has a smaller motor when compared to it's brother listed above, but this one has an electric start which many people will love. It features six cutting heights with the same dual lever adjustment mechanisms it's sibling has. This lawn mower also features the TriAction cutting system and it the deck extends beyond the wheels so that you can get really close to your fence and save yourself some time with the edge trimmer. This Troy-bilit does mulch, rear bag discharge, and side discharge. It also comes with a wash pot which makes it very easy to clean.
Let's see what owners of this Troy-Bilt have to say about it.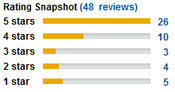 Pros:
Wash port, electric start, rake in front to produce even cutting, starts immediately, great at mulching, light and easy to maneuver, quiet for such a powerful mower, Briggs & Stratten Quantum engine, adjust the speed by squeezing the control lever more or less to manage speed, powerful and quiet, hose connection to flush the clippings from the deck works well, product is very well designed,
Cons:
Only down side was having to charge the battery before using, (engine, drive components, handle, wheels) is considered a "wear & tear" item so basically the warranty gives you no protection, Low quality, Not durable.
Verdict:
The electric start makes this lawn mower more modern than the one you are replacing, and the powerful B & S engine will mow down your tall grass with no problems. Keep this baby charged and you will never throw your back out again, right before you mow your lawn.
It's a good buy, and it looks really good, plus the front rake is a pretty cool idea.
---
Lawn Boy 20-Inch 149cc 6-1/2 GT OHV Kohler Gas Powered Self Propelled Lawn Mower Model 10604 @ Amazon for $269.00.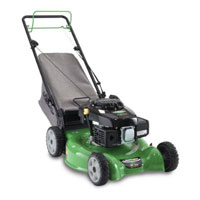 This is the only mower from an online retailer and you could probably find it in stores, but we wanted to show you want the folks at Amazon had to say about this Lawn boy with 35 reviews and a 4 star average rating out of 5.
This Lawn Boy has a 149cc Kohler OHV engine that packs 6 1/2 foot pounds of torque, which is more then plenty to cut through tough grass. The variable speed self-propel system with rear drive makes it easy to maneuver around uneven areas. The smaller 20" deck allows for mowing in between tight places. The deep dome deck design with the tri-cut blade makes it better at mulching. It comes standard with the ability to mulch and bag, but if you want to use the side discharge you will have to contact the manufacturer for an additional part. This Lawn Boy comes with a 2 year warranty. This LAwn Boy has 7 height adjustments as well.

Now let's see the pros and cons based on snippets from actual customers of this Lawn Boy 10604.
Pros:
Great for lawns with any kind of incline, Starts the first time, every time, with an easy pull, no-prime starter, attacks every inch of my lawn perfectly, bag is easy to take on and off, works great as a lawn vacuum, quiet and mulches very well, Kohler makes a great engine,
Cons:
Has trouble moving slightly damp or very thick grass, shipping problems resulted in a few scuffed mowers and many bent height adjusters, not as good on mulching as some Honda mowers, bag could be a bit larger, height adjusters was bent upon arrival noted several times.
Verdict:
It's the only lawn mower in this 2013 review that has a Kohler engine. Its design has been perfected to be an excellent grass mulcher, but not quite as good as the Honda mowers are in mulching according to the customer reviews. This Lawn Boy has also been called a Lawn Vacuum which paints a positive picture overall.
This Lawn Boy is more liked than hated and it should definitely be on your top ten list too!
---

A lot of time and energy went into getting the information for this article, and we hope that you enjoy it and that it helps you make a wise lawn mower buying decision. Ultimately all the lawn mowers on this page are very good, so choosing any one of them would leave you with years of dependable service and a nice looking lawn.

---
The Models Below This Line Have Been Discontinued
---
Craftsman Professional 175cc* Rear-Wheel Drive Mower Non CA Model# 37108 @ Sears for $379.99 with promotional online discount, regular price is $399.99. This lawn mower model is no longer available.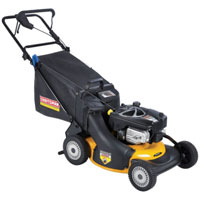 Here's another mower that's a favorite from the Sears community. It got a 3 star out of 5 rating based on what 36 people said.
This model has a 21" cutting deck, and 7.75 pound of torque from the Briggs & Stratton Platinum Series 175cc OHV engine that is engineered to start at low speed ensuring a easy starting process. The rear wheel drive gives this mower excellent traction for any types of hilly terrain. Another great feature is the Precision Plus cutting system that was engineered for performance bagging and mulching because of its durable blade. The bag has a 2.5 bushel capacity in other words the bag is extra large so you will be emptying it less times every time you mow; always a good thing! This Craftsman lawn mower is outfitted with 8 inch front and 9 inch rear ball bearing wheels for easy maneuvering around your yard.
With that much power it has been engineered for dependable starting performance, but what to the owners of this mower say?
Pros:
Mower is probably the best one I've owned yet, very quiet and easy to control, engine starts and runs perfectly, Best for side discharge, Everything is easy to use, Clean cutting, starts on 1st pull, self-propelled is very strong and climbs hills with ease, handles the wet tall grass pretty good, mulches better than last mower even when lawn is wet, does a great job cutting through high grass while mulching at the same time, works like it is supposed to, solidly built, runs quieter and there is much less dust with this bagging system, quietest mower I have ever used.
Cons:
Once the bag was almost half full grass clippings would escape and hit my legs, when the bag would get a little more than half full it started sagging and would pop off it's track and onto the ground , bag inconvenient and only works with dry grass, the bag could be a little bigger, a little rigid to maneuver around objects.
Verdict:
It's not the best Craftsman lawn mower for the money, you would be better off buying the EZ model below for $100 less!
Overall the mower is okay, but if you are in the market for a good Craftsman, pick what people swear by in their reviews instead of what they complain about.