Home Addition Plans, Project Photos, & Award Winning Tips
Millions of Awesome People Fell In Love With Us - Want to Know Why?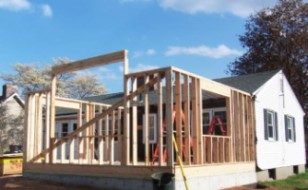 We're famous for being the first to publish actual construction costs for over 50 of the most popular home addition ideas on the planet, yes planet!
Why is that such a Big Deal? Glad you asked: Since we started out actually building home additions with our bare hands, we did tons of estimates for people who ONLY needed a ballpark estimate. Our own Mr. Wonderful, Voitek designed the worlds 1st online home addition catalog featuring 3D renderings and actual construction costs. This brilliant idea saved us time and money, but most importantly it helped millions of homeowners all over the world who just wanted to get the ball rolling for their project
So you see, we pretty much revolutionized the construction industry thanks to being molded by a tech savvy entrepreneur. Our online home addition plans allow homeowners worldwide to note our additions into their list of goals and cut and paste our 3D home addition renderings onto their dream boards. After-all, successful people tend to share a lot of habits, don't they?
The Genius of It All
Imagine picking the size of your new bedroom addition without knowing how much free space you'll have around your queen bed and nightstands.That's another common problem we eliminated from your list of worries. Our interior room renderings include realistic furniture choices, so you can sleep at night without having to worry if you'll have enough space once your new room addition is framed and finished.
Check out our genius low-tech room addition planner, it allows you to play with room layouts and all you need is a printer!
Building a Home Addition?
Our 3 Most Popular Home Addition Plans that Our Visitors Just Love
5 Things That Made Us Famous
Award winning consumer advice for how to hire and manage contractors when you start a remolding project. Written by our own award-winning builder.
How-to articles on negotiating remodeling contracts to protect yourself from contractors who take their time and from shady contractors in general.
50+ fully estimated home addition plans for every type of room addition project 99% of the world is interested in building. Some of these plans were used to build actual projects which you can browse through on the Project Photos page. BTW You'll find a lot more than just photos on that page.
Modular Home Plans for new construction home ideas. Have you ever seen a beautiful colonial or ranch custom home pop up in your neighborhood in less than 1 week? You won't believe what's possible in 2018! Browse our fully estimated home plans at your leisure.
Buying Guides for items every homeowner needs and wouldn't mind some help in figuring out which model to buy or compare against. We are constantly working on this section, check out our Lawn Mowers, Leaf Blowers, Riding Mowers, Snow Blowers, & Security Camera comparison guides. Each guide is unique and focused on displaying what consumers say about the product from major retailers. Think of our buying guides as a 1 stop shop for these products. We don't sell them, but you can learn which brands to trust, and which brands to avoid all on this site.
The Proof of Genius is In The List of Awards
What really sets us apart from 99% of the home improvement websites out there is that our content is written by an award winning builder who actually built home additions with his bare hands. Other sites use freelance writers & pretend they know what they're talking about. We wouldn't trust some of those sites to tell us how to frame a photo, let alone a complex second story addition!
Meet The Owner
Speaking of genius, the owner Voitek Lex Klimczyk is a bit of a renaissance man. He claims he was normal until he had a life changing epiphany at 24. Since then he discovered many hidden talents that he claims all of us have. Lately he decided to learn to be a professional Stock Trader. We're happy to report that after 7 months in the game, he became profitable! Anyways his social media contacts are here for your to explore and in case you want to reach him. Best bet is to contact him through Facebook or Twitter, because his email is blowing up thanks to this website and others being extremely popular.

That's me, my name is Voitek Lex Klimczyk, and most people just call me Lex