Master Suite Addition Over Garage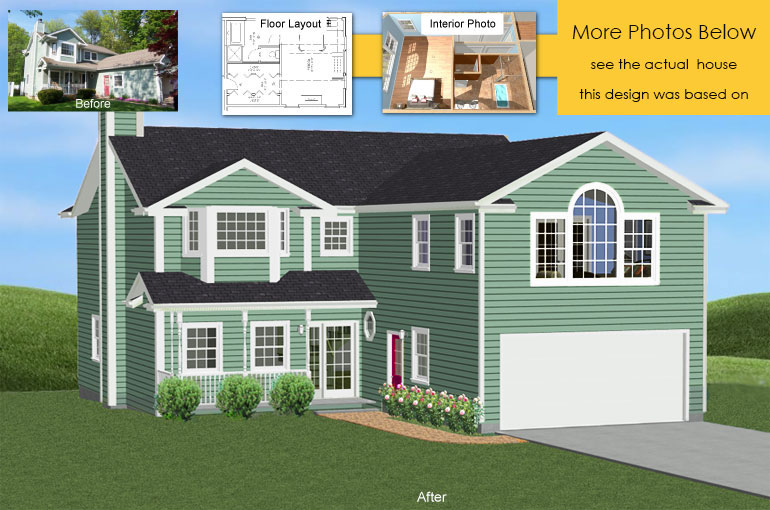 | | | |
| --- | --- | --- |
| Bedroom Floor Plan | Bedroom Interior Design | |
| | | |
Build this Spacious Master Suite Addition 20' x 27'
A wise man by the name of Steve found our website by doing a search for "Home Addition Plans" on the internet. Steve and his great wife Cindy were looking to build a large master suite on top of their garage.
If you look at the before photo, Steve and Cindy own a wonderful colonial and adding a room addition on-top of their garage was a great idea. We love the design of this master suite addition, because it really compliments the exterior of the home really well; it looks like it belongs there. In fact, if you look at the before picture, you might argue that the home looked odd without this wonderful and spacious master suite addition.
You have to look at the interior 3D rendering and bedroom plans to truly appreciate the design and beauty of this plan. The bedroom is a whopping 19' x 14', which leaves plenty of space for all of your furniture.
The new master suite features a spacious bedroom, over-sized his and her closets, private water closet area, a whirlpool tub, and a great tile shower cubicle. The existing HVAC ductwork was extended to accommodate this new living space.
Master Bedroom Addition Details
Size: 19' x 14'
(2) Closet: 2' x 12'
Flooring: Oak Hardwood
Doors: 4
Windows: 4
Master Bathroom Details
Size: 10' x 12'
Flooring: Light Bamboo
Doors: (1) Double French Door
Features: Whirlpool Tub & Separate Shower, Double Sink & Vanities, & Private Water Closet.
This Gorgeous Master Suite Addition Is Estimated At $86,000
Use our Contractor Finder Below: It's really simple to use, justfill out the form and we'll send you a list of contractors in your area who have built projects similar to this Master Suite Addition Built Over An Existing Garage.