My Bedroom additions have been the most popular designs on this website for almost 10 years now! When I was a general contractor, the majority of our estimate appointments were either for adding on a new bedroom or building a master suite addition, so it looks like the demand hasn't changed.
Do you know the most popular reason people were adding on a bedroom? A baby on the way.
Below you'll find a nice collection of bedroom addition plans that I designed using actual bedroom furniture, instead of focusing on room sizes alone.
In my day I've stepped into more than a hundred homes and possibly thousands of bedrooms. What I noticed is that most bedrooms were cramped when furnished and even the smallest empty bedrooms looked spacious. So my design philosophy is to show realistic photos of bedroom ideas with actual bedroom furniture. Once you browse my bedroom plans, you'll agree that the only way to pick the proper size for your new bedroom addition is to see it with furniture.
Master Suite Plans
Typically a bedroom design is just a square box with a closet, while a master suite plan also includes an attached bathroom somewhere on the floor plan. Browse popular master suite designs and single bedroom plans below.
Check Out All These Furnished Bedroom Designs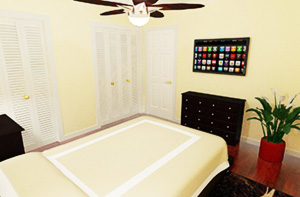 Everyone has a general idea of the size a new bedroom or master suite addition should be. I like to empower my millions of visitors by showing them 3D architectural room designs outfitted with actual bedroom furniture. Using my bedroom addition ideas will protect you from making one of the biggest remodeling mistakes I've actually seen people make.
Move Forward by Getting Your Own Bedroom Addition Quote
No matter who you call, read my Headache Free Guide to Building a Home Addition before your 1st estimate appointment. It's a collection of valuable advice, which I accumulated from years of working as a general contractor. Trust me, it can save you a lot of time and money, and most importantly reduce your stress Big Time!
Have a remodeling question?
Bedroom Addition Plans and A Whole Lot More
Each of my home addition designs include detailed blueprint views, as well as beautiful 3D virtual renderings that include items like actual bedroom furniture to establish scale. But what's the point of looking at home additions without knowing what the actual cost to build will be? Luckily, I wouldn't torture you like that, included with all my home plans are real world construction costs.
Typically I use queen beds in my renderings and standard nightstand sizes, these should help you visualize how your furniture will fit. If you have a question, contact me on my SelfMade Lex Facebook Page.
---
Typical Construction Costs for Building an Extra Bedroom
Attic Bedroom Project $47,000

Typical Master Suite Addition Project $102,000

Upscale Master Suite Addition Project $220,000

Typical bedroom costs data was pulled from

Remodeling Magazine

Cost Vs Value Report which provides national averages.
* Construction Costs vary greatly from house to house, because of the following factors: house type, HVAC system type, and material selections. A home in Beverly Hills for example will have high-end finishes that would have to be matched.
Pro Tip
As a retired builder, I recommend that you call a few contractors for an estimate as soon as you know that you're going to build an addition. Good contractors can do immediate estimate appointments, but to get on their construction schedule, it can take several months to over a year. So get the ball rolling as soon as you can, you'll thank me later!
---
Food For Thought
Since bedroom's are nothing more than rectangles with four walls, you could explore other home addition plans on this site that are very similar. Case in point Family Room Plans and my Blank Slate Kitchen Extension Plans can give you a few more price and square footage choices to consider. The only real difference between these and the official bedroom plans is the option of a closet, but honestly those are really inexpensive to build unless you go all out and get a fancy closet system installed as well.
Getting A Real Bedroom Addition Quote
Since I built plenty of additions in my life, I can tell you from experience that sooner or later you're going to need to get a real life estimate. Every house and property and town hall for that matter has certain factors that a ballpark estimate won't be able to account for. Sometimes things like setback limits from your property lines can completely change where you build your addition. We once had to change a rear addition into a second story because the town would not grant permission to build out towards the back yard.
Do yourself a huge favor and fill out this form to get the names of a few pro's in your local area. There's no obligation and it's completely free. But once you finally have a few real contractors price out your new bedroom, you'll know exactly how much money to save or get a loan approval for. Good luck!