There's a really nice home in Farmington Connecticut that inspired this home design and our new Farmington Valley Master Bedroom Addition Plan seen below. The new bedroom addition is 17' x 17' or 289 square feet in total.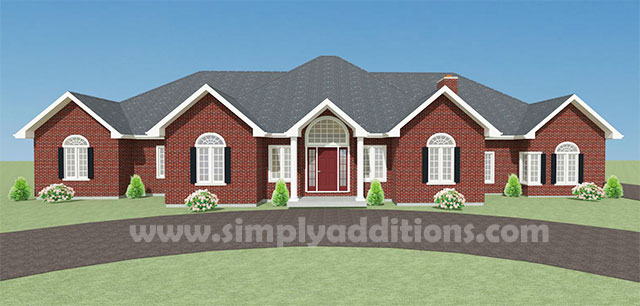 The original home already looks stunning. However, even a dream home can be made more spacious by adding on another bedroom. For this project we designed an addition to the left of the main house.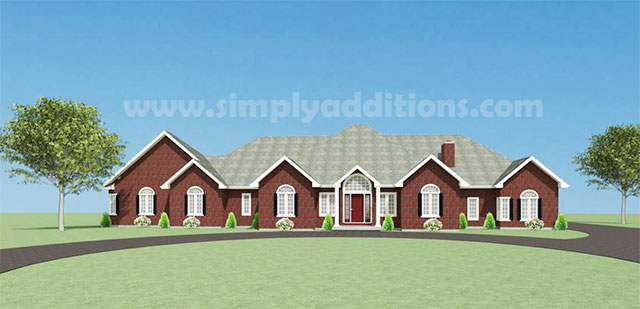 Bedroom Additions are common projects for all types of homes. Sometimes you can take an exiting room and convert it into a bedroom, and sometimes the best solution is to simply add another room to the existing floorplan.
To add a bedroom to this ranch home, we decided to build the bedroom addition onto the left side of the property. The right side of this Farmington Valley ranch home design contains a 3 car garage, so this is what made sense in this scenario.
Overview of the Bedroom Addition Project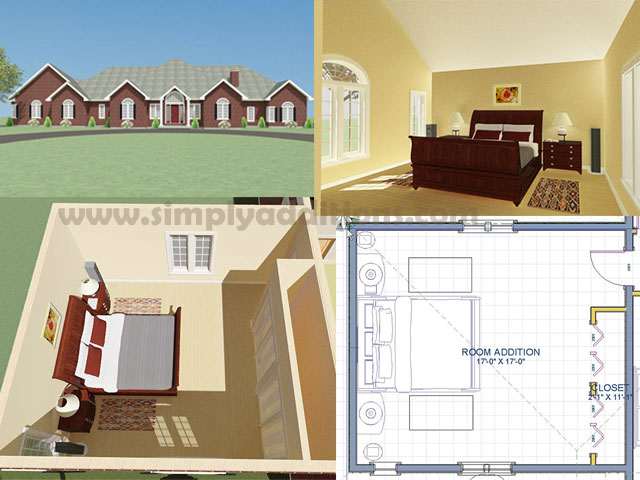 The New Master Bedroom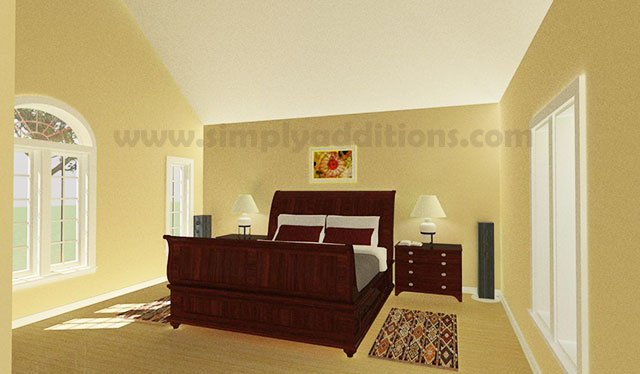 We outfitted the new master bedroom with plenty of windows to let in all that beautiful sunshine.
Next we outfitted it with a nice sleigh bed and two generous nightstands on either side. To give you an idea of how a 17' x 17' bedroom accommodates space, we also threw in massive tower speakers on each side of the nightstand.
I love the way the sunlight enters the new bedroom, I could just imagine how nice it would be to wake up in this light and airy master on a sunny day.

Farmington Valley Ranch Bedroom Addition Blueprint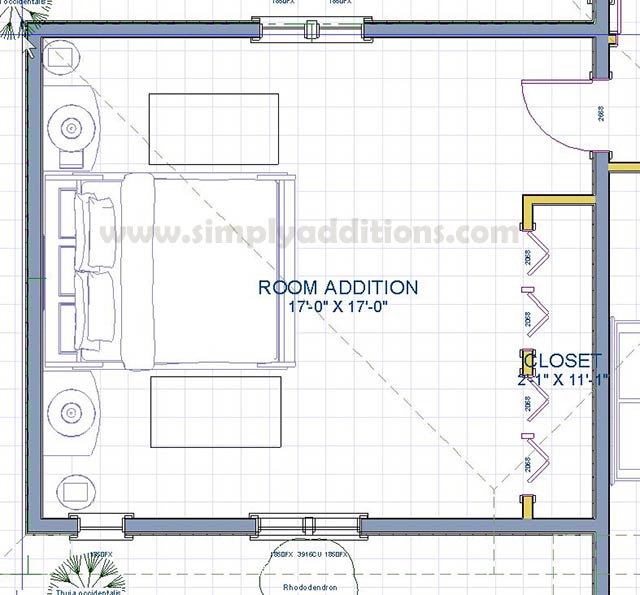 As you can see from the bedroom addition blueprint view, we included a generous 11' x 2' deep closet. Although most couples would find this adequate, just remember when you are designing your own bedroom addition project, you can modify these plans to accommodate your needs.

Would You Like an Estimate on Your Bedroom Addition Project?
These days you must get a personalized estimate for any major renovation. There are too many variables and local price variations that can sway the cost to build this home addition one way or another.
I can tell you from experience that a bedroom addition like this used to cost around $100k, depending on factors such as slab foundation versus foundation with a crawl space or basement. Other items that change the cost of a project like this would be the roof design, roof material, and siding material. Stone or masonry work always costs more than vinyl siding.
Get started by filling out the form below to get in touch with local home addition builders that can provide you with a customized estimate.