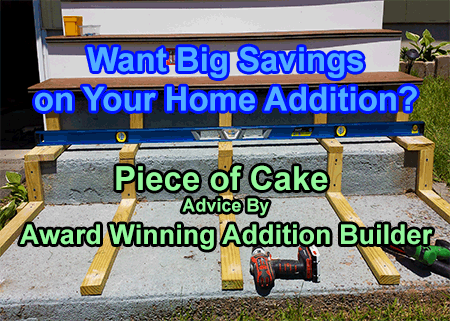 A new addition can add value, beauty, and function to your home. As much as you might look forward to putting on a new addition, you may not look forward to actually paying for it. Hopefully this guide can save you a small fortune; after all, I am a retired builder who specialized in only building home additions and my advice is proven unlike a lot of theories floating around on popular home improvement blogs.
When you want to tackle the project without seriously denting your budget, you should lay out your plan of action and know how to approach the work in a practical yet frugal way. Using these money-saving Tips for Building a Home Addition, you can spare your bank account and build a new room that will serve you and your household for years to come.


Saving Money on Architectural Plans

Before you can start building a new addition to your home, you first have to lay out the plans for it. As you ask yourself, "How Do I Save Money on a Home Addition?" you should first think about the specifics of the room or rooms to be built. Some of the questions you need to ask include:


How large do I want the room or rooms to be?

How much building space on my property do I have?

What furniture will I include in the room?

How much money should I budget to devote to the addition?
You can answer the question of "What is the Cheapest way to add on to your house?" one of the two ways. Your first option would be to draw out the plans yourself. You do not have to be a skilled artist or a great mathematician to draw your own home addition plans. In fact, putting your own plans down on paper can be a great way for you to actually figure out room sizes, layouts, and the location of doors and windows.


You can get started drawing out your own plans by using simple supplies like a pencil, ruler, and graph paper; which you can print from my site or buy online or at your local big box store. At the end of this how-to guide, I'll include a link to the tutorial that shows you how to save a fortune on home addition plans, look for it below.
Simply sketch out your existing house and your proposed addition on the paper. Don't overthink the drawing. Instead, use the boxes on the paper to guide you.

For example, four squares on the graph paper can be equal to a foot of actual space in your new addition. Round up or average the numbers instead of using fractions when calculating measurements. Just keep it simple, you can always get more detailed later.

You should also cut out scale furniture and objects that you plan to use in the room addition. Laying the cutouts on your room plans gives you a heads-up on how much space you have to work with. It can also give you a rough estimate on building materials. For instance if you know the room size, you can easily estimate flooring, subfloor (plywood), sheetrock for your drywall, and of course doors and windows. Before you know it, you'll begin generating a budget for your build. You can use sites like Lowes and Home Depot to price check building materials and fixtures. Yes some builders have special estimating software and suppliers, but you'd be surprised of how many will use those very big box stores for most of the materials going into your project. Trust me, I know a lot of contractors, and I run into them at these stores all the time.


If you are not confident in your ability to draw out your own plans or you simply do not have time to devote to the process, you can simplify it by using architectural software that you can find online or in stores. The software lets you sketch out the plans and change renderings to your preferences before you actually hire a builder or designer. You can brainstorm ideas and really focus on how you want the new addition to look once it is completed by using architectural software. The time you spend doing the plans yourself will cut down on the billable design hours from your builder or architect.

Finally, you can save money on building a new addition before the work actually gets started by purchasing building plans without architectural renderings. These plans are those that are required by the local building department to approve your addition project. Most architects will sell you these plans for around $800 to $1500 depending on what kind of addition you plan to build.

By putting your own designs for the addition on graph paper or using architectural software to brainstorm and create plans, you save not only time but also money. You retain a greater amount of control over not only how the addition looks but also how much it costs you. Along with detailing what kinds of materials and in what quantities you need to use for the work, you also cut back on the number of revisions or redos the contractors might need to take on while they add on the new room.

Most builders include two to three revisions in the prices that they quote you. However, anything past that limit could cost you a lot of cash out the money you have budgeted for the addition. When you are serious about figuring out the Cheapest Way to Build a Home Addition, you should brainstorm, lay out, and finalize your architectural designs before you actually hire a designer or builder to start work on the project.


Hiring a Contractor Versus Managing the Project Yourself

As you are figuring out the Most Affordable Way to Build a Home Addition, you also have to decide if you want to hire a contractor to handle the project for you or if you have what it takes to oversee the work yourself. If you decide to hire a contractor, it is important that you know what qualifications to look for in this professional and how to know if you are getting someone worth the money that you have to pay to hire him or her.

Hiring a general contractor to oversee the process of adding onto your home can be a smart decision for several reasons. Primarily, a general contractor will handle every aspect of the work from obtaining the building permits to scheduling and being on hand for the inspections.

A general contractor also hires and coordinates with subcontractors like painters, roofers, and others who will contribute to the building process. Having a general contractor on hand to represent you takes you out of the equation when it comes to the day-to-day aspect of the project. The work can get done with minimal effort from you.

If you decide that you want to hire a contractor to handle the addition building for you, you should make it a priority to find the best one in your local area. The term "best" is entirely subjective. Even so, you should apply some basic criteria to simplify your search and find someone genuinely ready and capable of knowing How-to Build a Home Addition Cheaply.

You should use online and local resources available to you like the Better Business Bureau and the Department of Consumer Protection. Both of these organizations keep lists of general contractors who work in your city or state. They will have records of how many complaints each contractor has open, how many of the complaints have been resolved, and how many are still outstanding or have yet to be settled.

You can gauge this information on how long the contractor has been in business and decide if he or she is worthy of your trust and money. A general contractor who has been in business for 20 years and has relatively few complaints may fare better than someone who has been in business for just a few years but has dozens of lodged complaints already.

Along with learning about a general contractor's overall business record, you should also consider how much this person is actually going to cost you to hire. As a client, you have the right to negotiate and research the price schedule before you retain the contractor's services. This strategy arguably is common sense when you are figuring out How To Save Money When Building a Home Addition.

You should also talk to more than just one general contractor from your area. Indeed, you should speak with as many as it takes to get an idea for average prices and how much you can actually afford to pay for the new home addition. Once you know what each contractor charges, you can decide what one to hire based on the budget you have set aside for the work.

A general contractor's service record and pricing are only two factors that should go into the vetting process. You also need to make sure that the contractor you want to hire has the necessary credentials required by the state. Some of the credentials you should ask for from the contractor include:



proof of licensing

proof of bonding or insurance

referrals from previous clients

information on guaranties and warranties


Most general contractors readily offer these qualifications to clients without being asked. You can contact the references, read the warranty and guarantee information, and make sure that the licensing and bonding are in fact what are required by the state in which you live or plan to have the work performed.

Finally, before you hire a general contractor, you should do your own research into what kinds of materials you need and what kinds of designs will work best for the new addition. When you are serious about How-to Save a Fortune on Your Home Addition Plans, you need to learn first how much it costs for materials like paint, faucets, tiles, flooring, and other items that will be used in the project. You do not want to entrust the gathering of these details to the general contractor particularly when you want to retain full control over the cost.

Likewise, you should not rely on the contractor coming up with the design plans for you. In fact, the project will get off the ground, both literally and figuratively, if you come to the table with plans in hand and knowing what you want the new addition to look like. The general contractor can take your plans, tweak them if necessary, and put together a schedule to bring your vision to life.

Of course, as the homeowner you always have the option of overseeing the work on the new home addition yourself. You are not required to hire a general contractor. You can always manage the project yourself and hire the subcontractors like painters and roofers on your own.

Managing the home addition building yourself can save you a lot of money, in fact. It is entirely possible that you will shave $10,000 to $20,000 if not more from your building budget.

However, as the person in charge of the project, you also must hire all of the workers needed for the project if you cannot handle the tasks yourself. You must trust these subcontractors to show up on time each day and to avoid delays that will cost you time and money.

You can draw up a contract with the subcontractors you hire that will stipulate what time they are expected to show up each day, what schedule they must abide to on the project, and what kinds of penalties they will incur if they fail to hold up their end of the bargain. This contract will protect you as the homeowner and help you get what you pay for when you hire people to come to your house and build the new addition.


Saving on Building Materials

Whether you are managing the project yourself or handing the task over to a general contractor, you still need to figure out How-to Build a Home Addition on the Cheap by not overspending on building materials. Most general contractors are more than capable of going out and buying everything needed for the construction. However, without your input, they could easily overspend your money and come back with materials that are too pricey, of lesser quality, and entirely unsuitable for what you plan to spend on the new addition.

Rather than blindly trust a general contractor to buy what is needed for the project, you should take the time and make the effort to research the materials yourself. Your research will show you how much common supplies like drywall, door knobs, paint, siding, and anything else you need for the new addition costs. With these price points in mind, you will know what you can afford, what you genuinely need to get the job done, and whether or not the contractor is staying within your budget.

Gathering the prices for common remodeling and construction materials is not difficult. In fact, you may not even need to look any further than the vendors that sell them in your area. You are free to visit the vendors' websites, visit them in person, or simply call them to ask how much the materials cost on average. You can then jot those prices down in a notebook, enter them into an Excel spreadsheet, or keep track of the prices in a Google document.

If you want to relate cost to quality, you should visit the vendors and home improvement stores in person and actually see what the materials look and feel like. This in-person research will prove to you that a higher price tag may or may not necessarily equate to higher quality. The higher price may simply be a reflection of the brand that made it rather than its durability, appearance, and integrity. You can trim money from the budget by going with an off-brand choice or a lesser known brand rather than one that charges a premium price for basic materials needed for the new addition.

As you conduct your research, be sure to take note of the model and serial numbers of the items you want to use in the project. These numbers limit what the contractors can buy and prevent them from going over budget. They will demonstrate that you know exactly what you want, where to get it, and how much it costs. If a contractor comes back with something with a different serial number, you will know that he or she did not stick to the budget and went astray from the plans you laid out for buying the building materials.

This in-depth research will take a little bit of your time and effort. You can get started just as soon as you decide that you want to build a new addition onto your home. You can continue it throughout the construction or until you know that everything you want and need for the project is purchased with the money you have set aside. This effort will also minimize the chances that you will run out of cash and have to delay the project until you can save more money or secure additional financing.



Financing a New Home Addition

A significant aspect of determining the cheapest way to build a new home addition revolves around the actual financing of the project. As a homeowner, you may have several different options for paying for the construction of the new room.

The simplest way to pay for the work involves saving up the money for it. Of course, unless you are a high income earner, saving thousands of dollars can take years. When you want to build the new addition now, you may have to figure out another way to pay for the work while Saving on the Addition of a House.

Your next option could be to use credit cards to pay for the project. Again, your credit cards may not have high enough limits to buy all of the materials, hire a general contractor, or pay for the permits and other necessities required by the city or state. You may need to use another means to finance the construction other than relying solely on your credit cards to pay for everything.

This would be the point where you need to consider taking out a loan at a bank or credit union to pay for the new home addition. Most banks, credit unions, and other mainstream lenders offer loans for home improvement projects. It is crucial, however, that you do your research and choose a lender that can offer you a good interest rate and reasonable repayment terms. You do not want to take out a loan only to have it balloon exponentially in cost, requiring you to make high payments that seriously dent your budget later.

Once you find a lender that you can do business with and trust for this type of financing, you can then decide what kind of loan for which you would like to apply. As the homeowner, you may already have a primary mortgage out on the house. You could refinance the mortgage to get the cash you need to pay for the work.

Refinancing the mortgage could make sense if the initial home loan has a higher interest rate. When current rates are lower, you could refinance, save money on your interest, and make lower monthly mortgage payments. You also free up cash in your budget to put toward building the new addition.

You could also opt for cash-out refinancing, which is a type of mortgage refinancing that uses the equity in your home to let you borrow up to 80 percent of the home's value. In a cash-out refinance, your home would be used as collateral to secure the loan. This option, while adding on fees and interest to the project, may be a good idea if the result of the project will increase the value of your home.

Another option you have as a homeowner is to take out a line of home equity credit. A home equity line of credit is a line of credit that gives you up to 80 percent of the home's equity value minus the amount of your current home loan.

This line of credit includes both a draw and repayment period. The draw period is around 10 years during which you can spend the money on the line of credit. During that time, your payments would go primarily toward the interest with a small amount going toward the principle. The repayment period lasts around 15 years and comes with higher payments that pay off more of the principle.

An alternative to a home equity line of credit is simply a home equity loan. A home equity loan is a loan that does not refinance your house. It is not a line of credit but rather a lump sum of money that you can use to build a new home addition.

A home equity loan can be a legitimate source of financing if you do not want to refinance the first mortgage on the house. The loan may have a higher interest rate. However, your interest payments are tax deductible.

Finally, if you have good or excellent credit, you can take out a personal loan at a bank or credit union. A personal loan to finance a home addition does not have any tax advantages. You cannot deduct interest on your tax returns.

Still, it is an alternative that does not require you to put up your house or its equity as collateral. You may not even need collateral if your credit score is high enough, in fact.

A personal loan may have higher interest rates than mortgage refinancing. It also has a shorter repayment period of five to seven years on average. You pay less in interest overall than if you were to use a home equity line of credit or a mortgage refinance loan to pay for adding onto your house.

Once you determine which of these finance options you would like to use to pay for the addition, you should shop around carefully and vet several lenders. Just as you would when hiring the general contractor, you should interview the lenders in your area and also take a look at some that do business entirely online. This careful research will help you find the best rate as well as a bank or credit union you can trust to give you a loan with good repayment terms.


A new home addition can add value onto your house and give you extra space for you and your family to use. Regardless of the purpose of the new room, you want to build it at a price you can afford.

When you want to take on this project without putting your finances in jeopardy, you can take some simple yet important precautions before the actual work gets underway. By devoting your time now to research, planning, and finding the best loan, you can enjoy the process of adding onto your home and be assured that the project will be something that you can pay for and enjoy for years.
Links Mentioned Above:
How to Save a Fortune on Your Home Addition Plans
This is the guide that includes graph paper you can print and the instructions I mentioned above for drawing out your project on the cheap. It's one of my most popular posts, so make sure you check it out.