On this handsome colonial covered in stucco and topped with a Dutch hip roof, I designed a spacious 25' x 24' Master Suite Addition for you to consider. Print out this page and pop it on your dreamboard to bring the master suite of your dreams, just a little bit closer to reality.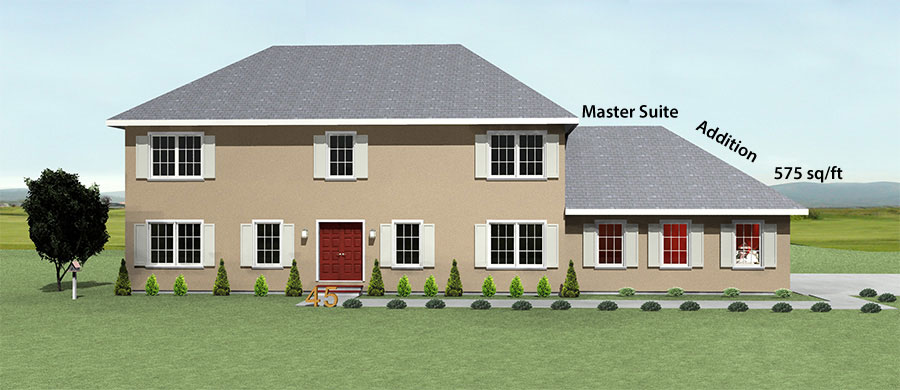 Look at the before picture below the 3D rendering to see what the colonial looked like prior to the adding of this luxurious master suite addition.
As you can tell this house addition is matched perfectly to the aesthetics of the exiting home design. That's why you want to invest into 3D rendering photos prior to the construction of any project of this magnitude.
The Inspiration for a Breezy Master Suite Design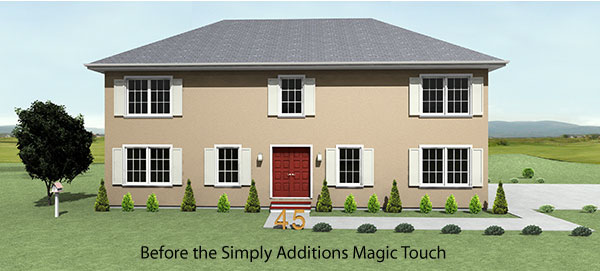 There's something to be said for a large bedroom, the air is fresher because it's not confined to a small space and it gives you a sense of abundance when you wake up and see the abundance of space around you.
This master suite project was designed to fit onto a traditional colonial or a Dutch colonial home. The home extension can be seamlessly added and blended to your current home, even if it's not a colonial.
As you walk into your new master bedroom suite, you'll notice how much natural light all the windows bring into the room. I don't know about you, but I love how the sun lights up a nicely finished room. I especially like to see the sunlight make this darker wood flooring & wall color pop.
Master Suite Addition Details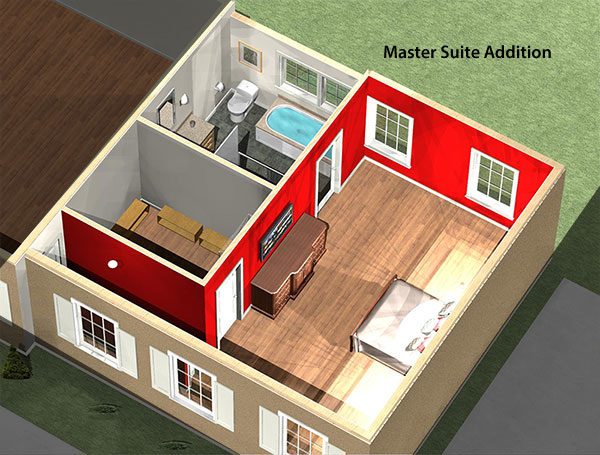 The bedroom itself is 14' by 23' wide with a 10' by 11' master bath that includes a 5' by 3.5' shower and a drop in tub. I didn't include double sinks because frankly how many couples have to brush their teeth at the same time. You can easily include an additional sink into this master suite design for less than $1,000 depending on the cabinetry, plumbing fixtures and countertop materials.
It's the little details in the perfect master bathroom that make it spa like. For instance don't you hate when you're at someone's house, maybe even your own and the toilet paper holder is in an awkward location? Well I do, so this is addressed by putting the toilet paper holder exactly where your hand will reach to; no more awkward angles, equals slightly more pleasure in your day to day life.
Master Suite Floor Plan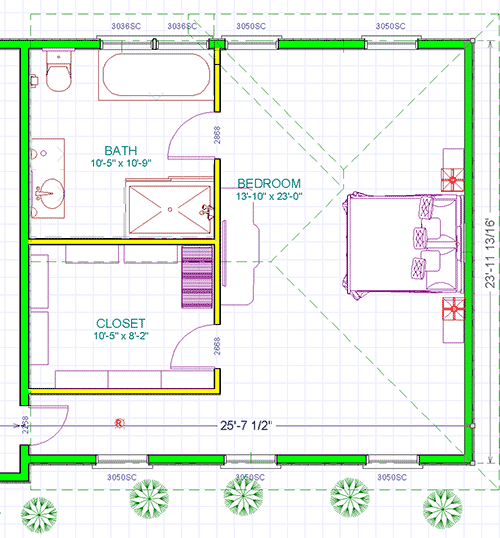 Another nice little detail is the two windows right above the jacuzzi tub. Perfect for staring into the abyss while you meditate. And if your backyard faces a neighbors house that you don't want to see, you can easily apply privacy film to any of your windows.
Another feature most people crave these days is an abundance of storage, I know because my wife uses up most of the closets in our house. Well in this master suite addition design I created a 10' by 8' walk-in closet. I out fitted it with shelves only to illustrate how much space you have to work with. This closet is big enough for a small island in the middle like you've seen in Kardashian houses.
Now comes the cost and here's the skinny, for projects this big, you are going to receive estimates that offer by a significant amount from Contractor A to Contractor B. My advice is to spend a little bit on this site in the How-to Tips Section where My Proven Contractor Hiring Guides provides a ton of real world tips you probably never seen anywhere else before.
This is a fairly large addition, but it was designed on a slab foundation so no basement which means a lot less money for concrete work. The walk-in closet and bedroom itself are simply empty rooms that only require flooring, electrical, doors, windows and paint. These items are not very expensive when it comes to building additions. The master bath however includes plumbing fixtures which can vary greatly in quality and price. Plumbing is also one of those trades that can cost you a bit more than you expected. That's why I stress to get a plan such as this one, modify the room sizes if you need to, but then you have an excellent starting point to give to each contractor who will be estimating this project.
Home Addition Building Advice from a Pro
One of the worst things you can do when building a home addition is to freeball your estimate appointments. Guaranteed your going to miss some details with some contractors, while with others you'll have the quote things you thought of spur of the moment. If you itemize your wants and needs and provide a basic napkin sketch of what you're looking for to each contractor, you'll have the best odds of getting a fair apples to apples comparison.
Thanks for stopping by Simply Additions. I'm retired from building but actively supporting the remodeling community through this award wining website.
Sincerely,
Voitek Lex Klimczyk