Add a Bedroom: Master Suite 384 sq.ft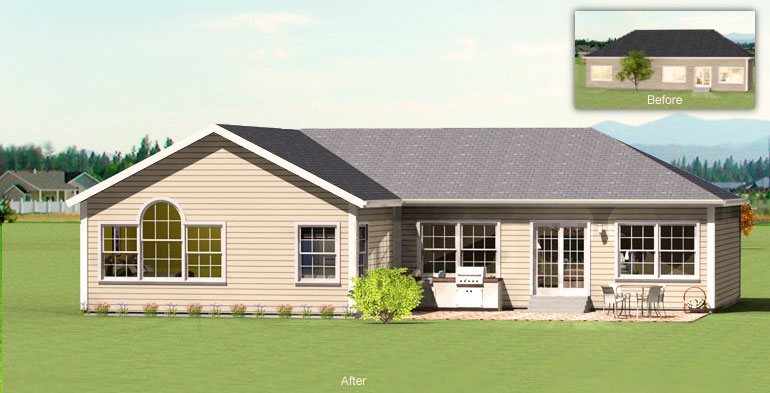 | | | |
| --- | --- | --- |
| Bedroom Floor Plan | Bedroom Interior Design | |
| | | |
Build This Luxurious Master Suite Addition And Your Life Will Never Be The Same!
This 24' x 15' Master Suite is the answer to your dreams and you know it! Sure you may want to tweak this or that, but the bottom line is that you want to find a contractor and start building this luxurious master bedroom which has the perfect master bath, and the spacious walk-in closet you need.
Does this sound like you: You have been thinking about a bedroom addition for awhile now. You found our site and this bedroom design probably caught your attention. You think about how awesome it would be to get a list of builders, give them this bedroom design, and watch how they build this master suite right before your eyes. In a couple of months you come home, say goodbye to your remodeling contractors and enjoy your first night in your new Hotel Suite Inspired Master Suite.
This reality is only a few clicks away now, all you need to do right now is find a contractor which is something we know how to help you with very well. Just fill out the form at the bottom of this page and you will get to enjoy this master suite addition sooner than you think!
Creation of this Bedroom Design
When we designed these master suite plans, we aimed to create a bedroom design that most people would fall in love with.
The bathroom has your double sinks, which every couple wants. It also has a jetted whirlpool bath for relaxing and melting all of your stress and worries away.
We threw in a shower stall and tucked in the water closet for added privacy. The spacious walk-in closet is truly a walk-in and you can do that from your master bedroom or your master bath. Do you like the idea of taking a shower and then stepping into your walk-in closet to get dressed? Click on the Bedroom Floor Plan and the Bedroom Interior Design photos above to discover for yourself how awesome this master bedroom addition will be.
This large master suite addition was factored with the extension of baseboard heating from your current heating system. If your home has a different HVAC system, the construction costs below will be slightly different than the price shown.
See a an actual Master Suite Addition Project.
Master Bedroom Addition Details

Size: 14' x 15'

Walk-in Closet: 10' x 5'

Flooring: Oak hardwood

Doors: 3

Windows: 2

Master Bathroom Details

Size: 10' x 10'

Flooring: Ceramic Tile Flooring

Doors: (1) Double French Door

Features: Soaking Tub & Corner Shower, Double Sink & Vanities, & Private Water Closet.
Master Suite Addition $74,000
Find a contractor who can use this Bedroom Design and customize it to your home and needs. Fill out the simple form below.
Want to See More Master Bedroom Floor Plans?
Need a new lawn mower?
Wait till you see what lawn mowers people are buying this year!
Compare customer reviews from: Home Depot, Lowes, and Sears on this years best mowers.
---
Once you build this room addition, your life will truly never be the same again, how could it?