Welcome to another great project write up, this time we are talking about a single level rancher that was in need of a master suite and a kitchen extension, which also meant a dining room extension as well.
A previous customer of our former research and development company Simply Additions LLC, needed a decent master suite, a larger kitchen area, and a dining room extension.
He had plenty of room in his backyard, so we broke the ice at the appointment and soon after we broke the ground with our excavator.
We designed a single story solution that would convert his existing sunroom into his kitchen extension and a new dining room extension between the new master bedroom suite and the kitchen.
---
This Charming Ranch Was Just Too Small!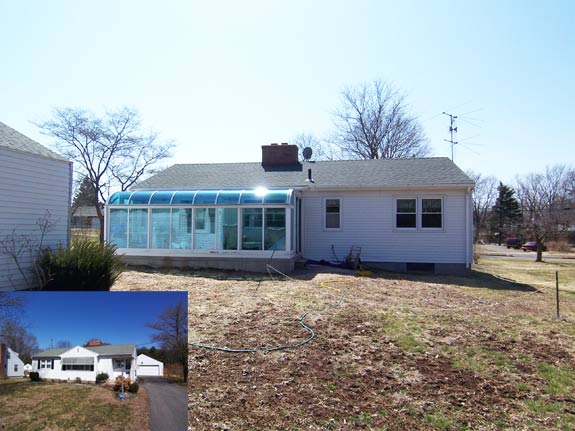 ---
Making Room For The Bedroom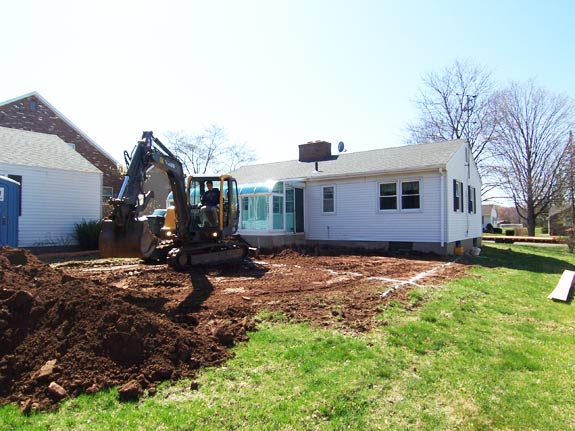 The kitchen extension was going to reuse the sunroom foundation, we had to excavate for the new crawl space foundation to go underneath the dining room extension and master suite.
---
New Foundation

Using a laser level we verified that the new foundation walls match the desired height perfectly.
---
Framing The Bedroom

In this picture you can notice that the existing sunroom has been removed. The bedroom window was quite tall, we had to extend the framing over its arched top.
---
Larger Kitchen Taking Shape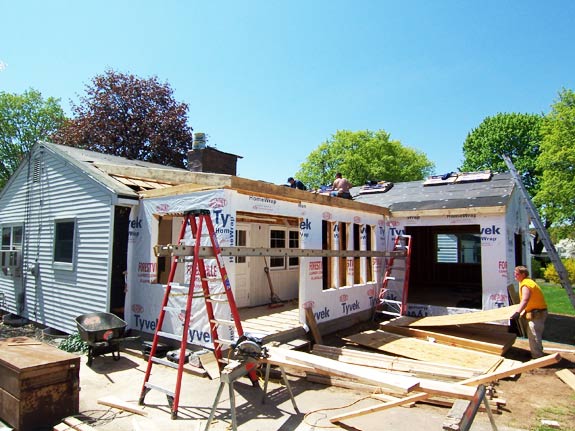 Our customer had us extend his kitchen and dining room. During this process he upgraded the existing flooring to beautiful hardwood oak.
---
New Siding

Our customer was tired of his worn white aluminum siding; he upgraded the entire house to maintenance free vinyl.
---
View From Kitchen

Ahh, the kitchen extension brings plenty of light through the french doors and casement windows in the dining room extension.
---
Extended Dining

Now there is plenty of room for entertaining!
---
View From Bedroom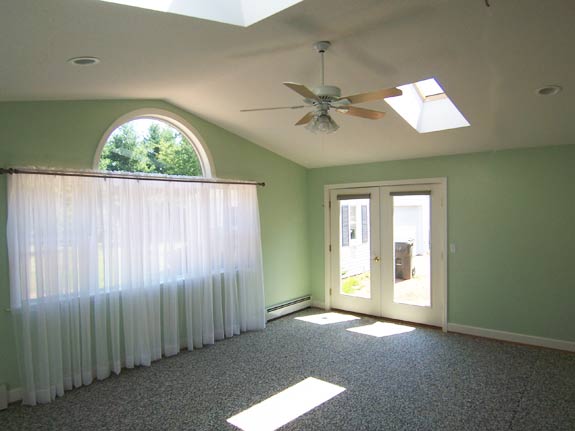 The skylights, large windows, and French doors ensure that when you wake up the sun will be there to greet you.
---
Nice Sink, Huh?

We love this sink and we also love it when our customers pick something that your local Home Depot won't carry.
---
Glass Tile: Shower

This shower is much better then the small fiberglass unit our customer upgraded from.
---
Looking From The Back Yard

Ahh, the view is much better than before; isn't it?
---
Making Room For The Bedroom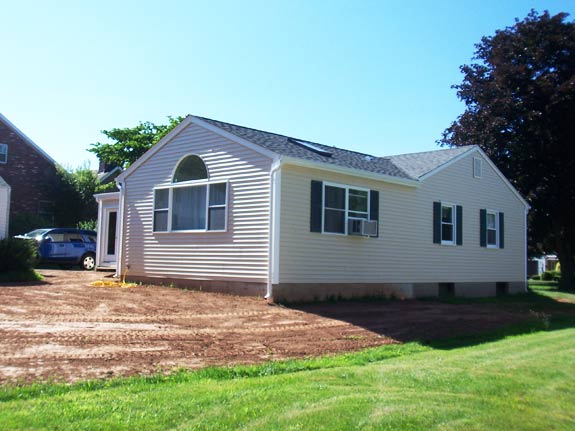 Where the roof planes meet is where the old ranch home ended.
---
Front Side View

Ahh, another beautiful home addition completed.

Come shop for your addition by visiting our proven home addition packages.

Project Cost: $106,000.00

Duration 3 months

800 new square feet of space
---
Customer Testimonial
Jim K. from Rocky Hill, CT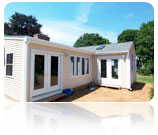 "Simply Additions built an addition to my home in the spring/summer of 2008. I found them easy to work with and very knowledgeable about design and products available. Cost was always a consideration for me in the design. Simply Additions was helpful in finding quality items and ideas while at the same time working within my budget.
The company has the ability to visually produce pictures of design plans. This was very helpful to me. Simply Additions also was creative with ideas of what might work better than my thoughts and ideas.
In the proposal and eventual contract there was a timetable to complete the various stages of the project provided. This was followed! Any deviations were always cleared with me and at times Simply Additions was seen discussing the various contractor's plan in order to meet the various deadlines. Also considered in the timetable was my lifestyle and family needs while construction continued.
Overall I would highly recommend Simply Additions they are excellent and run a quality company. I have contacted them again for assistance in continuing renovations and remodeling to my home."
Sincerely
Jim