One of the most common reasons homeowners add room additions onto their home is because their family is growing.
When that happens, the size of an existing home seems to shrink the moment you discover that another family member will soon be joining you.
A customer of our research and development company, Simply Additions, LLC, called us because they had a baby on the way and they needed to add an extra bedroom and home office to their colonial quickly!
After looking at their property we decided on building a bedroom and office on top of the existing two car garage, because it would be the most cost effective option. The reason this type of home addition is less expensive is because you don't have to build a foundation since the new addition will be sitting on top of the garage as a second story addition to the existing home.
---
Before Picture - located in Middletown, Connecticut.

Take a close look at this photo above and then the one below. Notice how easy it was to transform this existing colonial into the 3D finished version seen below.
---
A 3D Virtual Concept Before Construction

We strapped into our design chairs and sketched the existing house first, then we built a bedroom addition in 3D to show our customers of our R&D firm. Once they saw our 3D Presentation, they signed a contract to start building immediately.
---
A View From The Back Before We Start

In the back of the house, the only thing that would change aside from the second story addition, is the installation of a large picture window to the right of the patio slider. Their living room and kitchen area could really benefit from some more light and it's always a good idea to factor in these type of small remodels when you already have great contractors at your house.
---
Construction Without The Mess!

No one likes to have their home or yard look like a disaster during construction. We tarped around the garage to prevent damage to the existing siding and the yard from the roofing material that was removed from the garage.
Asphalt roofing shingles when removed can cause damage to whatever they land on, so make sure you tell your addition contractors or roofing contractors to rig something similar for your project during this phase.
---
Hey Look, No Roof!

Off came the existing framed roofing and construction of the second story bedroom addition was in full gear. Notice how close the 30 yard dumpster was to the house. This allowed for quick cleanup during this phase as well as all the other phases because later on contractors could just open a window or throw out debris through the open framing right into the dumpster.
---
The Back Of The Addition Will Be The New Office

Since our customers were dealing with some of the best addition building pros in the business during this project, the exterior walls went up quickly. That's what happens when you hire home addition building experts, which you can do yourself right now, by filling out the form at the bottom of this story.
---
Almost Done!

As our customers drove home from work, their jaws probably dropped everyday they pulled up to their house to see the progress. I'm sure the neighbors were impressed with the speed of this addition build as well. Can you imagine how happy you will be when your home addition is being built? 
---
View from the Other Side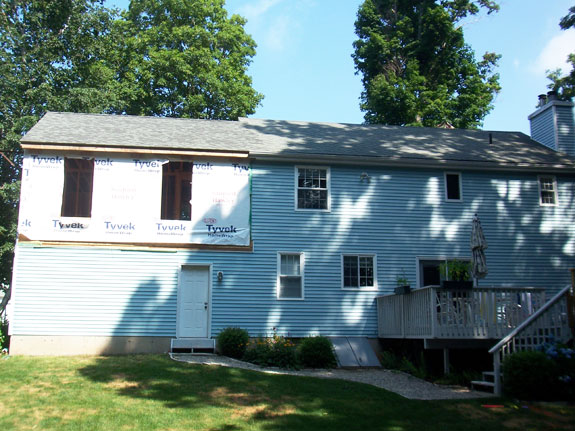 Notice the new roof of this second story addition matches the existing roof pretty well.Sometimes that's hard to do because asphalt roofing shingles fade over time. Luckily we were able to get a good match and our customer saved a ton of money by not having to re-roof the existing house to match the new addition shingles.
---
Completed View From The Back

It didn't take that long to add so much to this house and as you can tell, the new office will have plenty of sunlight!
---
Bonus Room Above Garage Finished!

Ahh, another beautiful home addition. Looks just like our concept, doesn't it?

Come shop for your addition by visiting our proven home addition packages.

Project Cost: $58,879.00

Duration only 2 months!

420 new square feet of room!
---
Customer Testimonial
Tammy & Jim from Middletown, CT
"We recently had an addition of two rooms built over our garage from Simply Additions. We are very satisfied with the finished product , the project was finished on time and we would recommend Simply Additions to other families looking to start a home project"