Steven and Cindy L. live on a quiet cul-de-sac in the town of West Hartford Connecticut.
They were lucky enough to buy a already spacious colonial in a neighborhood that they love.
The only thing missing at their new address, was the master suite that they always dreamed of. So our research and development company helped them build it!
So what qualifies as a dream master bedroom?
You probably already know the type. Large bedroom that gets plenty of light, spacious bathroom outfitted with the right materials and fixtures, and a little nook that allows for a mini fridge and a microwave to fulfill those relaxing nights where a couple could just retreat in their bedroom all day and be within a short walk to replenish on snacks, beverages, and maybe a little wine for those special nights.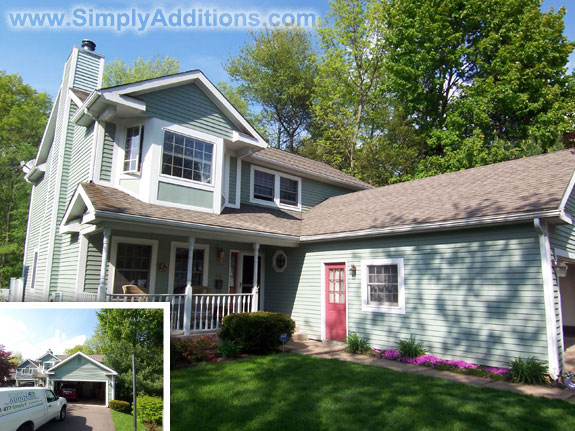 They found our website searching for home additions on Google. Soon after Cindy and Steven met at our research and development center to go over some home addition ideas.

The addition plan that they liked the best involved building the addition on top of their existing garage. This type of home addition would also be an easy approval at the West Hartford CT Town Hall, because the property would stay within the original footprint. If they were to build an addition in the rear or side, setback limits could prevent the project all together.
---
The Missing Piece 3D Rendering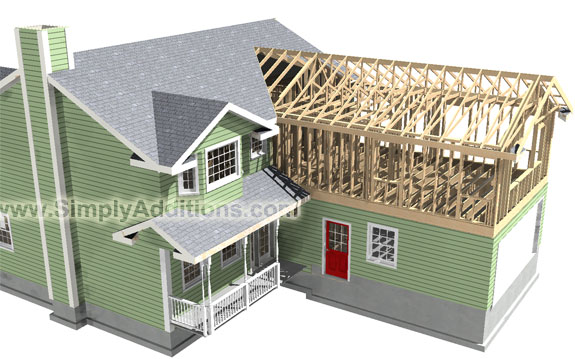 Building the home addition above their single story garage (which is extending from their 2 story house) would actually fill in the missing piece to the puzzle. We sat down at our old research and development center and discussed needs, wants, and budgets. Finally we rendered a possibility for their new master suite room addition build.
---
Master Suite Addition Interior 3D Rendering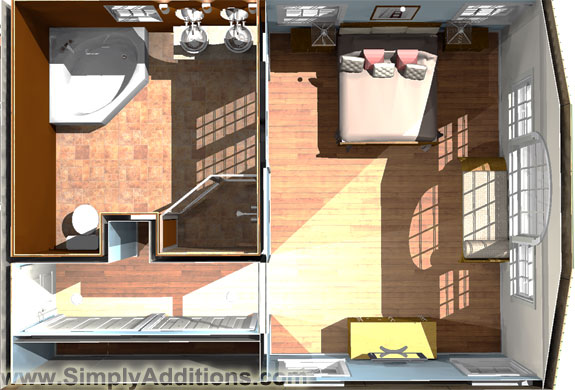 As you could see from the 3D master suite rendering above, we have designed a very spacious bedroom and master bath. This design also separated the bedroom from the rest of the house, giving Cindy and Steven a lot more privacy, plus peace and quiet from the kids. Everyone loves their kids, but putting a few square feet between you and them can be a great luxury!
---
Blueprints for Town Hall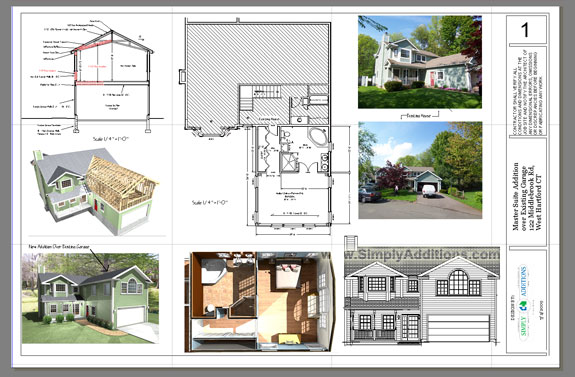 Once they saw the interior rendering it was not long before we signed a contract and created blueprints to bring to the West Hartford, CT Building Department at the Town Hall.The room addition plans were fully approved by the building inspectors and a building permit was issued to begin construction.
---
Bonus Room Addition Construction Begins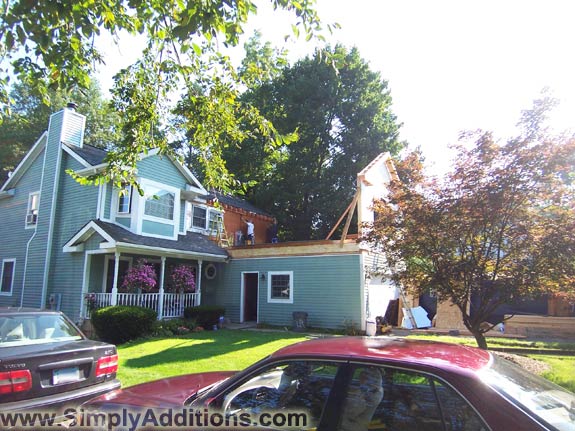 When our research and development company was active (Simply Addition, LLC, during the R&D of our website) we breezed through these home extension projects quickly, because we managed the same great contractors which are available to you by filling out the form at the bottom of this page.
In as little as a few days, you can be planning your dream addition too!
Now let's start walking through the new master suite addition.
---
The Tunnel of Love?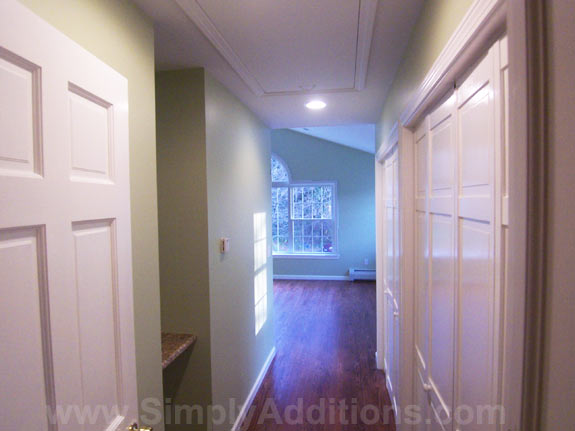 Okay on the left you can get a small glimpse of a 4' wide granite counter-top. Below the granite slab, Cindy placed a mini fridge for beverages and perhaps some take out. On the attractive stone shelf Steven put a microwave oven; maybe for popcorn cravings, since they installed a fantastic flat screen on their bedroom wall.
---
Now That's a Bedroom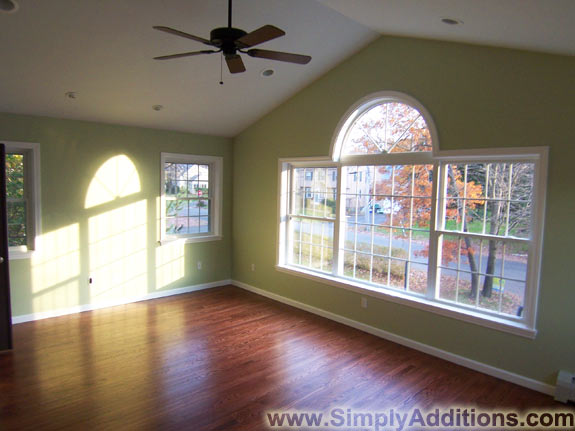 This is the finished bedroom. Let's spin around to see the other side.
---
Finally Some Peace and Quiet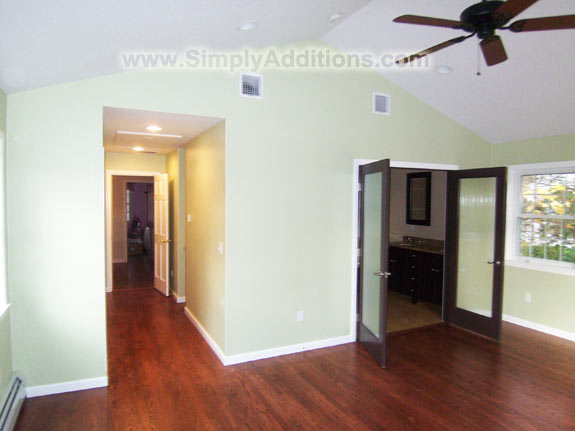 On the left you have the hallway with the min fridge nook and his and her closets on the other side. On the right you have double French doors welcoming you to a spacious master bathroom with Bamboo flooring.
---
Nice Decor, Nice Bedroom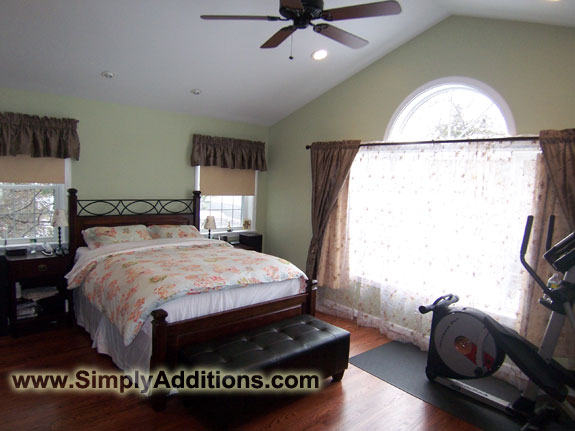 Check out how nicely Cindy and Steven decorated their newly built master suite addition! Looks like someone really knows how to decorate a space.
---
Checking Out the Master Bath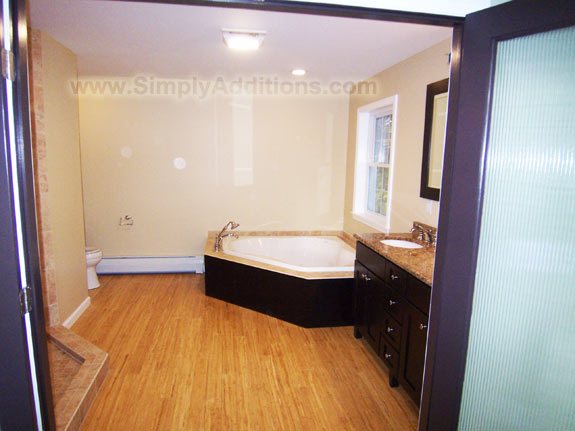 So continuing with Simply Addition tours, you enter the newly constructed master bathroom and can immediately see the beautiful double vanity with marble top and white sinks. You can also spot the great whirlpool tub nestled in the corner. Wouldn't you love to have this bathroom?
---
Jump In to Relax Everyday!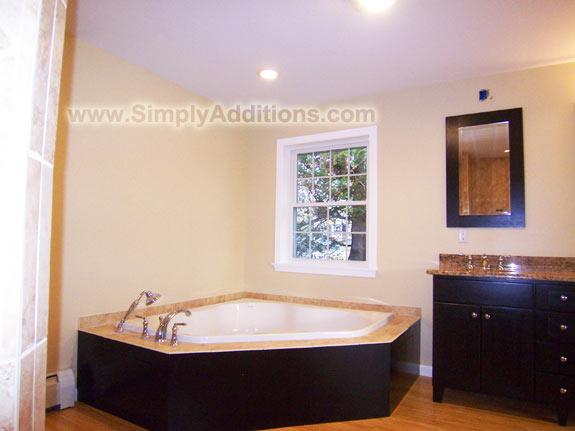 Now let's examine the corner tub with the custom built dark cherry enclosure a little. Okay, now, let's start spinning to the left.
---
Behind The Scenes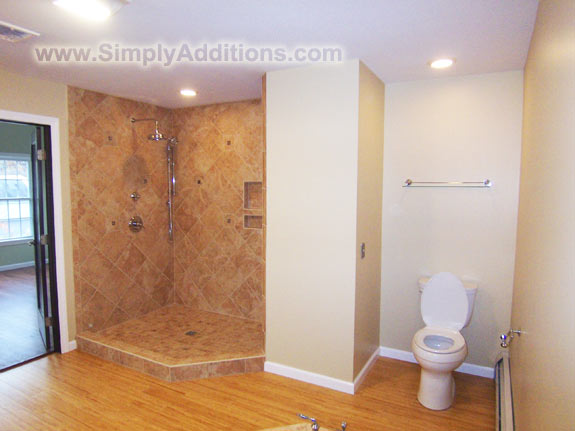 It's nice to have the water-closet set back into a more private setting. Also notice this photo was taken before the custom glass shower doors were installed. Isn't the Bamboo flooring a nice touch in a bathroom?
---
Nice and Spacious Bathroom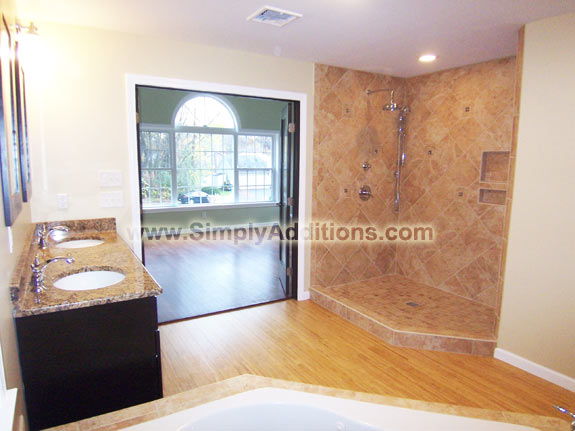 Guess where we're standing to take this picture!
---
Okay before we leave this great master bath, let's take a look at the shower door enclosure.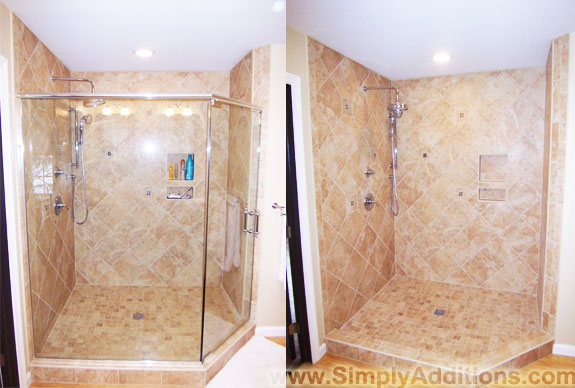 The picture does not do this shower any justice. Just take our word for it, this is a great looking shower!
---
Sitting Pretty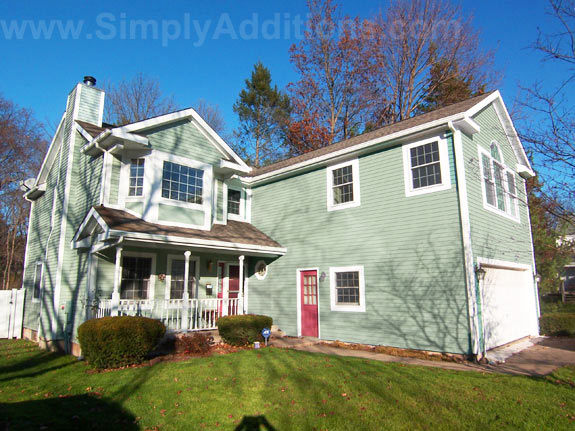 Okay folks the grand tour of this awesome master suite addition is over, because all good things have to eventually come to an end.
You can always start your own adventure by finally building your new bedroom addition!
When we were in the business of building home additions, we were great at it. Now we share our tips and tricks with the world since the economy doesn't support our old business anymore.
Use our automated contractor locator below to find well known contractors who are just as good or better than our sister company was during it's prime. And remember to get our home addition building guide to help you get accurate estimates from your contractors, watch the video on our room addition building guide page!
---