Second Story Additions with Construction Costs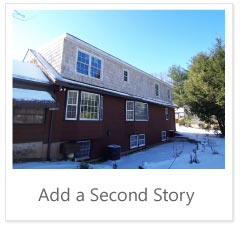 A common renovation for people looking to add major living space onto their home is building a second story addition. These large add a level renovations transform single level ranch and cape homes into spacious two story colonials.
I have designed several 2 story addition plans to help you get a good idea of how much an elaborate home renovation like this can cost you. In general adding pure living spaces, such as bedrooms and family rooms, is cheaper to construct than adding rooms with plumbing, like bathrooms. So if you add a second floor with only bedrooms, it will be much cheaper than doing the same add a level renovation with bedrooms and a single bathroom.
What Do My Second Story Plans Include?
All of my addition designs include a 3D Interior Room Design and Floor plan. I make them to help people visualize what's possible and to help people understand the scope of the project.
'give you a good idea of what can be done within the new spaces.
Need The Names of Good Addition Builders?
Skip to the form at the bottom of the page.

Have You Hit The Remodeling Jackpot?
This website was developed as a tool to help homeowners plan, budget, and build a home addition with the same ease a general contractor would have.
What are the benefits of using the tools & remodeling advice on SimplyAdditions.com?
1. Getting Real World Building Costs - There are over 40 pages of home addition estimates for today's most common house extension projects. Explore design ideas and real world cost estimates to get familiar with where your project cost should be. Doing this will help you eliminate the contractors who are trying to score your job and reap excessive profits. As a seasoned GC (general contractor), I have to admit that sometimes even good contractors overprice projects during times when they already have a full construction calendar. They do this because they don't need your business, but getting your business would be like winning a bonus for the year.
Did you know about this closely kept trade secret? Be this first to tell your friends.
2. See What Others Have Gone Through - Building a home addition is not something every homeowner tackles and with that being said Jim's advice on his window replacement project will not prepare you for what's coming ahead for you. An addition build requires a lot of effort, time, patience, and money. Explore some of our favorite project stories to examine before and after photos and uncover little known details to help yourself better prepare for the road ahead. The end result will be fantastic and well worth it, if you follow our seasoned advice.
3. Learn Trade Secrets Only Retired Contractors Would Share - Some of the advice on our site is not exactly public domain.
It's no secret that a general contractor would save a lot of cash and aggravation when building his own additions, so why not take advantage, millions of people already have!
Get a List of Good Contractors Right Here
All you have to do is fill out the form below and you will receive an email with contractors that I personally would call if I were building an addition myself. General Contractors are simply educated homeowners with really good interview questions and the know how to keep contractors in check.
Fill out the form below, then read my award winning articles about contractor hiring. You'll be 10 steps ahead of every homeowner who doesn't. (NO SIGN-UP, NO FEE, NO HASSLE)
From 2004 to 2010 I worked as a general contractor focusing my expertise on home addition building.
---

By the way, you should read my Headache Free Plan to Building Additions to prepare yourself prior to interviewing contractors.