Cape to 2 Story Colonial Conversion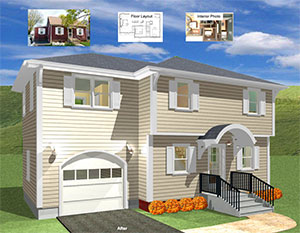 Move-in Ready:  

3 Months

Master Bedroom:  

20' x 17'

Second Bedroom:  

11' x 10'

Third Bedroom:  

9' x 19'

Common Bath:  

8' x 8'

Size:  

747 

  sq/ft



Cape to Two Story Colonial Addition with Garage

These renovation plans are for converting an existing cape styled home into a full two story colonial with one car garage and a bedroom above. This price below is based only on a room addition shell.
A Shell of an Addition Project
Home Addition Shell: This is the exterior structure itself (roof, siding, doors, and windows). No interior work is estimated in a shell construction quote. You will be responsible for jobs such as: drywall, plumbing, electrical, insulation, flooring, and all the finish work.
History of this Second Story Addition Design
The new second story addition will overhang the existing first floor by 1 foot (off the front and back) for additional floor space. This addition design came from an actual customer project in southern Connecticut. The customer finished the house himself along with family and friends. Are you interested in seeing full project stories from my home improvement days? I
Construction Details For This Two Story Addition Shell
Demolition of the roof and the existing second floor (floor joists to remain)

New 1 car garage foundation

Framing of the entire addition

New 30 year architectural roof

Extension of existing chimney

12 new construction double hung windows with argon gas and Low e (High efficiency)

1 steel garage door with glass.
Room Construction Details
Master Bedroom

Size: 20' x 17'

(2) Closet: 2' x 6' & 2' x 7'

Doors: 6

Windows: 6

Second Bedroom

Size: 11' x 10'

Closet: 3' x 5'

Doors: 3

Windows: 1
Third Bedroom

Size: 9' x 19'

Closet: 9' x 3'

Doors: 3

Windows: 3

Common Bathroom

Size: 8' x 8'

Flooring: Tile

Doors: 3

Windows: 1
The Estimated Cost To Build This Second Story Addition Shell Is $66,000
Use the form below to find a great contractor.