Add A Second Floor to a House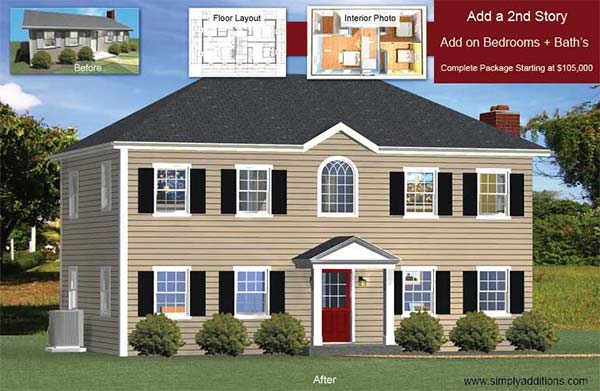 Add A Level to Convert Ranch to Colonial
Convert a Cape or Ranch to Colonial
As a general contractor I had the chance to renovate many homes in the lovely state of Connecticut, but nothing beats the wow factor you receive whenever you convert a single story cape or ranch into a beautiful colonial. Just compare the before and after pictures above to see the transformation in curb appeal alone.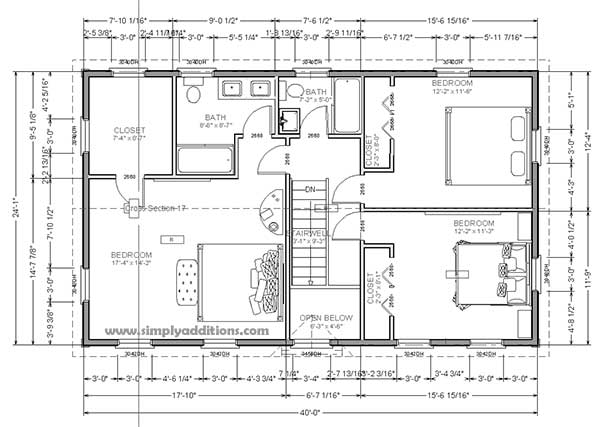 Second Story Addition Plans 960 sq/ft
This 2 Story Addition doubled the square footage of the existing home. Included with this design is: 2 additional bedrooms, a shared bathroom, and a master suite (with a walk-in closet and an ensuite bathroom).
What To Do With The Lower Level
The lower level bedrooms can be renovated by making existing rooms like the kitchen and living room larger. One challenge in building a massive home extension like this, is finding a good place for the staircase. There's no way around it, but to sacrifice some space on the lower level. Your addition builder or architect will help you find the perfect spot, even if you have trouble visualizing the solution yourself.
Other Second Story Plans
One size does not fit all, so make sure to browse the entire menu of 2nd story addition and find one closer to the dimensions and scope you're after. This particular plan is on the larger side, you can also cut in both sides of the addition to reduce the building cost and square footage.
Lessons Learned from Past Projects
Ask your contractor how he plans to handle the project, since your roof is going to have to be ripped open during the building process. Sometimes it's possible to work on one side of the house, while other times, you'll be forced to check into a hotel. A good contractor will prepare you by explaining when and how things are going to happen, so that you can have a safe place to live during the renovation.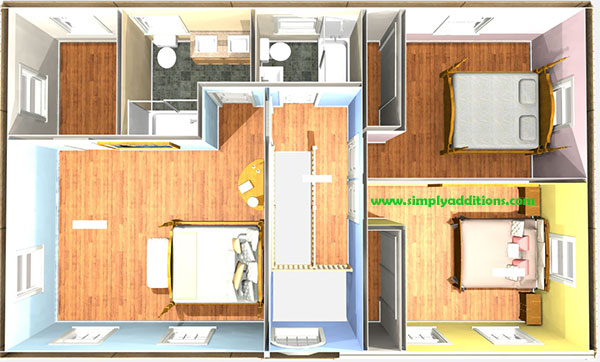 Master Bedroom

Size: 17' x 14'

Closet: 7' x 9'

Flooring: Oak hardwood

Doors: 3

Windows: 3

Master Bathroom

Size: 9' x 9'

Flooring: Tile

Doors: 1

Windows: 1

Second Bedroom

Size: 12' x 11'

Closet: 2' x 8'

Flooring: Oak hardwood

Doors: 3

Windows: 3

Third Bedroom

Size: 12' x 12'

Closet: 2' x 8'

Flooring: Oak hardwood

Doors: 3

Windows: 2

Common Bathroom

Size: 7' x 5

Flooring: Tile

Doors: 1

Windows: 1

Have Questions?

Maybe I could help with that. You can find me on:
This Second Story Extension Is Estimated At $112,000
Use my contractor finding service to find out who is worth calling for an estimate appointment in your area, because not all contractors can swing a project this big. Take my word for it, I managed these guys for a living.
Get Ranch Conversion Plans and Checklist for ONLY $19.99

Includes: Material Listing, Specifications, and Builder Instructions.

Coming Soon
---
---

Newsflash
Need a lawn mower? Check out what lawn mowers people are buying this year!
Check out the best self-propelled lawn mower buying guide.
---
Construction Details: "Second Story Addition with Fancy Hip Roof Design
The existing roof will be completely removed and a new second floor will be built over the first floor. Some existing walls on the first floor will be reconfigured to allow for a staircase to access the second floor. At the end of the hallway a balcony will allow you to look over into the foyer below. A new gable roof will be added with usable attic space, and a small overhang over the front door will provide protection from the elements when entering the home. An extension of baseboard heating was factored into the cost of this build. If your house has a different heating and cooling system currently, the cost to build will be slightly different than what's found below. Overall this home extension plan gives you a great general idea of what a turnkey package can cost you.
More Advice On Building Ranch Conversions
These 2 story home conversions are complex projects, so make sure that you read as much as you can on my website about how to hire and manage contractors, and check out the project stories because they include photos and interesting details that you won't find anywhere else. I'm actively updating the entire site to make it even better than it is today, so bookmark it and I'd appreciate if you could share it online through social media, you could use the handy buttons at the top of the page. Heck, just Pinterest some photos and I'll take that as a clue to post the rest of my second story addition projects online.