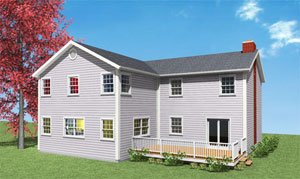 Two Story Extension
In this picture you're looking at a hefty 768 square foot house extension that gave this home an additional family room on the first floor and a master suite on the second floor.
Two Story Extension Plans and Estimated Building Costs
These two story home addition plans are perfect for homes that are already two stories, but need a 2 story extension of the existing house to make room for additional rooms and amenities.
The most common 2 story addition transforms the existing house into an L or T shape as show in the picture on the right.
A common two story addition or multi-level addition will be the adding a family room to the first floor and adding a bedroom to the second floor.
Two Story Addition
Sometimes people confuse 2 story addition plans with adding another level to their house. When you want to add another floor, we call that the add a level house extension or second story addition. Check out both sets of plans to see the difference.
Quick Tip:You can also build a full basement underneath these 2 story extensions and remodel it in the future for even more living space.
Two Story Home Extension Plans
Menu
Calculate Your Average Cost for Two Story Additions by Area
| | |
| --- | --- |
| Area | Cost |
| New England | $173,745 |
| Hartford, CT | $177,281 |
| Pacific | $183,801 |
| San Jose, CA | $197,264 |
| West South Central | $147,590 |
| Houston, TX | $149,064 |
| Philadelphia, PA | $188,747 |
| Mid Atlantic | $169,889 |
| Miami, FL | $159,938 |
| Boston, MA | $195,591 |
| New York, NY | $207,959 |
| Charlotte, NC | $149,136 |
| South Atlantic | $151,057 |
| Detriot, MI | $175,551 |
| East North Central | $163,914 |
| National Avg. | $161,925 |
2015 National Remodeling Averages Cost vs. Value Report from Remodeling Magazine. These building costs were factored for a 24' x 16' two story addition built over a crawl space. The first floor being a family room, with the second floor being a bedroom with a full bathroom. (See Master Suite Addition Plans).
---
Two Story Addition Projects Are Trending Again
Here's some trending data I pulled from Google showing once again how the economy began improving starting in 2010.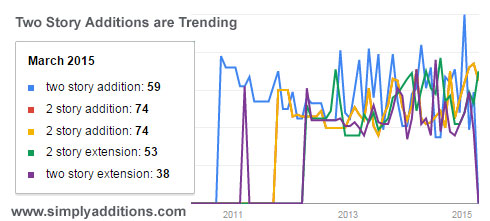 Prior to October of 2010, there wasn't even a blip on the search radar for home improvement projects that cost upwards of 100 grand.
Let's look at the future forecast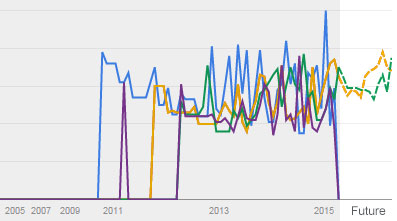 The future for our economy looks positive according to Google. Now is the perfect time to build your two-story addition!