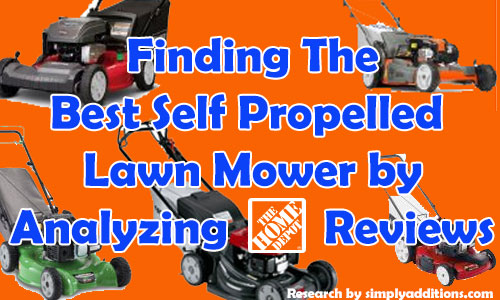 This is the ultimate self propelled lawn mower buying guide for 2017. Discover all the brands and model #'s of the best self propelled lawn mowers at your local Home Depot.
How Do You Know If These Lawn Mowers Are Any Good?
Any lawn mower that made this list is proven to be reliable according to the following criteria:
1. Has at least 250 positive reviews.
2. Has an average review rating of 3.5 or higher on a scale of 0 to 4.
3. On average customers are pleased with the lawn mower and its performance.
Okay let's get you started. This guide is large but it's broken down into 3 sections, here's a quick overview.
This section includes some basic facts about today's lawn mower technology. If you are a new homeowner, you may want to quickly read a few tidbits before proceeding to the actual lawn mower reviews below.
This is an easy to use master list of the lawn mowers that are or will be completely reviewed shortly. It's a quick table of model numbers, mower cost, the number of customer reviews, and the average rating of those reviews. If you're pressed for time, you can do very well by simply picking a lawn mower directly from this list. However, you're going to have to examine THE GOOD, THE BAD, and THE UGLY customer reviews yourself, if you want to truly make the best buying decision. No matter what, I would always look over the positive and negative reviews myself for any large purchase. But I'm a wacky guy who has reason not to trust every single person and company out there. More on that some other time.
Here is where I provide all the basic facts anyone could ask for during their lawn mower purchasing decision. You'll learn all the Pros and Cons for each mower, just keep in mind that these products are built by humans, so every now and then mistakes happen at the factory, which ultimately result in a bad review.
No lawn mower is perfect, but if you learn about the positives and negatives for every mower your interested in, you'll be able to make the best possible buying decision, and my job is done! The blue links in this section will open a new browser window and take you right to the Home Depot website for that mower. From there I suggest that you briefly look over the customer reviews yourself. Once you are done, simply close that tab and you'll return to this buying guide, where you can go to the next mower on the list and investigate on.
Good luck on your search and let me know if you have any questions, suggestions, or concerns through Twitter or Facebook.
Introduction to Self Propelled Lawn Mowers
Not all lawn mowers are created equal as my readers found out from my original expose on mowers from Lowes, Home Depot, Sears, and Amazon. This guide is meant to help you choose the best self propelled lawn mower based on the most popular features people like you and I look for.
New Lawn Mower Features
If you haven't purchased a lawn mower in over 5 years, there may be some new features you are not aware of. Some of these features make no difference to the average buyer, while others can be a deal breaker once you try them.
Adjustable handlebar positions for people with back problems can be a life saver for practically anyone over 30 that's either very tall or short for the average lawn mower handlebar position.
Terrain Features
Did you know that not every lawn mower at Home Depot is capable of cutting on sloped surfaces. Don't worry Lowes & Sears have the same problem. I wanted to bring that to your attention so that you pick the right mower for your terrain type.
Choosing The Best Lawn Mower by Lawn Size
If you're packing green backs like a Wall Street banker, you can simply buy the biggest, baddest, lawn mower on this list and be done with it. However, if you're like the 99% of the population, you're looking for a mower based on the specs you actually need.
The size of your property is a specification that I dug up for each mower, so that you don't under-buy or overbuy for your needs. If you are into flipping houses for profit, you may want to buy a machine that's on the higher end of the lawn size spectrum.
I would never buy a machine that's quoted for ¼ acre for properties over ½" acre. I would trust the engineers who designed this thing that they know what they're doing, at least most of the time.
Lawn Mower Cutting Features
You would be surprised how many different ways the lawn mowers below can cut, bag, discharge, mulch, or shred your grass or leaves. Make sure to double-check the specs below for capabilities you really want.
Mulching is one of those mowing capabilities that is a deal breaker for a lot of people. But if you have a property adjacent to a wooded land, or another way to dump your bagged lawn clippings, mulching may be something you don't want to pay for.
Some of these lawn mowers feature a blade brake. This allows the lawn mower to continue running while you move your sprinkler hose out of the way. The blade will stop once you let go of the handle, but the engine won't need to be restarted once you get back.
This is a feature that might help people with back or arm problems, because it will prevent you from having to pull start the machine again. However, if you buy a mower with an electric start, you'll be fine.
Top 10 Best Self Propelled Lawn Mowers at Home Depot
Extensive Analysis of Home Depots Best Self Propelled Lawn Mowers
Self-propelled lawn mowers are designed to make mowing fast, fun, and easy. With both front and rear-wheel drive capabilities, they practically mow all by themselves and only need you to guide their paths. Find out what self-propelled models make the top grade with Home Depot shoppers and people who prefer to use the latest innovations available in today's newest lawn mowers.
Honda's self-propelled mower with auto choke is a 3-in-1 variable speed model that gets high reviews for being simple to use and adaptable to the conditions in which it is used. It has a gas powered engine and comes in a silver, black, and red color scheme. It can be folded and stored easily thanks to its quick-fold handles and easy twist knob design.


The pros of this self-propelled Honda HRR216K9VKA lawn mower include:
auto choke capabilities
easy starting Honda GCV160 engine
micro cut twin blades for smaller clippings and mulching
larger bag capacity for clippings
three-year warranty
priced at $399
tool-free adjustments
mulching capabilities

The cons for this Honda mower include:
not designed for yards bigger than ½ acre
pull cord start rather than push button start
warranty only covers parts
has rear-wheel instead of front-wheel drive
attachments sold separately
no additional warranty available
does not idle, must be restarted each time if you take a short break

The Honda self-propelled mower with auto choke is ideal if you have less than a ½ acre of property to mow or if you want to mulch your grass. Honda lawn mowers are pricey but just like the cars, they are generally trusted for years of trouble free performance. As my original self propelled lawn mower buying guide stated, you simply can't go wrong with a Honda. But do yourself a favor and read the negative reviews for any mower you are going to pull the trigger on.
The Toro Kohler high wheel self-propelled mower is an affordable model that is priced at $274. It comes in an attractive red color and has variable speed capabilities that make it easy to handle. It also has a gas powered engine and front-wheel drive that lets you guide it effortlessly as it makes its way across your yard.

Some of the more noteworthy pros found with the Toro Kohler 20378 high wheel self-propelled mower include:
foldable handles
high wheel mowing for tall grass
tool-free adjustments
mulching capable
3-in-1 bagging system
three-year manufacturer's warranty with another two-year basic warranty available
nine cutting positions
washout port that fits your garden hose

The cons of the Toro Kohler high wheel self-propelled mower include:
some assembly required
pull cord start requires more effort than push button start
heavier than some models, weighing 74 pounds
noisier than other comparable models
engine can stall or not start easily
additional two-year warranty only covers parts
may require new spark plugs every 60 days

The final verdict for the Toro Kohler high wheel self-propelled mower is that it is ideal for people with smaller yards to mow. People who prefer quieter models that need less repair and maintenance may fare better to choose another mower.

Toro's walk behind self-propelled mower is priced just a bit higher than its Kohler high wheel model at $304 on Home Depot's website. Still, for that price you get design features and innovations that make the mower fast and easy to use. It also has SmartStow technology that lets you stow it quickly and conveniently.

Some of the top design features found with the Toro 20339 Walk Behind self-propelled mower include:
uneven or rough terrain mowing capabilities
SmartStow design for 70 percent reduction in storing space
recycler cutting system
atomic blades
deck cleanout feature
mulching capabilities
tool-free adjustments
22-inch cutting path

The downsides, however, include:
limited three-year warranty
heavier at 78 pounds
not designed for mowing more than one acre per tank of fuel
pull cord instead of push button start
requires assembly
requires spark plug replacements at least once per year
sluggish start after being stored for the winter

If you want a moderately priced self-propelled mower that offers you solid performance for mowing a smaller yard, you may be satisfied with the Toro walk behind model. This mower can be used on all types of terrain. However, if you want one that requires less maintenance or one that is easier to start or more ecologically friendly, you may consider another self-propelled mower.
The Toro Personal Pace Recycler 20332 lives up to its name by pacing itself to how fast you walk behind it. The mower senses and adjusts to your walking speed, it also cuts a 22-inch swath of grass. Its gas-powered Briggs & Stratton engine is designed to mow up to a half acre piece of property with each full tank of fuel. This self-pushed mower is priced affordably at $334.


The Toro Personal Pace Recycler 20332 comes with perks like:
deck cleanout capabilities
foldable handle for easy storage
tool-free adjustments
mulching capability
bagger included with purchase
capable of mowing slopes and rough terrain
a two-year manufacturer's warranty

Some of its less attractive features are its:
slightly higher price compared to other self-propelled mowers
lack of warranty coverage for maintenance parts like filters, spark plugs, and lubricants
lack of additional warranty coverage after the initial two-year warranty expires
need for frequent oil changes
noted carburetor issues reported in online reviews

If you are in the market for a self-propelled mower that is priced reasonably and offers full strength rear-wheel drive, you may find that the Toro Personal 20332 suits your expectations. However, if you prefer a mower with a better warranty or one that can last longer without maintenance or servicing, you might consider another model.


The Toro Recycler 20334 makes mowing easier with its push button electric start. Rather than waste time pulling on a cord to start the engine, this mower lets you get started with the push of a single conveniently located button. It also senses what pace you want to walk at and stays in line with your movement. It can mow a half acre yard with ease.


Other beneficial design features of the Toro Recycler 20334 are:
its atomic blades
3-in-1 bagging system
mulching capabilities
nine different cutting positions
two-year manufacturer's warranty
three-year guaranteed to start coverage
guaranteed no oil changes for life of the engine

However, it also has some less desirable features like:
heavy weight at 86 pounds
some reviews claim it's hard to start
no automatic adjustments for climbing hills
assembly required after purchase
make sure to follow the instructions regarding letting the mower sit with fuel in it for extended periods of time

If you want the convenience of starting your mower with the push of a button, you may find the Toro 20334 self propelled lawn mower to be in line with your needs. It also is well-suited for people who prefer to set their own pace when they mow their yards. If you are shopping on a tight budget or you have a yard will hills or inclines, you may consider choosing another type of mower.
Ego's self-propelled mower features a 21-inch deck size and a streamlined body for easy guiding. It comes in a solid black color trimmed in neon green. It has a push button start and can be folded up for easy storage. It sells for $549 and comes with a five-year limited manufacturer's warranty. You have the option of buying another limited warranty to cover parts once the initial service warranty expires.

Notable pros of the Ego LM2102SP self-propelled mower include:
56-volt lithium battery included with purchase
3-in-1: mulching/bagging/side discharge
LED headlights
two bushel bag capability
weather resistant design
60 minute battery cut time
powerful torque
additional three-year warranty available

Some of the downsides are:
engine cannot be powered by gasoline
additional three-year warranty costs extra
mowing longer than an hour requires extra charging
priced higher than comparable models
side discharge attachment sold separately for $24.97
does not come assembled
battery is shipped separately if purchased online
higher level cutting drains battery

The Ego self-propelled mower is ideal if your yard is less than an acre in size and can be mowed in under an hour. It is great if you like to mow in any kind of weather or right after it rains. If you mow before your grass is tall enough to cut at lower mowing heights, you risk draining your battery faster.


The Toro 20377 is a self-propelled mower that is built to go around tight corners and into small spaces on your yard. Whether you are mowing along a fence line or trying to get those tough to reach spaces under your backyard swing set, you may find that this little mower makes life easier. It is priced low at $264 and has a 22-inch mowing deck. One feature I like a lot is that the handles can fold up for easy storage in your garage or shed.
With the Toro Model# 20377 lawn mower, you get these notable advantages:
mulching
bagger included
deck cleanout
adjustable height handle-bar
manufacturer's warranty of two years
optional side discharge

Still, it has some less desirable features that include:
limited coverage for parts and labor
pull cord instead of push button start
not designed for hill or incline mowing
required frequent oil and spark plug changes

If your yard is flat and less than a half acre in size, you may be well served with the Toro 20377. If you want a mower with a more in-depth warranty or one that can go without regular maintenance, you might find another model to be a better choice.

The Toro Personal Pace Recycler 20353 is a gas-powered self-propelled mower that comes with all-wheel drive. Its AWD combined with its ability to sense your personal pace makes it well-suited for people who want to make mowing as easy as possible this summer. It is priced notably higher than other push mowers with comparable dimensions. However, with its maneuverability and traction, it is worth the investment if you have a yard with rough terrain or hard-to-reach corners.


The Toro Personal Pace Recycler 20353 also offers you pros like:
a 22-inch cutting path
mulching capabilities
side discharge bagger
nine cutting positions
atomic blades
two-year warranty from the manufacturer

Alternatively, you may take note of its disadvantages, such as:
heavy 80 pound weight
cannot idle during breaks
assembly required
no coverage for parts like filters or spark plugs

If you want a premium manual starting self-propelled mower that can fit into the tight nooks and crannies in your yard, you should be satisfied with the Toro Personal Pace Recycler 20353. If you are in the market for a lower priced model, you may consider other self-propelled mower options.

The Honda HRR216K9VYA self-propelled mower comes with features not found in other brands' self-propelled models. It can idle briefly when you take a break, allowing you to keep it running without having to shut it down or start it back up when you are ready to start mowing again. It also comes with twin blades for closer cutting and better mulching or bagging.


You also may enjoy these perks that come standard with the Honda HRR216K9VYA:
variable speed operation for easy use
designed for mowing slopes and inclines
three-year warranty
foldable handles for easy storage during the off-season
fuel efficient engine for longer mowing times

However, you should be on the lookout for some downsides like:


smaller 21-inch cutting path
significantly higher priced at $499
need for frequent oil and spark plug changes
noisy operation

When you want a mower that can vary the speed at which it operates and also handles uphill and downhill mowing with ease, you should be pleased with the Honda HRR216K9VYA. If you want a quieter mower or one that is lower in price, you may need to shop for another model.

Lawn Boy has become a brand that is synonymous with high-quality lawn care, and it upholds this reputation with its Lawn Boy 17734 self-propelled lawn mower. It has a unique electric start gas engine that is designed to be easier to start each time you are ready to mow. It also comes standard with a two-year warranty that you can use to cover parts like the bagger and engine as well as the labor and servicing.


Some of the other perks you get to enjoy when you choose the Lawn Boy 17734 are:
a 3-in-1 mulching and side discharge system
a three-year Tru Start commitment
an easy pull electric starter
2-point height-of-cut for all lengths of grass
rear-wheel drive for uphill and downhill mowing
reasonably priced at $339

The cons of this Lawn Boy mower include:
narrower 21-inch cutting path
a single rather than dual cutting blade
suited for mowing smaller yards between ¼ to ½ acre
complex starting system that can be difficult for novice mowers to understand

The Lawn Boy 17734 is a great self-propelled mower if you want the option of bagging your clippings or mulching your lawn. It likewise has easy-to-use adjustable positions so that you can get the look you want for your yard. However, it cuts a narrower path than other self-propelled mowers, and it also can be difficult to start than the typical pull cord mowers.
Upcoming Lawn Mower Reviews for May 2017
If you like what you see, check back in a week or two. I'm going to refine it by digging deeper into the customer reviews, so that I can pull out valuable tidbits of details that only ownership can reveal. Who needs consumer reports when you have thousands of consumers reviewing lawn mowers all over the internet? There's a reason why my ultimate lawn mower buying guide get's 100,000 visits.
These links take you right to the Home Depot website by opening a new window 1st. Once you're done looking at that model #, close the tab and click on the next mower in the list to continue your research.