There are many ways to get ideal interior doors for your home, since there are so many options when you buy.
You can select from various styles, frame types and hardware, to give your home a custom look.
You may be remodeling your home to make it more attractive, or preparing it for sale.
Either way, there are plenty of interior doors from which to choose.
First, you'll want to decide what material you want your doors made from. You can still find attractive wood doors, of course, but there are also fiberglass composite doors and other types that will improve the interior of your home. Different styles of doors have different textures and colors from which to choose, and you'll want to select a style that goes with the rest of your interior architecture.

The most common interior wood doors are mahogany, walnut, ash, hickory, cherry, oak and poplar. Each one of these various woods has its own texture and color. The differences may be subtle or obvious. Mahogany is a favorite, since it is a dark, rich wood, and white oak is a much lighter wood, with a less formal feel. The function and style you're looking for will determine what kind of wood you choose for your interior doors.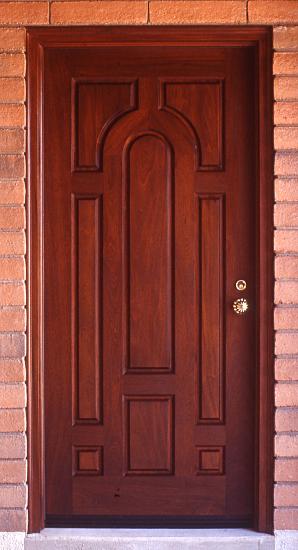 You'll also want to choose types of door frames that will go well with the style of your home. The variety in frames goes somewhat along with the type of wood you choose. You can find smaller frames or wider frames, and you'll be selecting one that accents the door and your home, overall. If your style is simple, you'll want to use smaller door frames. Fancier and larger doors usually have larger frames.

Your entryway is the first thing people see when they come to your home. Its condition, style and color make up a good deal of your home's curb appeal, a term you have heard about a lot, if you have been buying or selling a home. If your entryway is well-maintained and stylish, it can improve the way it looks from the street.

Exterior doors have to keep the elements out and your comfortable air in. It may be commonly assaulted by the elements, so you want an entry door that does this job well, and looks good at the same time.

If your exterior door is made from wood, you may find that it will shrink, bow and swell, depending on the season. If this happens, your door will stick sometimes, and other times allow drafts to come in. To prevent these from happening, be sure you have a well-sealed door when you have it installed.
Fiberglass doors don't have the bowing and shrinking problems that wood doors have. They don't require much maintenance, and you can purchase fiberglass doors that feel and look like wood. They may be a bit more expensive than wood doors.

Fiberglass and wood doors both may need touch-ups now and then, to keep them looking good. If your exterior door gets hit with a lot of direct sun, use a finish or paint that will absorb the extra light. This is helpful in allowing the color of your door to last longer. Reseal wood exterior doors if they get exposed to moisture and rain a lot, and reseal all the surfaces. Taking care of your exterior fiberglass doors, including sealing them, will give your home stylish appeal.
---