Roof repair is sometimes a job that may be best left to roofers, unless you have good balance and a good deal of experience.
Just walking on a roof is something like walking on a boat, but you can handle all the decisions and just leave the work to someone else.
You probably don't spend much time on your roof unless you have a satellite dish with bad reception.
But if you're comfortable roofing, have a friend or two or three help you, and roofing is a job you can do.

After you make sure you have your roof legs, be sure that you can do a proper job on your roof repair. You can speak to a roofer and see if you might wish to contract out some of the work, while doing some of it yourself. You may want to just tear off the old roof if you're not comfortable with doing the whole job.

Your roof is an integral part of your house. It gives you protection and shelter from rain, snow and wind. Considering a house without a roof is an absurd thought, but many people don't check their roof often enough to know when they need roof repair or replacement. You probably don't even think about your roof unless it leaks.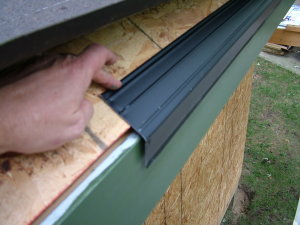 You can repair leaky roofs on your own, with a helper or a spotter. Repairs and waterproofing are the two jobs most often undertaken by homeowners. Laying shingles is commonly done by homeowners who have do-it-yourself roofing experience. Gather the supplies you will need, before you start.

Shingles can be bought in squares, and each square has several shingle bundles in it. Measure the roof carefully to determine how many squares you will need, depending on whether you are doing a repair or replacement. If you're in doubt, buy an extra ten percent, in case you find out that you need more than you thought you would. They can also be used for future repairs.

Your next purchase will be roofing nails. The shingles you buy will come with a recommendation from the manufacturer, as to what type of nails will work best with those shingles. A nail gun will make the job a lot easier, as long as you are comfortable using one.

Cement will be needed, to fill edges and ridges. You'll also want to buy felt, which you will lay down before you lay the shingles. Starter strips on starter shingles make it easier to lay the shingles. The starter strip will hang slightly over the eaves, and that is your foundation for the rest of your roof.
Lay and secure the shingles for the rest of the roof, completing the job as quickly but carefully as possible, so that you'll get the entire job done in one day.

Do-it-yourself roof repair and replacement is challenging, to be sure, with the need to use ladders, and to be safe on the roof. Replacing shingles is easier, but don't be afraid to bring in a contractor if you're not comfortable re-roofing your house. You can find helpful tips online or at your local building supply store, if you want to do your roofing job yourself. .

---
Top tip: Find out what roofers to contact in your local area!