A sunroom is a wonderful room addition to your home, giving you a taste of the outside without the rain and bugs.
Sunrooms are usually made with screen and glass, and built on a concrete or wood foundation.
Some people also call sunrooms, patio rooms or Florida rooms.
The glass walls allow sunlight to come in while still protecting you from chilly weather, rain, bugs and wind.
When you are learning how to build a sunroom, you'll see that it must be designed to complement your home's look and style. Sunrooms are an excellent way to add space to your house. You can enjoy being outdoors, but still be comfortable. Depending on how you build it, you can use your sunroom during three seasons, or year round. This increases your home's resale value, too.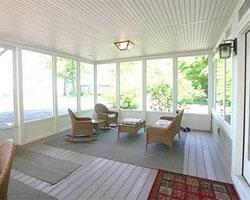 When you are planning your DIY sunroom building, measure out a size that will correctly meet your needs. Determine how you will be using the room, to help in making your decision about size and materials. Select a sunroom plan that matches your home and that will be versatile, as well.
How will you use your sunroom? First, decide on the most useful location, and a size. If you already have a set budget, this may help you make the size decision. Your room will get sunlight at different times, depending on where your home is located. You'll probably want your sunroom on the back of your house.
Depending on where you live, your sunroom's exposure will vary at different times of day. But most homeowners who add sunrooms install them on the back of their houses. If you'll be using the room for relaxation and dining, you may want it built off the family room or kitchen. Build the sunroom at a location that makes it convenient to your home's existing traffic pattern.
Understanding how the different materials work will help you in choosing the products for your DIY sunroom building. Vinyl sunrooms are usually more expensive, but they keep their good looks for a longer time period. In addition, vinyl siding is better if you will be cooling or heating your sunroom. Vinyl is durable, strong and more efficient thermally than aluminum. Use double pane glass in the windows if you want your sunroom well-insulated.
Focus on obtaining the highest quality of materials that will fit in your budget, when learning how to build a sunroom.
You may wish to visit a sunroom showroom, to get an idea of how the rooms look, before you make your final design choices.
Each sunroom is unique, and yours should be built to add to the look of your home. Make sure the room is not too big for your house. Make sure your measurements are accurate before you head to the home improvement store, to order products for your DIY sunroom building. Homeowners who sell their houses after a sunroom addition have commented that their sunroom helped to sell their house, so you'll be making a good investment, as well as enlarging your home's square footage. .

---