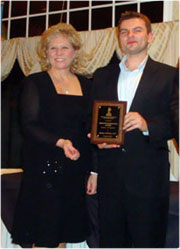 This year Simply Additions was the only business to recieve multiple awards
from the CT Better Business Bureau for proving its overall excellence in
serving the community.
The Coveted BBB Business Consumer Education award
attracts a large amount of entires from Connecticut businesses. These awards are presented to businesses in recognition for their outstanding commitment to properly educating consumers when shopping for like services.
So who is in the photo?
From left to right:
Paulette Hotton Scarpetti (BBB President & CEO)
Voitek Klimczyk (Simply Additions Business Manager)
This year Simply Additions met the following criteria for the second year in a row!

* Exhibiting high ethical standards of business practices in the company's everyday business transactions.
* Offering essential information to make wise, economical purchasing decisions on products and/or services.
* Revealing the pitfalls and areas of caution for amateur shoppers of your particular product, service, and /or industry.
* Giving practical advice to assist consumers in detecting and preventing future problems.
* Exhibiting a dedication to helping Connecticut consumers fight misrepresentations that needlessly raise the costs of goods and services to its customers.
* Addressing consumer challenges for acquiring safe products.
* Providing a program that offers research and expert opinion leading to greater customer satisfaction, benefitting consumers.