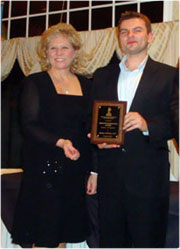 The Website Marketing Message Award is greatly admired by businesses who strive to provide their consumers with the right tools and information needed in order for them to make educated choices. We simply aim to give people everything they need to plan a home addition or a new custom home properly, so they can avoid the common surprises and build their project successfully.

We realize that there are great advances in green building and related technologies, and that many consumers wish to build with these features today. Our website is dedicated to informing the typical consumer about construction costs, technology, and the Building How To's.
This year Simply Additions took home the majority of the business awards at the 2008 Better Business Bureau Awards Ceremony held annually at the Aqua Turf Club in Plantsville CT.
Criteria our website met for this award:
* exemplifies ethical marketing by meeting all of the Bureau's standards of advertising and selling practices;
* educates consumers by offering detailed information about the company's products, services and/or industry;
* includes the company's accessibility information, such as an e-mail address, fax number, telephone number and street address;
* includes a description of the company's policies pertaining to refunds/exchanges, guarantees/warrantees and/or how consumers may obtain service;
* posts a clear and easy to understand privacy policy and
* is easy to navigate.
So who is in the photo?
From left to right:
Paulette Hotton Scarpetti (BBB President & CEO)
Voitek Klimczyk (Simply Additions Business Manager)