Remodeling a bathroom yourself is an excellent way to add value to your home, whether you wish to enjoy it, or if you are planning to sell your house.
A bathroom remodeling guide will help you get the most from the square footage you have available.
If you don't have room to be taking out walls, there are still ways to give a bathroom more space.
If you are not sure what changes you'd like to make, our bathroom remodeling ideas will help with your research, and give you suggestions on how to make your bathroom lighter and to have it feel more spacious.
Adding natural light will make your bathroom look bigger, since a bright room will feel larger. You can install skylights, enlarge the windows, or add another window.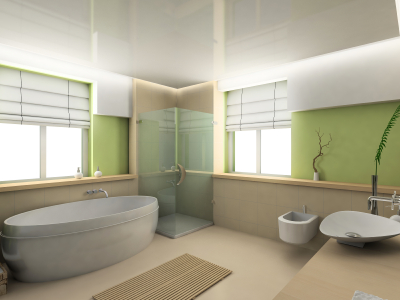 If you would like to add the illusion of space without adding windows to lighten the room, your bathroom remodeling costs may be lower. Add more modern light fixtures and a new mirror or two, to help brighten the areas that are not reached by natural light. You can also paint your bathroom in lighter colors, to give the illusion of more space.
If you have a sink that is larger than you really need, bathroom remodeling ideas will advise you to remove the sink and vanity, and purchase a smaller unit. There are plenty of sinks that are made for smaller bathrooms. Placing a sink in a corner is a good use of space, if you can run the plumbing there yourself. You can also hang your new vanity or sink on the wall, to free up floor space and make the room feel and look less crowded.
One of the easiest bathroom remodeling ideas is selecting a smaller toilet, if yours is elongated and chair height. There are functional and attractive toilets that are made for smaller bathrooms. The toilet can also be placed more closely to the wall, which will allow it to take up less space. A shorter toilet or one with a tank that is lower will give the feeling of taking up less space. This idea can help keep your bathroom remodeling costs in check, too.
If you have a smaller bathroom, it doesn't necessarily mean that your fixtures will need to be uncomfortable in size. You can expand your room with a DIY bath tub or shower enclosure that is made for smaller rooms. A tub with a high rim is great for soaking, since it gives you a deeper tub space.
It can also save you on bathroom remodeling costs.
If you are installing a shower instead, it will fit more easily into smaller spaces. A glass enclosure will give the illusion of more spaciousness, since you can see the whole room. A bathroom remodeling guide may recommend a glass shower, especially if you buy a unit with doors, so you don't have to hang a shower curtain, since that makes the room feel smaller.
If you have a floor vent or radiator that takes up bathroom space, these can be removed and you can install radiant under-floor heat, which will keep the room warm without using up any floor space. Radiant heat is more energy efficient as well, and may save you money.
---