Bathroom vanities are one of the main focal points of any bathroom, so it should be no surprise that people often order a custom bathroom vanity, to make the most of their bathroom.
Your vanity supports your bathroom sink, and its cabinet helps to conceal the water and drain lines under your sink.
It figures prominently in your bath design, and it can make a bold statement if you have the budget to allow for a custom vanity.
Consumers are sometimes not aware that you will find a big quality difference when you look at various types of bathroom vanities. You can purchase an inexpensive vanity that is mass produced, and you will see lots of these at home improvement and hardware stores in your area. You can order bathroom vanities that are considered semi-custom at bath and kitchen showrooms. The price will be somewhat higher than stock vanities, but you will notice the higher quality in materials and style.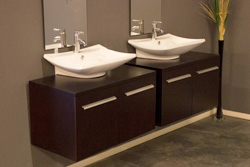 If you talk to a cabinetmaker, he or she can make any type of vanity you can picture in your mind. They can use a variety of materials, so your vanity will look just the way you are picturing it. A custom vanity will be a permanent bathroom fixture if you have one made well and if the design is a classic.
Most people think that standard vanities are the only way to go when they remodel their bathroom. But you can design one with doors and drawers both, or any other concept you might have in mind. Vanity trends may change through the years, but a classic bathroom vanity will be timeless. It will never go out of style, because it is based on functionality as well as beauty.
With many varieties of vanities available, people may think they have gotten in over their heads. Your bathroom still deserves a unique touch, and a classic vanity will add charm and character, while also adding plenty of storage space for everything you need stowed neatly away. The toiletries and health products that you don't wish to leave on the vanity can be stored underneath, in a door or drawer. Take plenty of time to determine the type of vanity you want. The ideal choice will be not only functional but also attractive.
When you shop for a vanity, or plan a custom model, you'll notice two types, European and American. Beyond these, custom vanities will give you a lot of bang for your buck in a bathroom remodel. If you are remodeling to resell your house, you might just go with a nice stock model, but if this is a forever bathroom for you, a custom vanity can be just the right size for your room, large or small. A unique shape in vanities may also work for your bathroom if it is an unusual size.
If you use your imagination, you can be creative in planning your bathroom around a custom vanity. You want to be sure that your purchase will be exactly what you want, since you are unique and you want your bathroom to reflect that. Put as much time into your decision as you need, and you will have a bathroom vanity that will grace your room for years to come.
---