Getting the most out of your kitchen addition is more than just choosing the right appliances or tile.
Finding the best loan option for your kitchen remodeling project can help you to enjoy your kitchen for years to come.
While many loan options are available for your home improvement projects, there are four commonly used methods for gaining financing for your kitchen addition project.

Home Improvement Loans

The Federal Housing Administration (FHA) offers two loan programs for home improvements, remodeling and additions. The Title I loan allows homeowners to borrow up to $25,000 for improvements to a single-family home. These are fixed-rate loans that FHA insures against the risk of default. Loans must be made by an approved Title I lender.

Another great loan from the FHA is the 203(k) program. This hidden gem loan program is great for those who are looking for a fixer-upper. It allows homeowners to receive a single, long-term, fixed or adjustable rate loan that covers the actual purchase of the property as well as the loan to fix it up. To obtain a loan under the 203(k) program, you must use an FHA-approved lending institution. Most mortgage lenders are approved to make loans through this program. This loan program is great for first time homeowners.

Home Equity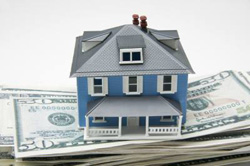 Home equity lines of credit usually carry a variable interest rate that is determined by adding a margin to the current Prime Rate or other index. Other costs associated with setting up a line of credit may also apply and will vary from lender to lender. Depending upon your ability to pay back the loan, your credit history and the current value of your home will determine the amount of credit you are allotted. Typically, credit lines on equity range from 75-80 percent of the value of the home, minus the remaining balance of the first mortgage.

Second Mortgage

Your homes equity can also be tapped using a second mortgage loan. This fixed rate, fixed interests loan can provide you with the money you need for your kitchen addition. The loan is based on your home's value and is paid back in monthly installments. This loan works best for larger kitchen additions and remodels.

Cash Out Refinancing

If your homes interest loan rate is less than when you bought the home, you can refinance your mortgage. Refinancing your mortgage can allow you to take out a new loan to pay off your existing mortgage and use the money left over for your kitchen addition. Refinancing isn't for everyone, so be sure to do your homework before you decide to tap the equity in your home.
Cash

While it might seem like the best way to pay for your kitchen addition, cash can be a little tougher to come by than other loans. If you have the money in your savings account, you may find that a loan is actually cheaper than spending cash. Your hard earned money could be making money on interest. Compare the interest rates of a loan to the interest rates of your cash to see if it's the right investment for your kitchen addition. Interest payments on a home loan are also tax deductible whereas using cash for your kitchen addition can't be written off. A meeting with your banks financial advisor can help you determine if cash is the best way to go when remodeling your kitchen.
---