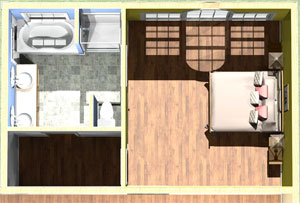 Building a master suite addition is like building a sanctuary away from your kids toys, teenagers hogging the bathroom, and generally a little piece of heaven where you can relax, sleep, bathe, and rejuvenate.
A master suite generally includes a spacious bedroom, a walk-in closet, and a personal bathroom for its occupants. Think of a master suite as more of a hotel room within your own house.
Building a master suite addition requires the hiring of a general contractor usually, because the building aspect needs a foundation contractor, electrician, plumber, drywall contractor, HVAC contractor, and of course a few carpenters.

Most homeowners use our free service to get the names of three local room addition contractors that have a good reputation in building master suite additions in your area. If you are interested in finding out who we would call for estimates, simply fill out the form below, or call our toll free # 877-Hire-Home and we will take your project questions over the phone.
---

Thank you for using our site and don't forget to bookmark us for your future projects.