You are probably planning on sprucing up your home if you're preparing for a DIY vinyl siding installation.
Make sure you correctly measure how many panels you'll need.
A panel of vinyl siding is generally the same length as the rest, and they should all have nailing flanges along the top.
Near the bottom, they should have J-shaped flanges designed to interlock. The nailing flanges' lips allow the panels to be connected by simply hooking the bottoms of the panels into the top of the next panel.
If you need to trim your siding panel ends to accommodate windows and doors, use J-channel, which is a good way to camouflage the edges cut near windows and under eaves. You'll need to have this skill in your arsenal if you want to undertake a do-it-yourself vinyl siding installation.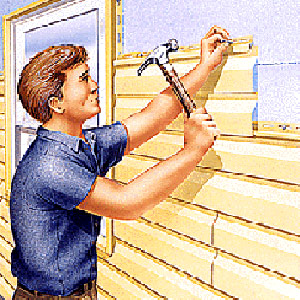 Be sure that any objects that might interfere with your project are tied back and out of the way. In addition, you should remove downspouts, shutters, lighting fixtures and other things that could get in your way. This will make your DIY vinyl siding installation easier to accomplish. Scrape away old caulking from the openings for these fixtures and the older siding, so that your new vinyl siding will fit properly.
Be sure to create a flat surface to work with. Locate any areas that are uneven, whether it's caused by lap siding or some other reason. In preparing these areas, you can center furring strips at 16 inches from the eaves and foundation. You should also use furring strips around windows and doors.
You will need to find out which corner of your house is the lowest, using a mason's line and level. From that corner, take the measurement specified by the manufacturer who made the siding, and draw a chalk level line around your house. This will create a plan for your do-it-yourself vinyl siding installation. Nail the starter strip around the lower part of your house, with the chalk line as a guide. When two pieces come together, allow a clearance of 1/4".
When you install the inside and outside corner posts, allow a 1/4" clearance at the points of the eaves. Make sure the post is also 1/4" below your old siding. Install J-channel along the tops and sides of windows and doors. You can make a drip edge for each corner by indenting the J-channel. You should use J-channel on sloped eaves and gable end walls, as well. The trim for the under-sill area will be nailed at the horizontal eaves, as well as under the windows.
Now the DIY vinyl siding installation can truly begin. Start at the lower level, and work your way up. Overlap the panels at the joints, and make sure you keep the overlays less visible in areas of high-traffic, including entryways.
If a panel meets a corner post or J-channel, allow 1/4" spacing. Check every fourth or fifth line to make sure your work is still level. The panels should hang loosely and should not be pressed forcibly into the row beneath them.
Make cuts as needed, under the windows, using a tin snip. Then score the panel with a utility knife, and break it apart. Indent the cut side with a snap-lock punch, and be sure that the lugs are on the outside of your panel. Then position the siding piece by simply pressing it into its place. These ideas and tips should make it easier to complete your do-it-yourself vinyl siding installation.
---