Learning the proper method of installing hardwood flooring is easier than you think and it can make a dramatic impact on the look of any room or house.
This is work that is detail oriented, and it needs to be exact, but frankly anyone can learn how-to do it and make this do-it-yourself project pay off big in terms of the money you will save over hiring a professional flooring installer.
When done correctly, it will save you a great deal of money and you can possibly make a few extra bucks on the side doing the install for your friends, family and neighbors if your willing to take on the challenge over and over again. But before you start daydreaming about all the extra money you can make, first read this article then tackle your first job with proper planning.
In this quickie guide we'll touch on the basics of a hardwood flooring installation, but to tackle the job, you will need to buy or rent some proper tools such as a chop saw, measuring tape, rubber mallet, nails, staples or glue, underlayment, and a hardwood flooring nailer or stapler.
When you're done with the installation you will be able to pat yourself on the back as you stare at your shiny new floor in sheer admiration of your hard work.
We strongly recommend that you get yourself a book at your local book store, Lowes, or Home Depot that goes over all the little details involved if you are a pure newbie to home improvement work. Otherwise many of you will be able to use the instructions provided by most hardwood flooring manufacturers. Consider this article the cliff notes to what you're really in store for and you may also want to check if your local home improvement stores are conducting classes on the installation process, because many are doing just that on the weekends for all of you weekend warriors out there.
Once you learn the proper installation methods using this quickie guide and the flooring manufacturers instructions, you will save a ton of money over using a professional flooring installer.
So as long as you're willing to put in the time needed to invest into learning, this type of home improvement project can really pay off in the end.
Another important thing to mention is that stores like Lowes and Home Depot offer tool rentals, so you can pick up nailers, staplers, floor sanders, saws, and practically anything else without having to shell out the substanital cost to acutally buy descent equipment that a professional would use. Cheap equipment is usually harder to use and it can produce shoddy results, that's why many weekend warriors rent the pro tools to tackle projects like this.
Another thing for you to consider is laminated hardwood products and engineered hardwood products. Many of these items connect together like legos and for many it is just as good as the real thing, but without all the hassle a true hardwood flooring installaiton requires.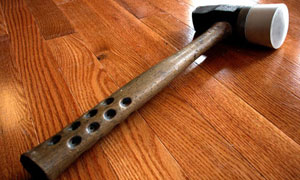 There are various methods to use for DIY hardwood flooring installations but most are dictated by the type of product you choose. One method requires you to use glue to secure your hardwood to the subfloor. The adhesive will be spread out to glue the sub-floor to the hardwood flooring. This method is not used with plank floors or solid strip floors because those types must be stapled or nailed.
You can also use the nail down method when you are tackling a do-it-yourself hardwood flooring installation. You will generally use this method with three quarter inch solid products, but you can use adapters for thinner sizes of flooring. As a rule, two inch nailing cleats are shot from a nailer, and this attaches the hardwood to the subfloor.
Stapling is another common method for DIY and professional hardwood flooring installations. With this method you'll be using 1.5 to 2 inch staples to apply the flooring onto the sub-floor. They are nailed by the use of a pneumatic gun. Pneumatic guns are air powered tools that need an air compressor and a long hose. Check with the hardwood flooring manufacturer for the right size staples to use with their product. Using the wrong size staple or nail can damage the planks or insecurly attach the planks to the subfloor making your installation loose.
The fourth generally used method for the do-it-yourselfer type of flooring installation uses padding and glue. First you will place a thin pad between the sub-floor and wood flooring, and use wood glue in each plank's tongue and groove to hold them together. The padding will protect your floor from moisture, and reduce noise, and it's also softer feeling under your foot when you walk on it.
Before you begin your hardwood flooring installation, be sure to move room furnishings away from the area being floored. So empty china cabinets before you move them, otherwise you're going to make the job harder on yourself. Consider what you want to do with your older flooring aswell, because if you have a large room to cover, your old flooring will begin to pile up quickly. For very large installations such as a whole house project or several carpeted or tiled bedrooms, you might need to rent a dumpster to keep up with all the trash you'll be generating. Most towns collect large items only a few times a year, so you either got to plan really well or you'll have to figure out what you're going to do with all the debris you'll generate during your installation.
So make sure you create a good plan for yourself, get the proper tools together for the floor you choose and ready a trash container for all the old flooring. If you don't take all these things into consideration, you will likely slow down your installation and frustrate yourself possibly out of finishing the project. Take your time, go to a few stores and examine the installation instructions printed on the box, if they have them. Before you know it, you'll be half way through with your project with a big smile on your face as you change the complete look of your house with a few or several honest hours of labor depending on the room size or sizes you tackle.
Don't forget about the trim work
You will probably need to remove your old baseboards and moldings before you begin any do-it-yourself hardwood flooring installation project. If you have painted woodwork or baseboards, they may need to be touched up, when you're done installing the floor and you reinstall them to their original location. Often times your trim will no longer be able to re-use the same nail holes as before, because of the change in floor height from the much thicker flooring you just installed. In that situation, you will simply have to nail the trim to its slightly elevated location.
Remember that as you install your floor, you'll be producing some waste as far as the old flooring and scraps of new material pile up. Make sure you dispose of these properly as you go along because you don't want to find yourself in a mountain of old and new flooring during the install.
Before you begin your hardwood flooring installation, be sure that you have the correct materials and all the necessary tools close at hand. The last thing you'll want to do when you tackle such a project is to take several trips to the local home improvement center because you forgot or ran out of something.
---