Planning the home of your dreams can be a difficult challenge.
With so many promotions and gimmicks on how to plan the home of your dreams, it complicates the effort even further.
But with just a few basic tips and an understanding of how the home design process works, your dream home can be completed with ease.
Use this guide on planning a dream home and you'll be sure to get a home that you'll love and cherish for years to come.

Getting Comfortable with the Basics

Before you begin planning your dream home, you'll need to familiarize yourself with the basics of architecture and building design. This can easily be done by picking up a few architectural magazines at the store, visiting your local library for architectural design media and by looking at remodeling and building plans online.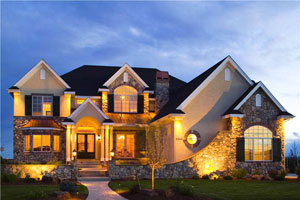 Look at and note your favorite architectural features. Knowing the names of the features and design methods that make up your dream home can help you to better transfer those ideas into a working model later on.

Creating a Sketch

Creating a basic layout of your design can be the key to transferring your thoughts onto paper, so later on you and your architect can put together the best design possible. To create a basic sketch, you don't have to be an artist. In fact, a basic sketch just needs your dimensions put into place and important features outlined to make it easier for you to put your dream home into a house plan. By making several copies of the basic floor plan, you can mix and match different features to see what works best for you.

Advantages of hiring an architect to create your blueprints:
Easily create the custom home of your dreams

All of your needs are addressed personally

Property conditions can be worked into the custom design
Disadvantages of hiring an architect to create your blueprints:
Costs are much higher

An architect may create a cookie cutter design

Busy architects may not attend your needs effectively

Buying a Blueprint

If you're not certain of your hand drawn sketch up abilities and you're worried about the high prices of hiring an architect, then modular home plans can be an affordable way to get the design of your dreams. With modular home plans, you also get a well-built structure that's easily shipped to your building site and assembled in no time at all. And unlike conventional built home plans, modular home plans can be shifted and moved easily to create a custom layout for your dream home.

Advantages of buying stock modular home blueprints:
A cost effective alternative to hiring an architect

Mixing and matching designs can help you to create a custom design

A wide variety of stock plans ensures you can find something to suit your styles, tastes and budget
Disadvantages of buying stock modular home blueprints:
Custom designs can be more costly to create

You'll never meet the architect who designed your blueprint

Jobsite conditions may inhibit or prevent your stock plan from working .

---