When you are planning a interior painting project inside your home, you'll want to decide what materials and tools you'll need.
DIY interior painting is not generally a difficult thing to do, but proper planning is essential since unwanted surprises can slow down any home improvement project.
Before you actually begin painting, you'll need to purchase a few good paint brushes, some drop cloths (or you can use old bed sheets) and a paint roller set with an extension pole. Extension poles are sold in different sizes, so make sure you but the pole that will allow you to reach the tops of every wall you want to get to without a ladder.
Most painters use a ladder to help with those hard to reach spots for rooms with tall ceilings such as two story foyers and any room that has catherdral ceilings.
You will most likely need a flat head screwdriver to remove the faceplates from your wall outlets, light switches, cable outlets and telephone outlets. You can also use blue painters tape to mask off any area that you wouldn't want to get paint on. To save on painters tape though many painters remove things like the outlets and light fixtures. If you do happen to get paint on your wall plates, simply grab a old dry rag or t-shirt to wipe off the paint while its still wet. If it dries, you can usually scrape off any latex paint with your finger nail. That's why it always helps to do the tedious prep work first, that way you'll be spending less time fixing things you could have easily avoided.
Plastic tarps are handy for covering your furniture, if you plan to leave it in the room. You can even pick some of your supplies at the dollar stores or places like Oceanstate Joblot. Be careful when buying cheap painters tape though, because you'll quickly find out that Froggers tape or Scotch blue painters is far suprior to the cheapo brands that rip unevenly or worse, ripp off chunks of old paint from your wall leaving the wall with a surface that will have to be spackled with taping compoud.
When you are planning how to paint a room, make sure you have spackle on hand if you have any holes that need filled. A caulking gun will be helpful if you have cracks that need sealed. In addition, you can protect crown moldings and baseboards with masking tape or painter's tape.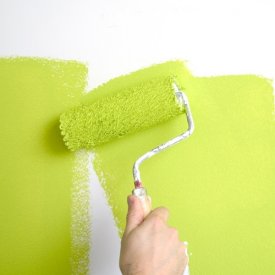 Be sure you choose the right paint for the job, and a primer, if your walls need it. Different interior painting techniques may mean different types of paint or primer. In addition, you need to determine how much primer and paint you will need. Double check your figures before you stop to pick up your paint, and don't be afraid to grab an extra quart or two, just in case.
The next step of DIY painting is to prepare the surfaces you will be painting. You may need to move or cover furniture, then lay out drop cloths and prepare the walls by caulking and spackling where needed. If you will be painting the baseboards, trim and casings, paint them after your primer dries. Painting the trim first is usually easier than painting the walls and having to be careful around the edges.
Use a paint brush to paint the trim edges and the corners, and also around the windows, since these areas are too tight to use a roller on. Using these interior painting techniques will allow you to make straight, neat lines along all your edges, which can't be done with a roller.
If you don't have much experience in painting, you may want to read up on how to paint a room correctly. There is even a proper technique to getting paint onto the brush, and the look will suffer, if you don't do it correctly. You should dip the bristles into the paint with only about two inches of brush getting loaded.
Tap the brush lightly on the side of the paint can, but don't scrape the brush. Tapping settles paint further in the bristles, and removes excess paint from the brush. Paint the wall by pressing the brush only hard enough to release your paint. Your brush should stay moving, to avoid runs or drips. DIY painting will be less stressful if you do it correctly.
The interior painting techniques are different when you are using a roller. Dip your roller into the paint tray and allow it to sit for just a few seconds, so that it can load and absorb the paint. Remove the excess paint on the tray, and use the roller carefully, so that your paint won't drip. Finish each wall by rolling from ceiling to floor, so you won't have visible paint lines. Enjoy your refreshed room!
---