Everyone planning a DIY remodeling project knows that it's best to read a few guides or maybe even watch few YouTube How-to Videos before starting one.
Written guides will help you understand what types of tools you will need and the time you will have to invest to do the do-it-yourself project right. Check out some of these well known tips below, even before you take that first drive to your nearest Home Depot or Lowes Home Improvement Center, and we will probably save you from those "I forgot something trips".
Budget and Project Planning
Budgets are no fun, but when you plan a project, you need to set up a budget and do your best to stick to it. Take it from someone who started a remodeling company from scratch years ago. Anyone who started a career in remodeling knows by learning the hard way that a little planning goes a very long way. I'm not just a regurgitator of remodeling information, I am actually speaking from personal experience.
Getting ready for a do-it-yourself project in your home means planning ahead if you are planning on doing a good job. Do yourself a big favor and take the planning part of your remodel seriously, you'll thank me later.
Design what you will be doing, and select the products you need to complete the work. Remodeling tips can be helpful for you, if you don't have a lot of DIY experience.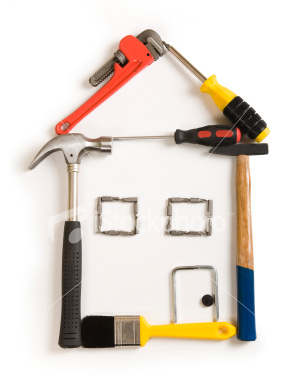 Choose the light fixtures, furnishings and appliances you will need in the room you are remodeling. Stay within the amount you have budgeted. Select materials and products with an eye to less expensive options that will still have the same look when you are finished.
Don't be afraid to be creative when you are preparing for your DIY remodeling job. You can usually find several ways to accomplish your objectives, and some are less expensive. If your room only needs a facelift, it's cheaper to make changes by painting, rather than changing the structure of your home. One of the best remodeling tips is painting to revitalize a room.
You can also use wallpaper to change the look of a room. This is especially handy if you have a wall that is slightly damaged. Painting a faux finish will also help to hide irregularities or minor damage. A remodeling guide will include advice like not moving windows when you remodel a room, unless you really need to, because that will cost a lot more.
You probably want to create more space in the room you are working on. Borrowing space from an adjacent room is cheaper than building a room addition. As an example, if you want a bigger bathroom, steal the extra space from a linen closet. Add built-in shelves to make up for the loss of storage space.
A remodeling guide will help teach you to borrow space using optical illusions. Making a small room look bigger isn't that difficult. Use lighter colors or install a skylight or bow window. If your DIY remodeling project is in the kitchen, you can save a lot of money by keeping your existing appliances, and refacing cabinets instead of replacing them. If you purchase newer appliances, be sure to select models that are energy-efficient, for a green remodel and smaller utility bills.
It's best to keep your appliances in the same place, so that you won't have to relocate gas lines, pipes or outlets.
Moving these connections can get to be expensive. Use handy remodeling tips, like selecting a relatively inexpensive faucet when you are freshening up your sink. But don't go with the cheapest faucet you find, since it may not last.
Select neutral colors in laminates, appliances and fixtures, since they won't have a dated look when you change other colors, down the line. If you're laying a new floor, take a look at laminates if you think you might otherwise be sold on wood. Many laminates have a realistic hardwood look, and that can be the perfect finish for your newly remodeled room.
---