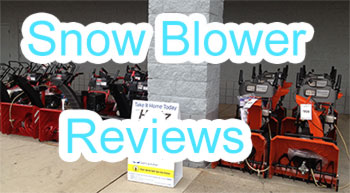 Snow storms are getting larger every year and blizzards are hitting places as far south as Washington, D.C., Georgia, Virginia, and North Carolina. So it's no wonder that my annual Snow Blower Reviews are getting tons of visitors r ight after I update the ever changing list with the best snow blowers you can buy from stores like Home Depot, Lowes, Sears, and even Amazon.com.
Our weather is more screwed up then Miley Cyrus, Lindsay Lohan, and Charlie Sheen put together. As I'm updating this years list of snow blowers a so called deadly blizzard is burying the U.S. East Coast, which sucks because it's where I live.
Old man winter reminded all of us lately that he still has surprises in store for all of us in the years ahead, at least that's what David Letterman's publicist said., What type of surprises, it could be as bad as when Britney Spears shaved her head! Call it global warming, climate change, or sheer dumb luck, but whatever you call it, you cannot escape the fact that our weather is changing and the data shows that it's changing for the worse! Much like the quality of music when Rock Stars stop doing drugs. Hey, don't hate me for being honest, but you can hate me for anything else.
---
Topics Covered
---
Snow Blower Reviews - Organized into 3 levels of power: Single-Stage Electric, Single-Stage Gas and Two-Stage Gas
Snow Blower Types - Find out what the difference is between gas and electric snowblowers. As well as what 1 stage, 2 stage and 3 stage blowers do differently from each other.
Sno-Tek 24 Snow Blower Review also known as the Ariens 24"
Ultimate Snow Blower Buying Guide Video
Snow Blower Engine Types to Consider
When it comes to blowing snow off your property, you have several options to consider, but typically you buy a snow blower based on where you live and the amount of driveway and sidewalk you need to remove snow from. Generally gas snow blowers are better for areas that get more than a few inches of snow every season. While electric snow blowers and snow throwers perform well for people living in more southern states, that lately are experiencing more and more snow storms. Below these charts of snow blower reviews, you'll find detailed information on every snow blower you can find at your local store.
7 Single-Stage Electric Snow Blowers
Last Updated on 1-23-2015
| | | | | | | | | | |
| --- | --- | --- | --- | --- | --- | --- | --- | --- | --- |
| Model | Reviews | Rating | Price | Engine Amp | Terrain | Surface | Width | Depth | Snow |
| Snow Joe SJ620 | 702 | 4.2 | $141 | 13.5 | flat | paved | 18" | 10" | light |
| Snow Joe SJ621 | 667 | 4.2 | $184 | 13.5 | flat | paved | 18" | 10" | light |
| Toro 38381 | 607 | 4.2 | $299 | 15 | flat | paved | 18" | 12" | light |
| GreenWorks 26032 | 1100 | 4.0 | $156 | 12 | all | paved | 20" | 10" | heavy |
| Toro 38361 | 901 | 3.9 | $99 | 7.5 | flat | paved | 12" | 6" | light |
| Worx WG650 | 222 | 3.8 | $184 | 13 | flat | paved | 18" | 9" | light |
| Snow Joe iON18SB | 294 | 4.0 | $379 | 40 volt | flat | paved | 18" | 8" | light |
6 Single-Stage Gas Snow Blowers
11 Two-Stage / Dual-stage Gas Snow Blowers
Brand: Brand name.
Model: Model number identifier.
Reviews: The largest amount of reviews found on the web for this blower
Engine cc: The size of an electric engine rated in cubic centimeters.
lbs/min: An estimated figure of how much snow in pound the machine moves per minute. (Downloadable guide only)
Throws: Distance in feet that the machine can throw snow. (Downloadable guide only)
Surface: Usually single stage snow throwers are propelled forward only by the auger, which prevents them from clearing gravel driveways.
Handling: How easy the machine is to maneuver around. (Downloadable guide only)
Chute Angle: The amount of degrees you can turn the chute. (Downloadable guide only)
Swath Width: The clearing width of the enclosure:
Depth: The clearing height of the enclosure:
Duty: Choices of usage are Light, Medium, and Heavy Duty. (Downloadable guide only)
Snow: The type of snow the machine can handle.
Light: Headlight feature. (Downloadable guide only)
CR: The distinction if any that Consumer Reports has given the blower or the number it made on their list. (Downloadable guide only)
* indicates estimate figure.
---
Snow Blower Types
Single-stage Electric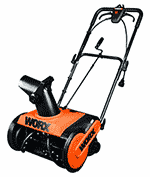 These are the smallest snow throwing machines you can buy. They feature a rubber lined auger which throws the snow and it is also responsible for propelling the machine because it's very close to the ground. Generally you don't want to use single-stage snow blowers on gravel driveways because they are too close to the ground. I could just imagine the damage one of these would do to a house or car, once it sucks up gravel.
Single-stage Gas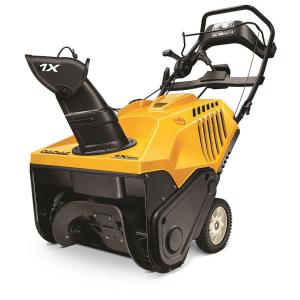 These are great if you live in an area where snow falls do not exceed 8 to 10 inches. They are more powerful than their electric cousins, but they are also propelled by the auger instead of having powered wheels, so stay away from gravel driveways with these as well.
Two-stage / Dual-stage Gas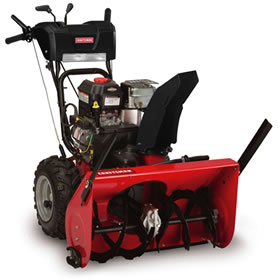 Two-stage gas snow blowers are popular for long or wide driveways and in areas that exceed 8 inches of snow. The two stage refers to the different methods used to handle the snow. Stage one being the auger which gathers the snow and stage two being a fan like impeller (paddle) that throws the snow out of the chute at high speeds. These blowers have an auger that doesn't touch the ground, so it is a must for people who have gravel driveways to clear. Another feature on these is that the engine powers the wheels, a fantastic feature especially in really deep snow falls. Just push a two-stage snow blower in one foot of snow without the aid of the powered wheels and you'll quickly realize how extremely hard it is to do, especially if the surface your working on is slippery.
Three-Stage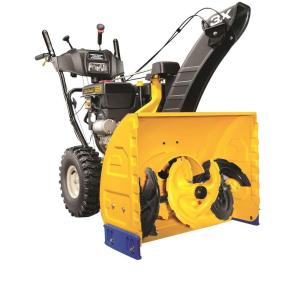 These are the largest snow blowers you can buy and they are the most efficient at clearing snow and ice from your driveway. They have every feature that the two-stage models have with the exception of having two augers that scoop up heavy snow and ice into the chute where the impeller launches it out at high speed. Some 3-stage snow blowers are capable of launching snow and ice 50 feet away! Most homeowners will not be buying one of these because of their high cost, unless they really need one because they have a large driveway and a storage shed to store these monsters. Three-stage snow blowers are used more for commercial reasons then they are for residential purposes, so I have not included any in This Snow Blower Buying Guide. However if you think these belong here, let me know on my Google + Page or Facebook Page.

---
The Buying Guide Chart below provides a quick rundown of all the models that I felt were good enough to make it to the list. Here's the criteria I looked at:
---
1. Needs to be a good seller because this provided us a large amount of customer reviews to analyze.
2. Needs to maintain a high average review score because this indicates good quality, customer service, and reliability.
3. Needs to be priced for the average consumer, I was not interested in the Ferrari of snow blowers mainly because of their price tag.
4. Needs to have a good reputation according to the customer reviews
As you could see by the criteria, this list of snow blowers and snow throwers is one of the finest out there. I have even included snippets from Consumer Reports for each model, if the blower made it to the list, I list the actual number it landed based on their ratings for each category. The lower the number the better. If the blower won some type of Consumer Reports designation such as a "Best Buy" or "Recommended Buy", I noted that designation in the downloadable spreadsheet as well. The chart below includes the bare minimum information you need to make a proper buying decision, while the downloadable spreadsheet will provide you with a little more detail . Any snow blower from this buying guide will satisfy your needs as long as you buy from the proper category depending on your snow removal needs and geographic location.
My Complete Video Review of the Ariens Sno-Tek 24" model # 920402
Watch me remove more than 24" of snow in my backyard while I make a path from the backdoor to the trash and recycling cans and all the way to the front of my driveway. I'll literally strapped a GoPro Hero 3 to my head, so that you can get a POV perspective of what it's like using the Sno-Tek 24 that's manufactured by Ariens. Ariens of course is a well known and trusted brand. My dad has an Ariens that's over 20 years old and it been very reliable for him. He never put a drop of fuel stabilizer into the machine either.
Sno-Tek 24 Snow Blower Review
My Sno-Tek 24" Wouldn't Start This Year, But I'm Not Worried At All!
I on the other hand followed his advice but this year, my Sno-tek 24 failed to start because most likely the carburetor got gunked up. So I'll be draining the gas in my blowers carberator and sphioning the fuel I poured in the other day. But I'm not owrried about it, because snow blowers are really easy to fix and the service manual to my Sno-tek has diagrams of everything. Hopefull if all goes well, I'll even record a video for my YouTube channel, so that anyone else with a Sno-tek 24 or Areins 24 that can't start theirs can watch it. No matter what blower brand you bought, if it's gas, you either have a sparkplug problem, a dirty carborator or fuel line, or there's a problem with the electric start module.
VideoCast of The Snow Blower Buying Guide
That's the beauty of this Snow Blower Buying Guide, you get all the important specifications in an easy to read chart,so you could pull it up on your smartphone or tablet. You can also print it out or shop directly from it using the links that point to the latest snow blower sales going on right now.
Snow Blower Buying Guide Video
In 2013 we had a blizzard hit the northeast that shutdown airports, highways, and government buildings. And the scary part is that when they shutdown the government, the only thing that changed was that the government finally had a legitimate reason for not getting any work done. In fact one could argue that they liked the shutdown so much from the February 2013 Blizzard, that they decided to stage another shutdown out of sheer stupidity, because the only snow that fell during the official 2013 government shutdown, was the snow falling from Trey Radel' nose.
2014 snow falls were causing record havoc across the Midwest and as far south as Georgia and Texas. You cannot turn on the morning news without hearing reports of record snow falls, airport closings, multiple car pile-ups on highways, and even a few unfortunate fatalities.
So if you never thought about buying a snow blower before, now is the time to start thinking about burying one. Because digging out your driveway, sidewalks, and cars is not going to get easier with age. I myself enjoyed a few snow falls when I was younger for the exercise, but a resent car accident made digging out from natures white furry a back aching nightmare. Take it from me, you don't want to hurt your back by digging out from a snow storm, when you could have completely avoided the pain by buying yourself a snow blower or a snow thrower if you live in the southern states.

This buying guide combines professional research and customer opinions from all the big box retail stores that sell snow blowers. I poured through all the customer reviews on sites like Sears, Amazon, Home Depot, and Lowes. I also went the extra mile for our readers and logged into our Consumer Reports portal to see how they graded all the models that made it to my list. By reading this guide you will have the combined opinion of hundreds of customer reviews. This is not something you're going to find anywhere else. The only way to get this data is to look up snow blowers on Home Depot, Lowes, Amazon, and Sears websites for yourself, then pour through all the customer reviews for all the top rated snow blowers they sell. Sure the research was tedious, but it also uncovered some interesting facts about some snow blower models that I had to remove from the list because many customers experienced an unusual amount of problems in quality and reliability. All the snow blowers that made the list, have on average very pleased owners and lower than average complaints about breakage and other reliability related issues.
Consider the Off Season Before Your Snow Blower Purchase
Before you grab your wallet and hit the internet or your local Home Depot, Lowe's, or Sears, keep in mind that small electric snow blowers (aka snow throwers) are a lot easier to store in the off season, and many of them have features that allow them to collapse into even smaller footprints. On the other hand, larger gas models such as the common dual-stage snow blower models found in the northern states, are bulkier and require a descent amount of storage space in your garage or shed. Sometimes it might make more sense to go with a smaller blower, even though it will increase your clearing time by making you walk a few extra passes down your driveway. It wouldn't make any sense for someone in upstate New York to buy a small electric single stage snow blower, unless they had no place to stow a more appropriate dual stage gas snow blower. Just something to consider that most reviewers don't talk about when it comes to buying these snow throwing gadgets.

Personally speaking I had to get really creative in making room in our garage to store our massive dual-stage snow blower. However, I was really happy earlier this year when I was on my way back to Connecticut from California, during the aftermath of the famous February 2013 Blizzard. There's nothing worse then having to dig out two feet of snow from your driveway, if your only snow removal tool is a shovel. Luckily for me, my two-stage Ariens allowed me to clear my driveway and sidewalk in less than an hour, all with minimal effort on my part. The only gripe I have about the highly capable gas snow blowers and lawn mowers for that matter, is that I always end up breathing and stinking like exhaust fumes, thanks to the low tech approach for venting them. Why can't these manufacturers "Stop the madness" as Mr. Wonderful from The Shark Tank would say, and create some type of muffler system that made these machines exhaust less ghastly and most likely less toxic. If I lived in North Carolina, I might be tempted with a smaller single stage electric snow blower model, but up here in the northeast, where large snow falls are as common as Miley Cyrus stunts, it just doesn't make much sense. Another thing that sucks is that I store my project car a 1999 Ford Mustang GT in the garage, and with the snow blower there's hardly any room to work on it.
How Snow Blower Buying Habits Have Changed
In the past we all had to lug ourselves down to the store and look at a handful of snow throwers in a line up at Lowe's, Sears, or Home Depot, and basically flip a coin when it came down to deciding on similarly sized models. Today we have the internet and with that comes an endless sea of information. Just for you, I poured through the sea of customer reviews and came up with the bare minimum specifications you'll need to make an educated buying decision. In my opinion the most important factor to consider once you have chosen the size of your new snow blower, is how many reviews the blower has and what the average score of those reviews are. I would also read the reviews personally on the model that I'd like to go with, just to really dig into what the actual customer experience could be for it. Just remember that in today's age, there really is no perfect product out there and you will always find negative reviews. Because of that, don't let a few negative reviews change your opinion too much, unless the review said that the snow blower exploded and killed somebody, then I'd say, don't buy it. However, there's been lots of stories in the news that competitors are bad mouthing their competition in hopes that they sway more consumers towards their product instead. Here's my advice on this, if a product has 150 4 and 5 star reviews out of let's say 175, you probably got yourself a winner. I would read all the negative reviews just in-case there really is an emerging pattern of quality or reliability issues, but don't pay too much attention to the one off;s that spout all types of negative garbage, because there's always a few nut jobs sprinkled into a large pool of customer reviews. How do I know this? Well, besides being an expert in reading product reviews and product research for my famous Youtube Channel called Lex SelfMade Life, I've been buying products based solely on reviews ever since the internet created them. Also, I've been a nutjob more than once, but luckily for me, I always find my way back to reality and set things straight. Want an example? Did you ever blame anyone for taking or misplacing on of your tools, documents, or gadgets? Yeah, I've been there and I also blamed the wrong people, when a few hours later or a day later, I find the missing tool in a place where I left it last. I guess responsibility comes with age, so does humility, and maybe a touch of cynicism.
When Our Changing Weather Hits Home
Well our changing weather is crazy nut job bad too, it's getting so weird that it even affected my family personally.This year my favorite aunt Irene, who lives in Poland in our family house that's well over 100 years old, was hit by a tornado. Click that link to see the photos of the damage and keep in mind that this house was built out of bricks! Anyways, strange weather is coming, so at the very least be prepared, especially for old man winter, even if he's late or senile and confused about his address lately.
Download & Print the OLD Snow Blower Buying Guide
To access the new information on this page, simply bring it up on your smartphone or tablet at the store. You can always flip your phone to enlarge the snow blowers review tables.