Home insurance is a blanket term that refers to two different forms of insurance: buildings and contents insurance.
Buildings insurance covers the fabric of your building, whilst contents insurance covers your possessions, or everything that you would take with you to move house.
Usually these two forms of insurance are sold together, but sometimes they can be purchased individually.
Accordingly, by doing certain simple things you can reduce the cost of either your contents of buildings insurance policy.
One thing to bear in mind is that changes that you make to the fabric of your building (and therefore would be covered under the buildings insurance) can have a significant impact on the cost of your contents insurance. Contents insurance is determined by balancing the value of your possessions against the likelihood of them sustaining damage, therefore if you take measures to make your property safer, you will reduce the cost of your contents insurance.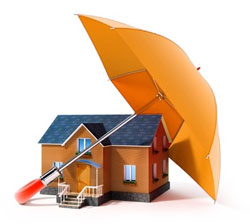 Probably the most straightforward change you can make is to have an alarm system installed. This can reduce the cost of your contents insurance by as much as ten percent, and therefore may well pay for itself within a few years.
Another thing you should keep in mind is that a house is only as secure as its entrance points. Make sure that your windows and doors are secure and that they have locks that are up to the insurance industry standard. Whilst changing your locks can save you a little bit of money, a door (or a window in fact) is only as strong as the frame, so rather than spending on changing your locks, it might be worth spending on having a new door properly fitted.
Of course, you should contact your insurance company before you make any changes.
There's no point spending money with the intention of reducing your insurance bill if it won't actually reduce the premiums.
If you do decide to make changes to your property it's important that you get the work done by a professional. Most insurance companies will provide you with a list of qualified contractors, but you can also look for yourself and try and find a good deal.
Shopping for the right insurance deal though can save you more money than changing your locks. Make sure you do your research properly and find the best deal that you can. Take a look at several companies and remember that you can often save by buying combined contents and buildings insurance, some insurance companies offer a 15% discount on a combined policy for instance.
---