Are you looking for the top trends for your new home or room addition?
Look no further than these top ten homebuilding trends for the ultimate in satisfaction and style.
Whether you incorporate one of these ideas or all ten, you'll be sure to get the most out of your homebuilding project.

Ecofriendly Design

One of the top trends in building design has to be ecofriendly building. Go green is getting easier and easier nowadays with the huge amount of ecofriendly materials and supplies. Look for EnergyStar rated appliances and fixtures, sustainably harvested wood and recycled materials when creating an ecofriendly design.

Prefabricated and Modular Homes

These factory made dwellings are ecofriendly, affordable and easy to install; making them a popular choice in homebuilding trends. Today's modular structures are built to high standards unlike the flimsy and delicate trailers of the past. Fantastic features, affordable prices and quick and painless installation, make this a good choice for new homebuyers.

Recycled Materials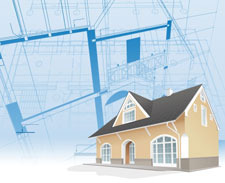 It's not just about being ecofriendly, recycling materials and even structures can provide your homebuilding project with the perfect aesthetic touch. Architectural gems can be reused and repurposed into amazing and functional parts of your home. From using old barn wood for trim, to using broken colored glass as an aggregate in a concrete countertop, recycling old materials can be just the touch to your new home design.

Natural Materials

With the way chemicals are used throughout the building industry, it was only a matter of time before people became aware of the dangers of chemical off gassing in their homes. Use low VOC paint, formaldehyde free carpets and avoid plastics when possible. All of these materials can produce dangerous toxins long after they have been installed.

Storm Resistance

With floods, hurricanes, tornados and all sorts of natural disasters, storm proof homes are becoming all the rage. From hurricane shutters to homes on stilts, tomorrows homes are designed to prevent damage when Mother Nature gets rough.

Universal Design

As more and more of us are spending our entire lives in one home, designers are beginning to take notice. Homes with wide hallways, accessible closets and easy to get at storage spaces allows you to still have a functioning house as the kids grow up and you age. Keep away from big staircases and sunken living rooms so your floor plan is easy to navigate throughout your lifetime.

Open Spaces

Flexibility in the floor plan is becoming a popular homebuilding trend. Open spaces and flowing designs help keep the design spacious and airy. Pocket, sliders and accordion divider doors are all ways to enclose the open design space for private use.

Storage

Plenty of storage spaces are a common homebuilding trend. Clever storage solutions combined with easy to access to unconventional areas are a new trend in homebuilding. Cathedral ceilings, attics and crawlspaces are being eliminated to make room for more storage.

Eastern Philosophy

Feng shui is a new trend that's not new at all. This 5,000 year old design method is becoming more and more popular in new home design.
Flowing energy, shared spaces and shifted room orientation are just a few of the ideas that an eastern school of design can bring to the table.

Outdoor Rooms

Curb appeal is a great way to increase your home's value. That's why outdoor rooms are becoming so popular. You not only increase the value of your home, but you also increase the overall square footage of your home. .

---