Remodeling your home or adding a room addition can be a great way to increase the curb appeal, value and enjoyment of your home.
But adding a room addition or renovation to your home can also be a hassle especially if you get into trouble by doing the work yourself.
Avoid these top ten remodeling mistakes and you'll be sure to get the most out of your home addition or remodeling project.

1. Time Schedule One of the biggest pitfalls that many homeowners get into when doing their own remodeling or home addition is not setting up enough time to get it done. When you have a 40 hour a week job and then try to add in another 40 hours a week on your room addition, you can easily become overwhelmed with the project. This is especially true when time is of the essence as in a reroof or kitchen addition.

2. Permits Without the right permits, you're not only breaking the law, you could be doing dangerous work. Always call your local building department to be certain you have the right license, bonds and permits for your home addition.

3. Changing the Plan It can be tough to make up your mind when choosing home improvement materials. But when you change them in mid plan, you can really end up costing yourself big bucks with the many changes.

4. Tools Not only is most construction work time consuming, it's can also be difficult to accomplish with specialty tools and techniques. Drywall finishing might seem like an easy task, but when you factor in the many tools that are needed to do the work right; you can see that it's more expensive than hiring someone else to do it. While some tools can be rented or bought, many tools are expensive and require vast knowledge to operate them correctly.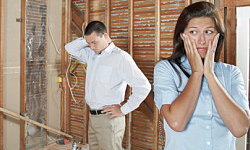 5. Cheap Materials More often than not, homeowners think that the cost is too high for labor and materials. And they would be right in that assumption, but they are expensive for a reason. By lowballing your budget and buying inferior materials and tools, you can easily get in way over your head.

6. Underbidding Knowing exactly how much you're going to spend is probably the hardest part of any remodeling or room addition project. That's why creating a budget and keeping to it is very important to your success. But underbidding our project can be a disaster. Always add at least 20 percent to your original estimate to cover the going over budget.

7. Inaccuracy Measure twice and cut once. That's not just a saying; it's something you should live by when doing your own remodeling project. Crazy cuts, missed measurements and gorge-like gaps in materials all add up in the end and can create a huge problem when the final product is applied.

8. Delegating Work By setting DIY standards high for yourself, you're setting yourself up for disaster. If you feel overwhelmed with a project; don't do it. It's a lot easier and cheaper to have a subcontractor do the work right the first time then have them do it right after you've done it wrong.
9. Using Building Trends
Every day, new materials and the latest gadgets for a remodeling project or room addition come to a store near you. But unless it's a tried and true classic, then you may want to avoid it. Bright colors and complicated mechanics are sure to break or go out of style in no time fast.

10. Planning Whether an architect draws your blueprints or you opt out for someone else's home addition drawings, ensure you know how it will look in real life. Laying out a few pencil marks or flags in the ground can be just the thing to determine scale so you know if your room addition will be more or less than you expect.
---