There are many ways to include
modular homes
in your living plans. You may start out with a modular home, or you may use custom home construction to remodel your existing home. You can use floor plans for modular additions to see the improvements you can make to your existing home, and most of them are already approved for construction in many areas.

Custom built homes can be used as the basis for a home, or as additions for your home. They can provide you with much-needed extra space, and can give your home a new look. Modular home additions can be seen as they are constructed like other modular dwellings, and conforming to all the controls and inspections that full-size modular homes have to conform to. You can finish a renovation project more quickly with a modular addition, which will minimize the disruption and mess that you often experience during home renovations.

Custom homes can be built on-site, with attached garages. The cantilevers are shipped as an integral component, and then finished at the home site. Porches and decks are often built on site as modular home renovations, too. The finish of homes can be vinyl siding, or brick-like products that give you the look of brick without joints that must be mortared, and at lower costs. Modular houses can be assembled on full basements, as well.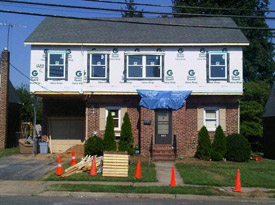 Archways used between rooms in modular homes and additions are usually constructed at the home site, and they will give your home an elegant and airy feel. Kitchen cabinets have many options from which to choose, including designer cabinets that are found in stick built homes. You can customize your kitchen in most homes, if the manufacturer offerings don't meet your needs.
Even the bathrooms in modular homes can be impressive, whether they are in the original plans for homes, or whether they are done as part of a renovation. You can include walk-through showers, even two-person showers, with glass blocks that will provide natural light and privacy, at the same time. Tubs can be purchased from the seller of your choice, and installed on site. You can even purchase jacuzzi tubs for your modular home improvements.

These days, practicality is an important component of saving money. Modular homes and modular home renovations are often cheaper than traditional building, and they are built to the same codes as stick homes in the same area. Custom homes give you your dream home at a lower price. The price per square foot is much lower than site built homes. These homes will be as well-insulated and sturdy as site built homes, as well.

You can customize your modular homes, or use a modular addition to your existing home, as part of a home renovation. When you build with modular custom homes, you can adjust the roof, add decks or porches, cut out windows, or make other changes to the floor plan.

These changes don't cost a lot more money like they might in a site-built home, which will save you money, and time as well. In addition, modular homes are built indoors, so the materials used are not continually exposed to the elements, during the construction process. This applies also to custom built modular home additions, that you can use in renovating your home.
Use our Automated Contractor Locating Service to find modular home builders who are reputable in your area. Simply fill out the form below.
---