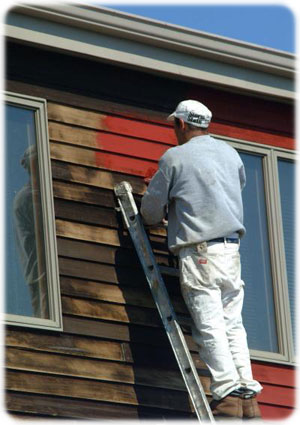 List of Typical Painting Services
Room Painting: Prepwork, Painters Tape, • Primer, & Paint.
Exterior House Painting: Freshen Up or Change Color.
Wall Paper:— Removal and Application.
Power Washing: Removes Stains, Green Pollen, and Mildew.
Deck Refinishing: Staining & Sealing.

Garage Floor Epoxy Painting: Car guy's dream.
Drywall Repairs: From nail holes to basketball sized holes.

Vinyl Shutter Installation: They can also change the color for you.
Need Help Choosing Paint Colors For Your Project?
Well you're in luck because the folks at Benjamin Moore have developed an application that allows you to virtually change the color of your walls to help you choose room colors from a virtual palette. I used the virtual room designer many times, when I was stuck on picking the right color for my living room and bedroom.
Try it today and see how easy it can be. Trust me it beats going to Lowes or Home Depot and picking up those tiny color sample cards and taping them to your wall.
Another great alternative to using the virtual room painter is to download a simple to use interior design software from trusted retailers like Amazon. The Home Designer Interiors Software for example, goes a lot further than just allowing you to change paint colors.
You can use simple templates to play with complete room design changes. These changes include everything found in a typical room from floor to ceiling. We are talking about: trim, wall coverings, flooring materials and much much more. You can even try out different pieces of furniture, accessories, and find brand name materials to make the transition from virtual to reality a SNAP!
I can validate that the software is easy to use, all you have to do is play with it once. Soon you'll find yourself planning every room of your house shortly there after, because it's fun. My wife and I used it to plan our dream house. Click the software box below to learn more about it.
Download The Virtual Room Designer

Use The Virtual Room Painter

Use Benjamin Moore's personal color viewer to help you decide what colors to go with for interior and exterior projects.
---
Get A Free Painting Estimate (Usually Within 24 Hours)
These Painters are Fast, Reliable, and Clean, exactly what you should be looking for in a painter.