Ceramic Tile Installation Services
Ceramic Tile is durable, elegant, and easy to clean. "That is the main reason most foyers, bathrooms, and kitchens have tile in these areas."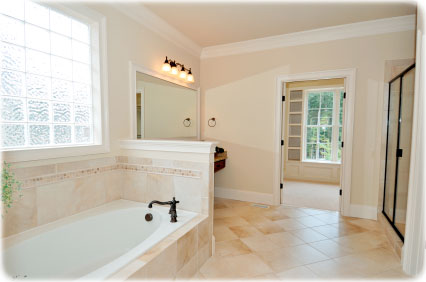 Today, there is a huge variety of tiles to choose from. However, before you go to your nearest tile store, you should plan the color scheme and budget for your project. This will ultimately determine what type of tiles you should look for.
Ceramic tile is a durable and attractive material for floors. Easily maintained, it may be just the look you want for your bathroom or kitchen. Installation requires some preparation and expertise. A good tile installation truly stands out from an amateur tile job. Without prior experience and knowledge, it is a difficult and time consuming task. A proper tile installation should have straight lines, even gaps in the grout lines, and of course the surface should be completely level unless it is the tile floor in a shower base.
If you are looking to spend the money on quality tile, you should really look into hiring a professional because in the long run it will save you time and the results you will receive will be worth it. Our Tile Contractors are hand selected and our customers love how clean and meticulous their installation services are. Remember that each tile installation that we do is also backed by our legendary warranty.
When you are ready to hire a Tile Installation Professional fill out this form:
10 Ceramic Tile Types
Agglomerate Tile

Agglomerate tiles are manufactured by mixing graded marble or granite chips of various sizes with portland cement, polyester resin or epoxy.

Brick Tile

Brick tiles are a good floor choice for informal or rustic décor. Available in several earth tone colors, bricks tiles should be treated with a stain resistant sealer. Floor brick is normally used in outdoor settings (such as patios) and can be arranged in interesting geometric patterns.

Ceramic Tile

Ceramic tile is made from clay or other minerals. The extruded material is shaped and heat-treated (fired) in a kiln. Clay tiles are then further treated in one of two ways:

Glazed — color is added to the tile after firing. The glasslike surface is bonded to the tile. Glazing allows brighter colors to be used and adds stain resistance. Because of their slick, glassy surface, glazed tiles are used mostly on walls or countertops. Glazed tile offers more color choices than unglazed.

Unglazed — (Also called quarry tiles). The pigment or natural color is present during firing and is part of the tile itself. Unglazed tile needs sealing for stain resistance.

Cement Tile

Cement-bodied tiles are poured into molds, then fired or dried naturally. Color may be added. Sealing is required after installation for moisture and stain resistance.

Porcelain Tile

Porcelain tile is a ceramic tile that is generally made by the dust pressed method from a composition which results in a tile that is dense, impervious, fine grained and smooth, with a sharply formed face. Porcelain tile is available in mat, unglazed or a high polished finish.

Quarry Tile

A glazed or unglazed tile made by the extrusion process from natural clay or shale. This tile is most common in the dark red shades; however, shades of brown and gray are also available.

Mosaic Tile

Porcelain or ceramic mosaic tiles are two inches square or smaller. They can be installed individually or can be found pre-mounted on mesh or paper sheets. Mosaics may be glazed or unglazed.

Saltillo / Mexican Tile

Saltillo or Mexican tile is air dried rather than kiln dried. Drying outdoors in the sun makes this tile a little softer and less durable. The exposure to the elements also gives the tile a look that is unique. When used indoors a sealer is required.

Terracotta Tile

Terra cotta is the same material in construction and appearance as clay garden pots. Tiles are absorbent and need to be treated for indoor use.

Terrazzo Tile

Pre-manufactured consisting of marble or granite chips in a portland cement or epoxy matrix in various thickness' and sizes.