Need a new roof?

Get a free estimate

30 Year warranty on installation, 30+ on materials

Most Jobs completed in 1 Day

Expert Installers

Licensed and insured Contractors

No Gimmicks, just old fashioned hard work and honesty
Did you know that the State Attorney General awarded Simply Additions for our commitment to homeowners?
| | | | | |
| --- | --- | --- | --- | --- |
| Avon | East Granby | Granby | Newington | Suffield |
| Berlin | East Hartford | Hartford | Plainville | West Hartford |
| Bloomfield | East Windsor | Hartland | Rocky Hill | Wethersfield |
| Bristol | Enfield | Manchester | Simsbury | Windsor |
| Burlington | Farmington | Marlborough | Southington | Windsor Locks |
| Canton | Glastonbury | New Britain | South Windsor | |

Typical Roofing Services & Their Costs for Connecticut:
• Option 1: Add a Roofing Layer

• Option 2: Strip down and Re-Roof
Get A
Free Estimate!
Did you know that Simply Additions started out as Roofing Contractors? That's right! If you need a new roof or if you need to add another layer of roofing, make sure you contact us.
Option 1
The easiest and least expensive way to acquire a new roof is to add another layer of asphalt roofing shingles of any type on top of your existing roof. By using this approach you will save money on labor and materials; however, if you live in Connecticut, and most other states there is a 2 layer maximum.
Option 2
Complete strip down and complete new roofing system installation. This involves removing everything that rests on top of the plywood on your roof; shingles, tar paper, drip edge, flashing, & water ice shield. Once everything has been removed all new products will be used to ensure that your new roof will be leak proof for at least another 30 years.
Below are a few examples of how much it costs to complete a roofing job for typical home types and sizes.
Ball Park Estimates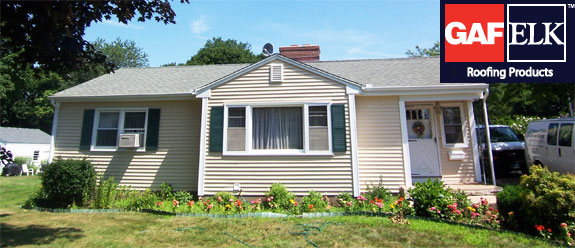 24' x 30' Ranch
Roof Over $4,950.00
Layer over existing roof (In Connecticut there is a 2 layer maximum).
Re-Roof $7,150.00
Strip all existing roofing & Re-Roof.

24' x 30' Cape
Roof Over $5,300.00
Re-Roof $7,350.00

24' x 40' Colonial
Roof Over $6,650.00
Re-Roof $9,940.00
All ball park estimates above include:
Permit Fees Dumpster New Gutters 30 Year Architectural Shingles