In today's post I'm going to give you the nitty gritty about the
Shark Lift Away Professional Steam Pocket Mop model # S3901
and ones just like it.
Several years ago I bought my first Shark Steam Mop and fell in love with it, simply because I hated dealing with dirty mops and sponges to clean the floor. When I was a teenager, I worked at Au Bon Pain, and at night we had to mop the floor with a disgusting floor mop, that instantly tainted the hot water and floor cleaner in the mop bucket, because no one ever ran it through a washer.
Ever since then, I hated the thought of cleaning a floor with something that's already dirty and stinky. That's where my love affair with the Shark Steam Mop generated from.
Steam mops are very sanitary and you can wash the pads in your washing machine to ensure that you don't spread flit all over your floor when you're supposed to be cleaning it. You can also buy additional cleaning pads that you can dedicate for certain rooms, which is another fantastic idea. That way you can always have a clean pad to mop with on hand.
Our first Shark Steam Mop broke because in the 2 years I owned it, I never used distilled water like the manual instructed me to do. One day in year 2 the steam mop barely functioned, but I got it to work for a little while by using some CLR and pipe cleaners to clean the blockage. I made a YouTube video for my subscribers and that video has helped 230,416 people fix their Shark Steam Mops using my methods. My original Shark Steam Mop unfortunately developed another problem and broke soon after.
Well, there's no doubt in my mind that my neglect for pure distilled water is what killed my original Shark Steam Mop. So I always wanted to replace it, but my wife didn't like the idea of paying $100 or more for a floor mop. Then one day while we were in Bed Bath and Beyond, I noticed Shark made a new product, one that would seemingly make my life a lot better! Yes, I'm talking about the Shark Lift Away Professional Steam Pocket Mop model # S3901.
Not Just A Steam Mop Anymore, It Can Steam Clothes and Steam Clean Anything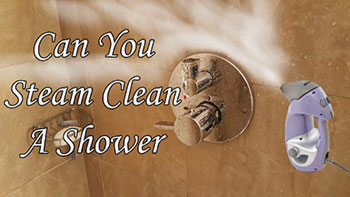 I love that the Shark Pocket Mop had a detachable garment steamer or steam cleaner depending on what attachments you fix to it. I instantly thought that I could steam out the wrinkles in my shirts and even steam clean my bathroom fixtures with it. The possibilities seemed endless, but at the time the Shark Lift Away Pocket Mop was going for more than $150.
Being the charming husband that I am, I convinced my wife Kawshi, that this steam mop is going to make cleaning fun, and I'll even offer to steam clean the floors as long as she vacuums. Before long, I was on Amazon ordering my Shark Steam Mop for a measly $100 bucks! Why so cheap? Well Amazon has killer deals, you know that!
Well since I bought the New Shark Steam Pocket Mop months ago, I've had the chance to really experiment with it and decided to post my thoughts for those who are thinking of buying one.
Watch my latest video where I test the steam cleaning function of my brand new Shark Steam Pocket Mop in to steam clean my shower fixtures.
VIDEO: Shark Pocket Mop Steam Cleaning Review
Shark Steam Mop As A Mop
I'm a big fan of steam cleaning the floors in our house instead of using our leaky Rubbermaid Reveal Spray Mop. Yes that mop has pads you can wash but over time, they begin to leak and rust and we already threw one out because of it.
Anyways, the only thing you need to do prior to mopping is run the vacuum. This is especially important if you have pets that shed hair. Also I noticed that all the women in our family seem to shed hair when their working on their hair, so you may want to vacuum those areas too.
Please don't forget to use distilled water in your Shark Steam Mop and take a few minutes to read the instructions. I typically never read instructions either, but since I broke my last one, I made sure to do so this time around.
What Flooring Types I Steam Mopped Already?
Linoleum in The Kitchen
We have a cream colored linoleum floor in the kitchen that's always the first to show signs of life LOL. Yeah it's pretty hard to keep this floor clean, probably because it's so light in color. Also we tend to wear our shoes in the house and our Russian Blue cat Lucky is the messiest eater ever. My wife jokes and says that he gets that trait from me, and I have to admit that I should probably wear a bib, anytime I'm eating something messy.
I once scrubbed the linoleum floor on my hands and knees using a scrubbing sponge and a razor blade. That was right after we moved in and finished completely remodeling our bathroom, as well as other areas of the house. You can say that I'm really handy, and that's another reason why I have a YouTube Channel that's focused on How-to Videos. But honestly I'm addicted to getting new subscribers and video likes so I make how-to videos on almost every project I do; and trust me, I do a lot of projects every year! Right now as of this posting I have a 1 terabyte hard drive completely filled with videos I recorded that still need to be edited.
The Shark Steam Pocket Mop on Oak and Bamboo Wood Flooring
We have light oak flooring in most of our house, and a rich cherry looking bamboo floor that I installed in the master bedroom. Both floors look amazing after we steam mop them with the new Shark Pocket Mop. After we're done mopping, we admire how the shiny floors make our house look sparkling clean. Even though prior to cleaning the wood floors look good, there's just something about steam cleaning them that makes the room pop right after.
Steam Cleaning Tile Floors
We have semi gloss 1 foot porcelain tiles in our entry way that are out dated and on my to do list. Our entry way is tiny. So steam cleaning these tiles is a cinch, thanks to the extra-long cord on the Shark Pocket Mop and my super handy lithium powered Black & Decker Pivot vacuum that sucks up Luck's hairballs and outside specs of dirt beforehand. No other portable vacuum can hang with this little sucker. If you thought about getting a portable vacuum like the old Dustbusters, consider your research done and just buy this one (http://bit.ly/mini-vac) . You'll thank me later for sure!
Steam Cleaning Modern 12" x 24" Porcelain Tile
When we bought our house, we had a small half bath in the master bedroom, and a common bathroom in the hallway that had an outdated lime green tub, toilet, and sink. I gutted both bathrooms including the plumbing, walls, subfloor, ceiling, and electrical work. Once I was done you could gaze up from my garage right past where the bathrooms used to be and right into my attic!
I drafted the new plans in Chief Architect and slowly my wife and I found shower fixtures, tile, and everything else. The tile we chose for the bathroom floor is really nice, it looks like marble or travertine, but it's actually porcelain. We spent days looking through different tile stores, when we had to pop over to Home Depot for some plumbing materials. We both noticed this gorgeous 12" x 24" tile that we thought was travertine, but it was porcelain instead! We bought 10 boxes or so right then and there and it cleans up wonderfully with the new Shark Steam Mop.
Shark Fabric Steam Thoughts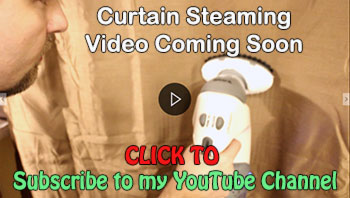 One I wanted to buy Shark's most expensive steam mop was the portable handheld steamer function. I used the Garment Steamer with Brush on our black out curtain that we hang over our living rooms window and backdoor in the winter. This curtain is a wrinkly mess out of the dryer, so you have to iron it or use a fabric steamer to release the wrinkles.
So I tried using the fabric steaming ant it went fairly well but here's my recommendations to anyone considering using this option themselves. I found that it helps to keep the fabric stretched out, because if you leave the fabric or garment loose, it takes a lot longer to remove wrinkles.
Also the steamer only seems to work when it's upright, so if your steaming a curtain that hangs to the floor, the last foot and a half are going to remain wrinkled unless you have someone pull the curtain up so that you can get to that last foot. Also you can try putting the curtain or whatever your working on, on your mattress.
I will be posting several videos showing what this Shark Steam Pocket Mop can do on my YouTube Channel "ProvenHerlper", subscribe to see them.