Home Framing Services
We have done a lot of Framing for our home addition and home improvement projects year after year.
What Makes Framers Unique?
Framers are used to working with our quality control program which ensures that each job is square,plumb and framed to specification. We also had the pleasure of doing construction jobs for local CT Engineers, who thoroughly inspected every detail of our framing process.
---
These testimonial comments are from 2 CT engineers that used our framing services for their home addition projects:
Nino O. from Wethersfield, CT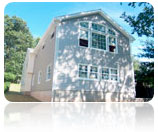 "I was able to work with you very well throughout the project, and get the addition built exactly the way I wanted it. The quality of the work was great and I am very happy with the addition".
1320 square foot Two Story Extension: Workshop downstairs and a Master Master Suite upstairs.
Jeff & Kathy R. from Wallingford, CT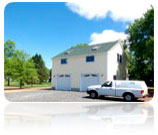 "My wife and I have been remodeling our house since the first day we bought it 13 years ago. I have worked in the building trade for a number of years after finishing college. We have used a few contractors during certain stages of our work in that time. We had never had a good experience in any of those prior situations. As a matter of fact, we were determined to never use a contractor again, until we met the gentlemen from Simply Additions. We took on a sizeable stage of our project with Simply Additions and we are glad we did it with them. They were very professional in their approach to the work. The quality of work was top notch. They approached challenges on the project like it was their home. That personal care is what is lacking in the building industry. I was truly impressed with the thoroughness of their contract, which lets me know they are serious about what they do. They added crucial input to the detailed design that made our addition so much more than we anticipated. They use only the highest quality building materials in their work. Their pricing structure is very competitive. And their most significant attribute is their support after the job was complete. They are truly interested in having relationships with their customers that last beyond the finish date. I would recommend Simply Additions to anyone looking to add on to their home, they will be my first choice in future projects."
1,600 square foot Cape Addition: 2 Car Garage (bonus room above) and a new Family Room.
---