Adding a bathroom or performing a bathroom renovation is just as important as an updated kitchen is to today's home value. It's constantly being talked about in remodeling forums, magazines, and even by real estate agents helping their clients. I know this for a fact from personal experience as an active home buyer and as a general contractor.

My wife just started a Cooking Show on YouTube. Her food is similar to Thai Food and it tastes amazing!
My wife Kawshi and I are currently looking for properties in Connecticut and we're no different than your average Joe & Jane, who also want a nice bathroom and kitchen. I remember walking into some disastrous looking short-sale houses, that had old 70's styled bathrooms that sent me, our real estate agent Margo, and my wife Kawshi walking right out the front door.
Seriously, don't neglect updating your existing bathroom, because people are willing to pay more money for homes that already had the bathroom updated. Some people simply cannot visualize what the house will look like with the remodeled bath, while others will overlook the rest of the house because they feel that bathrooms are expensive or complicated rooms to renovate.
What Bahtroom Remodels I Would Stay Away From
There's a company in CT that slips a plastic overlay over your exiting tub, which essentially makes your bathroom look newer. One of my customers paid for the tub treatment and I remember being shocked at how expensive it was. I knew that I could have installed a new bathtub into the persons home for less than this company charged her to install a bathtub skin, which makes the bathtub even smaller. Just another case of putting lipstick on pig.
Here are some of my favorite bathroom remodeling tips that I shared with family members and friends who asked for advice with their Bathroom Renovation.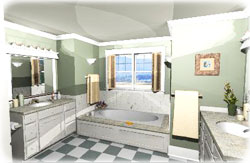 1. Do a complete renovation. Don't just change the tub and sink, but leave out dated plumbing fixtures, brass lighting, and dated tile. If you're going to do it, make sure you do it right, or don't do it at all. If you half bake the project, it will not improve the value of your home and your friends and neighbors will probably start thinking your cheap.
2. Bathroom remodels are generally inexpensive unless you go all out or higher the wrong contractor. I always recommend that people come up with design and material ideas first, before contractors show up to their house for the estimate appointment. For Example: I tell my family and friends to fill out the form on this page, just to get the names of 4 reputable bathroom contractors, then I tell them to go to Lowes and Home Depot with a notebook or smartphone to take notes of all the model #'s for the tub they want, sink, vanity, and fixtures. Where I live there's plenty of bathroom specialty shops to browse in addition to Lowes and Home Depot, so you may want to fire up Google and see what's in your neck of the woods.
3. You wouldn't go wrong if you try to go after the SPA look and feel with your new bathroom design. Spa Bathrooms are hot, catch some HGTV or check the Twitterverse and I'm sure you'll catch people talking about this. People want their own personal spa at their home to relax in after are long day of work.
4. Lastly, if space is preventing you from having the bathroom you've always wanted, don't forget that you could always add a bathroom to your home as well. Bathroom additions are generally less expensive than something like a family room addition because of the room size. If you need an additional bathroom you can also convert an existing room into a bathroom as well. I had a customer in Haddam Neck Connecticut who converted his old office with hardwood oak flooring into a new bathroom.
You're on your way to getting the bathroom you have always wanted. Fill out the form below with your name and address to get a list of contractors in your area that I personally would call first. These guys have all their ducks in a row, meaning they have active home improvement licenses, plumbing licenses, and the proper insurance policies in place. Never hire a contractor that doesn't have the proper license and insurance because based on my professional experience working as a general contractor in Connectiuct, the guys without credentials are frauds. Think about it, it's not that hard to get a license, so why wouldn't this person with all this so called experience take the time to get one?
Good luck and don't forget that you can contact me through Twitter, Facebook, or Google +. Search for ProvenHelper; that's what I go by.
Check the social links at the top of the page.
---