Raised Ranch First Floor Home Addition
I am interested in adding 10-12' on to the back of my house to expand the current kitchen which is only 10'x16'.
It would obviously involve a bearing wall on the outside of the house, and I would like to have a large 16'x20' eat-in kitchen with an island. Would appreciate any comments/suggestions.
-kevinl



---

RE: Raised Ranch First Floor Home Addition
Hi Kevin,
A professional contractor will be able to advise you on the project. You should put together a rough sketch and list of the items you are looking to build and incorporate into your addition. Once you have the sketch, you should call a local contractor to set up an appointment and discuss the project further. Use our automated contractor locating service by filling out the form at the bottom of this page.
BTW: 16x20 is a great size for a kitchen with island.
-Simply Additions



---

RE: Raised Ranch First Floor Home Addition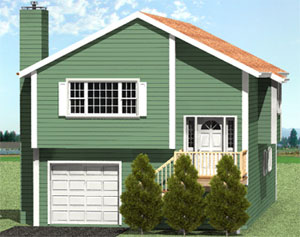 Ranch house plans are one of the most common home styles. Its simple asymmetrical rectangular or L shaped floor plan makes it an easy home to build. For this reason the ranch home is less expensive and has been a popular choice among many Americans since the early 1930's. Floor plans convey an open efficient living space with few walls. Roof pitch is generally low also designed for efficiency with deep-set eves. Its unique long low rectangular rambling layout is classic and signature to the ranch style home.
The ranch home can also be refereed to as an American ranch, Western ranch, or California rambler. Although typically ranch homes are a single story, raised ranch house plans offer a second or third level of living space.
-rockymeet
---