Re:Project Questions
To Whom It May Concern;

Hello my name is Nick. I currently own a raised ranch style home in the North end of Bridgeport(CT). I found your site online while doing some research. I have so many questions I don't know where to begin! My ambition is to build an addition (a second floor) and converting my home into a two family home. I am curious to know if contractors handle all the zoning matters that are necessary. Another other question of many is about property tax increase, and how I could go about figuring out what that might come out to.?? I recently went to my zoning office at Bridgeport City Hall and got some information, and I am a bit overwhelmed. Furthermore, they were not very friendly! If you can e-mail me back with some basic information, about estimates and the questions mentioned above, I would really appreciate it. Thank you so much, and I look forward to hearing from you soon.

-Nick



---

Re:Project Questions
Hi Nick,
The first thing to do is to find out whether the town (zoning department) will allow you to convert your single family residence to a two family residence. This will depend on what zone you live in. Every town is divided into zones, and each zone has a certain set of guidelines the town has created. For example one zone (part of town) may allow 2 family homes, and another may not. Remember that you pay taxes in Bridgeport, and even if the zoning officials are rude it is still their duty as public officials to serve you. This is the most important step because it will tell you whether your project is possible.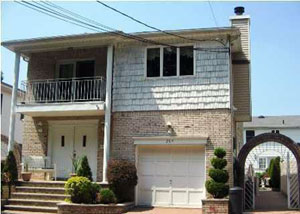 Step One: Information and questions that can help you at the zoning department.
1) Tell them you are considering converting your home to a two family.
2) Ask them if this is allowed in your zone.
3) Ask them what are the rules you have to follow, what are the guidelines? (example: you probably need two exits, a kitchen, bathroom and a bedroom to consider it a legal apartment. Also they may have certain fire code requirements ( you may have to use fire rated sheetrock on the first floor ceiling, this is usually done so if your first floor kitchen catches on fire; the fire code sheetrock (drywall) on your ceiling will have a 45 minute burn time before it disintegrates and allows the flames to get into second floor (new apartment).
4) Once you have all the information it is time for the next step
Step Two: Determine your budget
Next , You will need to determine your budget, you can access our loan calculator. Once you have an idea of what you can reasonably afford, then we will be able to determine what type of addition we can build for you.
Step Three: Determine your property tax
To determine your property tax with the new addition you may need to go to a few departments at the town hall. But first you need the proper information to give them.
1) Figure out how many square feet your addition will be. For example if your house is 28' x40' and you will be adding a second floor over the entire first floor then the overall floor area will also be 28' x 40' = 1120 Square Feet. All you need to do is measure the overall width and length of your home and multiply it, to get the square footage.
2) Determine how many bathrooms, bedrooms, kitchen, and other rooms you will want, etc.
3) The tax assessors office should be able to help you determine the property tax adjustment, if there is still not enough information from your proposed project; you can ask them for an example of similar projects recently completed.

Step four: Contact town hall.
Call the town hall and ask for any other info they may require, you may be able to get all your answers over the phone or they may require you go there in person. Either way you will now be armed with a lot of information that will be very helpful.
Step five: Use our automated contractor locating service once you have determined your budget and tax adjustments. And also email us with the information requested below.
1) Type of heating: ( base board or central air) / (gas or oil) or other. (take pictures of the furnace/boiler if you are unsure)
2) Electrical system (1oo amp or 200 amp) (take pictures of the panel if you are unsure)
3) (City water and sewer) / ( or other)
4) How many bedrooms, baths, and obviously you will need a living room/dining area and a kitchen.
5) Interior finishes: Flooring type in all rooms

Once all of this information is acquired we can help you determine the cost of building your addition. The budget is very useful for us because we can steer you in the direction that your budget allows. You should email us some pictures of your house (all four sides), and we can assist you via email to give you a rough preliminary cost. If the preliminary cost fits your budget than we set up an appointment to discuss your project further.
Simply additions if full service home remodeling website that helps homeowners with their addition from concept to completion. Our online costs do include permit fees, plans, and construction right down to the paint.
Simply Additions has set goals to improve and maintain the reputation of the remodeling industry on a national level by guiding consumers such as yourselves to make the proper decisions when embarking on your remodeling project.
I hope that helped, feel free to contact us with any other questions.
Thanks
Best Wishes,
www.SimplyAdditions.com
---