Add a Bedroom: Master Suite 384 sq.ft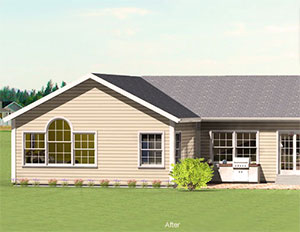 Move-in Ready:

3 Months

Bedroom:

14' x 15'

Flooring:

Oak hardwood

Master Bathroom:

10' x 10'

Flooring:

Ceramic Tile

Tub:

Soaking Tub

Shower:

Corner Shower

Size:

384

sq/ft

Build this Luxurious Master Suite Addition And Your Life Will Never Be The Same!

This 24' x 15' Master Suite has to be one of my favorite master bedroom design concepts, because it's spacious enough for practically anything you could ask for. Of course if money is no object, you can double the size of the suite and the cost. But for most people, this spacious design allows for plenty of furnishings and comfort.
Don't forget to Click on the 3D Renderings to see them in greater detail.

Inside the bedroom I wanted to help you feel the scale of the bedroom by placing a standard queen bed with 2 nightstands on either side of it. Notice how the bedroom feels nice and breezy the way it is , yet it can easily accommodate more furniture and still give you the sense of spaciousness.
My favorite feature in this master suite design is the private bathroom that's outfitted with the basics in luxury. I always loved the idea of getting out of the shower and walking right into my closet to get ready for the day. And once your done getting changed you can walk right into the bedroom. People love great flow in houses, and for a master suite design, I think I really nailed it. I'd love to know what you think about this idea, post your thoughts on my Facebook Page. Or on any of my internet profiles, I am a bit internet famous.
Can a Fantastic Master Suite Design Change Your Life?
In some cultures the master bedroom area is one of the most important features of the house, with the kitchen being the second. You don't have to be a Feng Shui practitioner to understand that a well planned master bedroom can make your life better. Small changes like getting ready faster because of the double sinks to enjoying a soak in your whirlpool tub will reduce your stress and help you sleep better. So yeah, this master suite addition can change your life for the better!
Most of the 120,000 people who visited this webpage heard enough to get their own estimate, have you?

Hey do you want to save cash on design fees? Just hand these bedroom addition plans to the contractor estimating your project. As long as you don't make major changes, like doubling the size, most addition builders can give you a discount on design fees because you will have given them plenty to get started on. However, without these plans, they would have to waste a lot of hours coming up with bedroom ideas and time is money.
Disclaimer: You can get in touch with 3 to 4 prescreened contractors for free by filling out a tiny form. I get a small $12 referral fee if you do. I support this service because I was one of those prescreened contractors in my home improvement days, so I trust them.
I Pay-it- forward all the time, it's kind of my thing. If you want to do something nice for me, and perhaps a friend, share this webpage using these convenient buttons.
The Inspiration Behind this Particular Bedroom Design
My aim was to create a master suite that makes you feel like you are staying at a 5 star hotel. That's why I included a double sink vanity, jetted whirlpool bath, standalone shower, and a private water closet. These are all the amenities that you will find at a 5 star hotel. How excited will it be to take my master suite plans and hand them to your contractor? In a few short months, you can have your own personal 5 star hotel at home!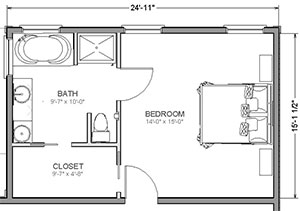 Keeping with the luxury hotel theme, I tucked the water closet behind a privacy wall, so that 2 people can be in there at the same time. The spacious walk- in closet is truly a walk-in and you can access it from your master bedroom or your master bath. Do you like the idea of taking a shower and then stepping into your walk-in closet to get dressed?
Click on the Bedroom Floor Plan and the Bedroom Interior Design photos to discover for yourself how awesome this master bedroom addition will be.
Master Suite Construction Details
This large master suite addition was factored with the extension of baseboard heating from your current heating system. If your home has a different HVAC system in place, your contractor will have to factor that into their estimate.
Hey do you want to see actual Master Suite Addition Project Photos, from my addition building days..
Master Bedroom Addition Details

Size: 14' x 15'

Walk-in Closet: 10' x 5'

Flooring: Oak hardwood

Doors: 3

Windows: 2

Master Bathroom Details

Size: 10' x 10'

Flooring: Ceramic Tile Flooring

Doors: (1) Double French Door

Features: Soaking Tub & Corner Shower, Double Sink & Vanities, & Private Water Closet.
Master Suite Addition Cost $74,000
Find a good contractor quickly by filling out this simple form below.
Need a new lawn mower?
Wait till you see what lawn mowers people are buying this year!
Compare customer reviews from: Home Depot, Lowes, and Sears on this years best mowers.
---
Once you build this room addition, your life will truly never be the same again, how could it?