More and more people are considering working from home, and this new phenomenon is creating a demand for Home Office Remodeling across the country.
The Bureau of Labor statistics concluded that 1/3 of people who work from home work on average of 25 hours per week.
Does building a home office space in your house make sense for you?
Nowadays more and more people love the idea of having a study or home office. These rooms provide a quite space for the family to get their projects, home work, or home business going, without the distractions commonly found in other rooms.
When you consider building a home office, you should appoint it in a way that if you ever did plan to sell your home, the home office can be used for other purposes such as a bedroom, a large walk-in closet, or perhaps it can be easily renovated into a bathroom.
Home office renovations usually proved a 73% recoup cost, right after the last nail has been banged into your trim, according to remodeling magazines. Of course if you wait a year or two, the recoup costs generally rises, until your investment actually pays for its self in added equity to your home.
What are typical options people look for in a home office renovation?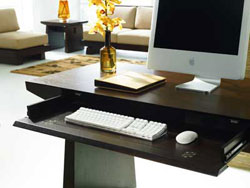 Add lots of natural light. Natural light not only provides lighting, but it also creates a lively energy in this space, so that you will actually feel excited and motivated to get your work done from home.
Generally you want to avoid a dark and stuffy room to be your home office, because its claustrophobic energy can have a draining impact on the people using it. Just think how many dark and dingy offices do you see on TV? Usually they are bright and lively, and so are the people using them.
Add some storage spaces with built in shelving and a closet if you can. Remember the closet will serve a greater purpose in the future, because you can claim that space as a bedroom.
Lastly, if you do add a home office to your house by building a home addition instead of remodeling an existing room, make sure that your design complements your home, instead of a design that can make the addition stand out like a sore thumb.