Did you purchase a starter home or a home without the master bedroom you wanted?
Well you are not alone. I built many bedroom additions for people in the same shoes you're in, that's one of the very reasons I created this website, because I wanted to share my hard earned knowledge from my general contractor days to help homeowners with these major renovations.
The First Step in Planning a Master Bedroom is to Jot Down Your Ideas

I always tell people to picture the most ideal vision of the master suite they've been dreaming of. Some people want huge walk-in closets, while others need a quiet place for sitting to read and or relax with a cup of coffee and their iPad.
You don't have to get super technical about your needs, just right down simple thoughts of what has to be in there for you to even consider the house extension.
Here's a few of my ideas that constitute the perfect master suite:
Needs to be large enough to contain a king size bed and two night stands without feeling cluttered or cramped.
Needs to be square in shape so I don't have to worry about buying odd furniture pieces or Feng Shui problems. I'm not a Feng Shui expert or guru, but I rather have things in accordance with it, then the other way around.
Needs to have direct access to the master bathroom. It's just convenient for a myriad of reasons but one of the most important is privacy during those romantic nights my wife and I like to share.
Needs to have a walk-in closet either connected to the master bath or to the master bedroom. I like the idea of having everything right where I need it. I wouldn't even consider a house without a closet near the entry to the house, because it just doesn't make sense to me.
Okay so that's how you capture your ideas about what's really important to you in your master suite design. Of course your significant other might have other ideas, but once you both put your ideas on paper or a spreadsheet, you can then weigh your options and compromise on the perfect master suite design.
The Second Step: Setting a Budget For Your Bedroom Addition
You won't believe how many homeowners I've met that wanted a home addition built, but never gave the idea of setting a proper budget serious thought. The budget planning phase of a home extension project is the most crucial aspect of your project believe it or not.
A budget for your home extension will dictate:
the size of your project

the material options

whether or not your project is even possible

it can also dictate which phases of the project you should consider doing yourself, such as the painting phase.
Don't let budget planning overwhelm you, because you are on the number 1 site in the world that I know of, that allows you to browse bedroom ideas, their plans, and their estimated building cost. My website was practically built to make budget planning a snap. Contractors like to send their customers to our site, just so that they understand how much a home addition can cost them. In fact if you have a contractor and he doesn't offer what I do, simply tell him to point people to my website and have them print their favorite room addition and bring it to him. p>
The Third Step: Finding a Room Addition Builder
In my former career, I was a general contractor amongst other things. And as a general contractor, I had to interview, hire, and fire dozens of trade contractors to work for me on various projects. Oh the things I learned!
First let me explain to you that if you do not do your part for due diligence in your contractor background check, no list (say hi to Angie for me), or referral is going to prevent you from being a victim of a scam artist or a contractor who might have been good, until creditors started making his life hell. That's right folks, even a good contractor can change his tune, which will effectively make any type of list or referral useless.
I've had good contractors fall on hard times and become alcoholics and then I had to deal with the no shows, the poor judgment calls, and most importantly the financial loss due to their new emotional problem that took over their life. I know that people want a simple solution to the find a contractor problem, but the truth is that if you are building a home addition, you are spending a lot of money in most cases and if you don't do your due diligence by checking references, calling the BBB (even though the BBB is not the most reliable organization), or contacting your local Consumer Protections Entity, you can find yourself in between a rock and a hard place.
Over the years, I fine tuned my hiring process for subcontractors and I actually provide detailed information on this website, which should make your contractor hiring decisions a breeze. Another great thing about this website is that I partnered with one of the largest contractor referral services in North America that does a little bit of the work for you. They verify their contractor license and they verify their insurance policies, but I would NEVER trust only this limited amount of background check on a home addition builder.
Fill out the form at the bottom of this page and the website will send you up to 4 contractor referrals. Then visit the Contractor Hiring Guides section underneath the How-to Articles menu button. Read these articles even if the bore you to pieces. I am in process of updating the entire site, but the site already includes priceless information that can help you have the most successful project you possibly could have. I cannot guarantee that everything will go flawlessly because we live in an imperfect world. I can garuanutee however that if you just play the hiring and managing process by ear, your chances of becoming another victim of some type of contractor shenanigans will greatly increase. Take it from a PRO, and you will be like the hundreds of other people who thanked me after the fact.
Other Important Tidbits Those Who Want To Add A Bedroom
Once the budget has been determined and you have a list of your ideas, you should create a sketch. If you hire an architect, you will give them your design so he/she can help you join it to the rest of the house properly; making sure it transitions nicely from the rest of the house. Also, the architect will ensure that the plan is safe and functions well.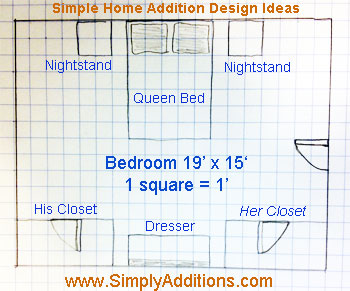 The third step in planning a master bedroom addition is to research and find a contractor. Make sure to obtain quotes from multiple companies and research the companies to ensure they are reputable and do good work.
Once you have chosen your contractor, tell them the wants and needs you require for your new bedroom. Include all features you would like that are within your budget, such as a walk in closet, an ensuite or a sitting area, etc.. To prevent from going over your budget, plan for a 15% contingency fund. This will account for any unexpected problems that may arise, and trust me, usually they do arise. If you have an older home 1800 or 1900's, you might want to increase your contingency fund to 20%.
What About Call Before You Dig "CBYD"
The contractor will need to see the underground utilities as well as the location of the drainage pipes, before starting the construction; therefore it is essential that you do not touch any wires or pipes before commencing construction. Additionally, you should find out where the sewage pipe connects with the main pipes, and let the contractor know where the connections are.
Permits Protect Homeowners That's Their Main Purpose
After you have chosen a contractor, you will need to obtain a permit. The contractor may have included this in his quote, therefore it is important to make sure you enquire about it before obtaining it yourself.
Hammers, Nails, ACTION
Once everything is in place, the contractor will then begin building the structure of the bedroom. This includes installing structural beams, posts, and pouring a foundation. Finally the framing work begins for the walls and ceiling. Once the room addition has been framed you will then be able to really visualize your new bedroom.
Finishing Touches
Lastly you will be designing the interior of the master bedroom. Here you will determine what type of flooring you would like, such as hardwood, laminate, tile or carpet. Afterwards you will choose the type of baseboard trim you want; if it's an addition a customer usually matches the existing trim unless you plan to upgrade the entire house or have the bedroom as a unique design.
So you get to decide on whether or not you would like crown molding, what type of paint you will use, what colors to use, the type of ceiling you want, and the features you desire. If you are low on funds, consider sharing a common bathroom with another room, and use the ensuite funds towards upgrading the master bedroom design or furniture instead. Doing so will ensure you get the size and style in your new master bedroom that you had originally envisioned.
Creating a master bedroom addition is much less expensive and much less stressful than selling your current home, purchasing a new one and relocating. Therefore if you are concerned with the amount of space in your home and need more room for your growing family, a bedroom addition is ideal in almost every situation.
Remember to fill out the form below and some of your due diligence work will be already completed, but don't forget to bookmark this page and read all the contractor hiring guides.
---