Popular Split-level home additions work well for families who are growing and need extra space.
Adding additional space to your house will give your family the extra space it needs to perform daily tasks easily and efficiently.
However, there are many different aspects to consider before deciding if the popular Split-level home additions are the right choice for you and your family.
The first aspect to consider when making this decision is the benefits of adding additional space. Many people enjoy the benefit of not having to move in order to obtain more space. If you love your home's location, or do not wish to part with your yard, adding additional space may be a good option for you. Doing so will allow you to obtain the efficiency and functionality in the home which your family needs without losing the neighborhood or outdoor features which you and your family enjoy.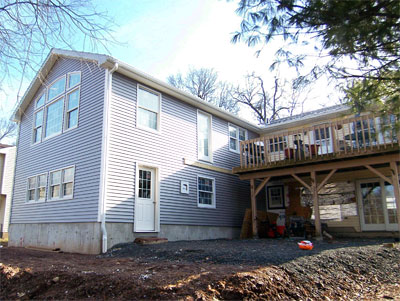 Features such as an ocean view, lake view or mountain view home, the local public or private schools or proximity to work and sentimental value are all popular reasons to choose adding more space to the home over moving. Additionally, moving can often be more expensive than performing additions to the house.
In addition, another popular benefit of Split-level home additions is that it offers the opportunity to modernize your home by opening up some areas, adding larger windows or walls, achieving higher ceilings, etc. Also, by adding more space to the home you can also modify the external house appearance as well, giving it a modern exterior look.
In addition, you will also have the ability to create and design the interior space to meet your family's wants and needs. For example, if someone in the family is a musician, you can soundproof a music room, or if there is a sports fan in the home, consider having a darker media room. Another popular and modern idea is to connect the kids or teens bedrooms with a study. Making these additions rather than moving gives you the ability to be creative and design the home of your dreams.
If you would like some changes made to the main floor, you may have an opportunity to do so with your home additions. For example, if you would like a larger mud room, you can have one with tall walls and high ceilings. If you always wanted spiral staircases you can have one custom made to provide access to the second floor. If you are considering making changes to the bedrooms, you can make them larger.
If you are still considering adding additional space to your home, here are some popular features you may want to consider:
More Bedrooms
: This is the number one reason why people add more space to their home.
A Media Room: Create your own media room with a built-in HD wide screen TV, ample comfortable seating, mounted surround sound and a kitchenette for drinks and popcorn.
A Kids Playroom: If you have many kids, consider having the living room upstairs and the playroom downstairs. Having the playroom upstairs may be loud with children running, jumping and stomping their feet.
A Teen Suite: Teenagers often want their own space; therefore consider putting in a teen suite. It can have a bathroom, another bedroom, a study and/or a mini kitchen just for the teens.
These popular Split-level house addition ideas and benefits are important aspects to consider before making the final decision. It is important that you make sure you look at all options before choosing the best one for you and your family.
---